We've said it before and we'll say it again: when it comes to successful campaigns, social media is a marketer's best friend. The great thing about social media is that it has no boundaries (for the most part). This means marketers can take any brand, product, or service and use a variety of social media platforms to advertise it in countless creative and visually stunning ways. With that said, what's to stop you from using social media to endorse your back-to-school promotions? With so many platforms to choose from, it may seem overwhelming. That's why we've eliminated the guesswork and compiled a list of 5 ways to use social media to promote back-to-school campaigns!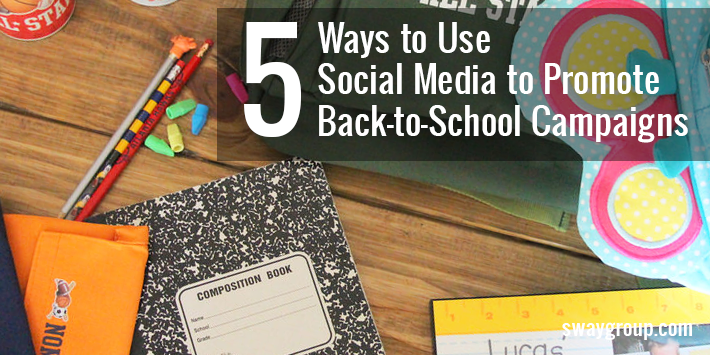 5 Ways to Use Social Media to Promote Back-to-School Campaigns
Check out these unique ways to use social media to promote back-to-school campaigns:
Instagram
Instagram initially started out as a place to post artsy photos of ourselves, our environment, and even our food. Today, it serves several other purposes with its live video capability. So for you back-to-school campaign try hosting a live Q&A! This is a great way to increase engagement as well as advertise your product in a unique and intimate way. An example of a successful Q&A could be centered around dorm essentials for the college rookie. Here, they can find out what they need by asking in the comments. Instagram Live Video is unique because you're able to view comments as they roll in. With that said, you can immediately answer their questions in a way that feels personal which will encourage customer loyalty.
Facebook
Today, Facebook has the capacity for so much more than connecting with long-time college friends and relatives. Now you can create livestreams, publish multimedia content, and sell your product directly through its interface. With that said, the possibilities are endless when it comes to marketing your back-to-school promotions. One option is to perform a demonstration of your product using Facebook Live. This allows you to accentuate every detail of your product without the wordy descriptions. By showing instead of telling your audience about your product, their able to see all of its benefits in action. Another great thing about Facebook's Live Video component is that once the livestream has ended, it automatically saves to your profile so you give followers an opportunity to re-watch and share your content.
Twitter
It may seem challenging to fit an entire marketing campaign in 140 characters. However,
that doesn't mean it's impossible! Moreover, instead of directly marketing on Twitter, use this app to link to the back-to-school content you've posted on other social media sites. This way, even if a prospect doesn't follow you on the platform where your campaign is initially advertised, they can still about your back-to-school promotions. After all, it's important to stay away from solely marketing on one platform. You should take advantage of the extensive variety of social media sites you have to choose from. By doing so, you're guaranteed to drive more prospects to your site as well as spread brand awareness.
Pinterest
Create a Pinterest board filled with stunning images that catch your audiences attention. However, instead of jumbling all of your images into one board, take the time to categorize your pins by dedicating separate boards to different themes. Let's say you're a bread company. A possible theme could be healthy lunch options that all incorporate your company's product. Moreover, whatever the product may be, there is theme to match. This is a fantastic way to get eyes on your content because you pins are well-organized and easy to find.
Snapchat
Snapchat isn't just for sending silly selfies and trying out different filters. It also acts as the perfect platform to advertise your company's product with its famous Story feature. Even though social media apps like Facebook and Instagram also have Story capabilities, Snapchat's, however, still stands above the rest because of its first-mover advantage. By using Snapchat's Story component, you can post stop-motion style videos that demonstrates your product in a short enough time to maintain your audience's interest. An example of a back-to-school campaign that utilizes this marketing technique would be a backpack company that uses it's Snapchat Story to show the backpack being filled with the necessary back-to-school supplies. This is not only a great way to illustrate the backpack's storage capabilities, but it also acts as a creative approach to getting kids excited about the new school year.
Keep Reading:
Looking for more ways to use social media to market your brand? Then check out the links below!
Let's Make Your Back-to-School Marketing Campaign A Success!
When it comes to social media marketing, influencers are your go to resource. Contact us if you want to learn more about how our extensive network of 100,000+ influencers can help advertise your product or service on social media.