Summer may be quickly approaching, but that also means the new school year isn't far behind. So while kids are out enjoying the summer sun, their moms are already thinking of stocking up on school supplies, buying new clothes, and preparing healthy lunch options. With that said, it's the perfect time to get ahead on your back-to-school summer promotions and what better way to do that than with influencer marketing! That's why today we're giving you three reasons you should work with influencers on your back-to-school campaigns this summer!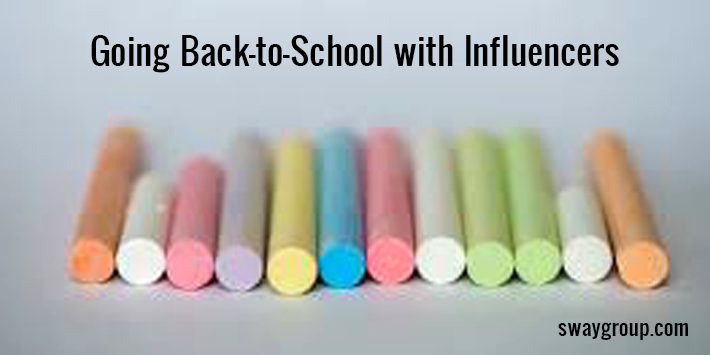 2 Reasons to Work with Influencers on Your Back-to-School Campaigns
Check out these killer examples as to why your company should work with influencers on your back-to-school campaigns:
Minute Maid & Sway Group
In 2015, our influencer network partnered with Minute Maid to advertise their "Doin' Good" campaign in an effort to ignite a cultural conversation around parenting. The campaign consisted of 10 Massive Sway influencers publishing blog posts that creatively promoted the brand's campaign as well as amplifying those posts via Facebook, Twitter, Instagram, and Pinterest. Minute Maid's initial goals were to guarantee 6 million impressions across all social media platforms the blog posts were shared on.
Well, Sway Group exceeded the expected campaign impressions. By how much exactly? A whopping 10x! That's 61,350,494 million impressions to be exact. The consumers were highly engaged with Minute Maid's positive #DoinGood messaging all across social media. There was a total of 2,560 likes on Instagram, over 57.5 million impressions on Twitter, 333 likes on Facebook, and 2.1 million impressions on Pinterest. Needless to say, our influencers' efforts went great lengths to generate awareness of Minute Maid's back-to-school campaign. So think about what that could mean if your brand worked with an influencer to advertise its back-to-school promotions; exponential brand exposure on social media, tremendous engagement with audiences across the globe, and overall marketing campaign success!
Sara Lee & Sway Group
Still not convinced? Here's another example for you.
In the same year, Sway Group also worked with Sara Lee Bread to spread awareness around their Lovable Lunch Notes campaign. This included 20 Massive Sway influencers each publishing a blog post again aiming to increase engagement on their Sara Lee Bread Facebook page and on LovableLunchNotes.com. The posts were first promoted on each influencer's social media channel and then further amplified by 25 other influencers that published constant updates to Twitter and Pinterest. The campaign received monumental success and the targeted audience couldn't stop tweeting, sharing, and liking the blog posts. This resulted in a total of 699,000 impressions on Facebook, 32 million impressions on Twitter as well as 1,770 tweets, 92,000 impressions on Instagram with 1,786 likes, and 6.9 million impressions on Pinterest along with 501 re-pins. These outcomes perfectly demonstrate our influencers' ability to start a conversation as well as keep it going.
So how could your brand benefit from working with influencers on your back-to-school campaigns? Contact us to find out! We'll find the perfect group of influencers to uniquely advertise your brand so you ace your back-to-school promotions!
Keep Reading
Looking for more back to school marking tips? Then be sure to check out these links!