Instagram empowers businesses to no end and seems only to build on its impact as time elapses. Recently necessitating a guide on how to gain followers on Instagram, branded content has seen a boom that completely revolutionized marketing methods worldwide. Instagram's format and popularity reinvented the way companies established their brands and expanded their audience; it continues to guide the goalpost for marketing as trends evolve. Used strategically, Instagram is a powerful tool capable of strengthening your message and connection to the world, but we'll be the first to say building your Instagram brand and audience can prove itself to be challenging. Here are Sway's tips for building (and sustaining) an active audience on Instagram.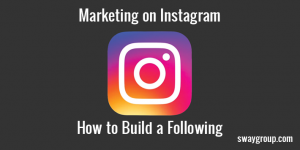 How to Build Followers on Instagram: Helpful Tactics For Growing Your Audience
Create Content that Resonates with Your Target Audience
Your brand's content is your first impression to a potential audience, rather like the window of your brand. It takes split seconds for the average Instagram user to make a judgement on which accounts spark their interest. A curated aesthetic of diverse content with consistent presentation is a potent source of building follower count.
Think about what drives your brand identity: isolate desired brand expression and plan content goals for increasing a memorable distinction. Ideally businesses are looking to attract a target audience: who is the audience you want your Instagram branding to resound with?
Use Hashtags (but not too much)
Hashtagging is an awesome way to reach a target audience. Popularity has made it possible to follow a hashtag on any given subject. They are also a wonderful opportunity to follow the latest trends and boost discoverability. Hashtags can be used in any post as well as in stories. A well placed hashtag has the ability to bolster an audience with followers looking for exactly the content you provide.
They are simple and easy to use, though it's best to use them as accurately and modestly as possible. (Don't overload them in your content to the point of obsolescence.) WIth free Instagram tools like AutoHash and Focalmark it is even possible to search the most optimal hashtags for your business.
As you gain followers on Instagram, your engagement rates will also grow. Due to the easily shareable nature of Instagram content, your followers may tag you in pictures, videos, Reels, Guides and Stories they've generated including your products/services. Sharing user generated content is an impactful means of strengthening the relationship your followers have to your account. Not only does it introduce your brand to the entirety of their followers, it supports a perpetually high engagement rate between your audience and your brand.
Optimize Your Content Calendar to Gain Followers
Creating a bustling Instagram community requires the use and consideration of multiple Instagram features. There are many ways to make Instagram work for you. Among them include a consistent posting schedule for your content. Consistency in content schedule does a large part of the heavy lifting when it comes to communicating your key message and brand identity to your audience. Consider a strategic approach to when you post new content. Every brand has a daily or weekly optimal posting time where your content will be seen by the maximum number of your audience at once.
Awareness and analyses of metrics is important for measuring the growth of your brand at any given time. The analytics feature in the Instagram app allows you to track your highest performing posts filtered by the parameters of your choice. Using these metrics, you can isolate what your brand is doing well to connect with your target audience and which areas need improvement and provide more content that resonates with your audience. You can also "view insights" on individual posts and track how many Instagram users in and out of your network are interacting with your content.
Engage to Grow Your Audience
Building and retaining an audience requires the support of "real followers" or brand loyalists. These followers interact with your content, and make an effort to interact with your brand. An engagement strategy helps attract and maintain the highest number of real followers possible.
Giveaways are a brilliant way to increase your audience and expand awareness of your brand. Many brands run their giveaways by having the audience tag a friend in the comment section; a wonderful way to increase scope and discoverability to a like minded potential audience.
Interactive posts are an expert way to get your audience to use their individual voices, not to mention they can provide you with all the answers you may be looking for in regards to serving your audience- in their own words. You can add prompts for open- ended questions, polls, multiple choice answers perfect for getting your audience to comfortably share their opinions about your brand.
A sure-fire way to gain followers on Instagram: don't be afraid to steal followers from your competitors. Scan their accounts for potential new followers and engage with them through likes, comments, and follows.
Use Influencers to Grow Your Audience
Sponsored posts are one of the best ways to gain followers on Instagram. Influencers come with an established following that trusts their insight. They also come specialized in many different areas, making it possible to sponsor an influencer that caters directly to your target audience. [There are influencers with various sizes of amassed followings with the ability to expose your brand to new followers]
Therefore, if you hire an influencer to post a picture or video promoting your product or service, their followers will be inspired to check out your page. When businesses work with influencers, they are able to indirectly advertise their brand. By doing so, companies are able to engage with consumers in a more natural way that avoids feeling like a typical ad.
Consider hosting an Instagram party or letting an influencer guest post on your account. Ask an influencer you trust to take over your account for a day or a weekend. By doing so, they will bring a fresh perspective to your account, as well as exposure for your brand to all of their followers.
Sway Network has forged relationships with influencers of all corners of Instagram and would love to assist in connecting brands with influencers that bring more light to their key message and brand identity.