Video has been dominating the internet, and short-form video has gained traction with consumers and brands. Videos that are created strategically and published on the right platforms can position your brand ahead of your competitors. Instagram Reels is one of the newest players in the video content creation game, and it's been quickly growing in popularity as a fun way to market your business.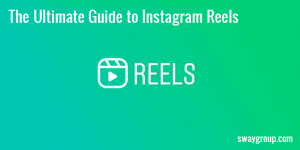 What is Instagram Reels?
Instagram Reels is an Instagram product that allows you to create engaging, 15-30 second videos.
Instagram has integrated enhanced video editing options into the platform for Reels, including audio clips, effects, and new creative tools. Reels are meant to be creative and fun.
After you download Instagram Reels, creating Reels is extremely easy and opens your content up to a greater audience, so add shareability to the list of things to consider when building your Instagram Reels strategy.
Instagram Reels vs. TikTok
At first glance, it would seem that Instagram Reels and TikTok are the same. Yes, they both offer the same creative options to add sound, captions, and other add-ons to short clips of video. The major differentiator between the two is a TikTok can last up to 1 minute, and Instagram Reels are capped at 15 seconds.
TikTok is also its own platform, while Instagram Reels is a feature built into Instagram, one of the most popular social media platforms.
Instagram Reels are published on a special Reels tab on your Instagram profile page. After they are published, Reels can be discovered by new audiences in on the Instagram Explore tab.
You can also share Reels to your profile feed, to reach your existing audience as they browse their home feeds, and share Reels to your Instagram Stories, where they will live for 24 hours like normal Stories.
That's three options to share your content with minimal effort that can have a big impact on engagement and exposure.
Instagram Reels vs. IGTV
Reels and IGTV are both features of Instagram that allow you to publish video content, however there are few differentiating factors.
Instagram Reels are capped at 30 seconds. IGTV is designed for longer form content, with videos ranging between 1-10 minutes in length.
Instagram Reels can be published in your main feed in their entirety. IGTV videos can be published in your main feed as a 60-second preview. Audiences have to click through to the IGTV feed to view the full video.
Reels must be created or uploaded to Instagram via the app on your phone. IGTV videos can be uploaded via the app or on desktop via Creator Studio.
Both IGTV and Reels allow you to upload videos that you've created elsewhere. They are optimized for portrait video orientation, though, so if you film outside the platform, it should be in 9:16 portrait mode rather than horizontal.
How to Make Your First Reel
It's easy to create Instagram Reels. These step-by-step directions will help you create your first Reels video.
To create an Instagram Reel you will need to head to your profile and click the "+" in the upper right-hand corner. A smaller screen will pop up giving you multiple options from a Post, Story, Reel, etc.

Select Reel and your camera will open up, giving you music, length of time, speed, and a timer located on the left-hand side of the screen. You can also apply any of your saved filters at the bottom during your video.

The timer allows the user up to 10 seconds to set up before recording starts.
The audio feature has a few options; you can select music from the library, or quotes/voice overs others have uploaded, or your own original audio which can also be made available to others if your account is public.
You can speed up or slow down video or audio.
To align, line up objects from your previous clip before recording your next to help create seamless transitions for moments like outfit changes or adding new friends into your reel.
Select one of the many effects in Instagram's effect gallery, created both by Instagram and creators, to record multiple clips with different effects. After you select Reels, a menu will open with the Reels options on the left side of the screen, including a timer, audio, speed, align, and filter/effects options.

Recording and uploading content into the Reels camera can happen two ways. You can natively film the video clips by pressing the capture button at the bottom of the screen, or you have the ability to upload video clips from your photo library.
After recording the Reel you will see two arrows at the bottom of the screen, you can use the one on the left to review the content that was just recorded/uploaded. You can move the clips around and adjust the length of each.
Once done, click the preview button on the right. You can then edit the video to include captions, music, filters, effects, and adjust the video speed. Make sure to edit the video section to your liking prior to adding on as it is not possible to go back to a previous clip. For this reason some people find it easier to upload pre-edited recorded clips created outside of the app.
If you decide you don't like the content, it's easy to start over by pressing the trash can on the edit screen.
How to Post Your Reels
When you finish creating your Reels video, you will have the opportunity to select a cover image that will be seen across the platform. Don't skip this step!
After selecting your cover image, it's time to publish your Reels video. The beauty of Reels is that you can share your videos in a variety of places within Instagram, including the Reels feed, your main profile feed, and your Instagram Stories.
Sharing to all three places will help you to expose your Reels content to both your own followers and new audiences who can find you on Discover.
How to Use Reels for Business
From a brand perspective, Reels is a great way to humanize your company and show another side of your brand by sharing fun and engaging content.
Use Reels to Highlight Sales, Products and Services: Instagram Reels is a great way to showcase your products. Give your audience a look into how you make your products, or show your quality assurance process. With social media offering a closer look into the lives and operations of people and businesses, a sneak peek behind the scenes of your business is a great way to get current and potential customers engaged.
Share Educational Content: Consider using Instagram Reels to educate users on different ways to use your product. Share recipes, product hacks, and other content that helps drive excitement for your product or service. Sometimes consumers have to see your product in action to fully understand why they need it. Use Instagram Reels to make your product shine.
Take Advantage of the Large Number of Followers on the Instagram Platform: There are over one billion users on Instagram. Ultimately, Reels' increased engagement and Explore page posts can open your brand up to Instagram's world wide audience.
Working with Influencers using Instagram Reels
Reels is seeing wide use by Instagram influencers who are using it to make creative content. If you are looking to work with influencers to create Reels, you can start by looking at the Reels feed on your favorite influencers' profiles to see if their content fits your vision.
An Influencer Marketing Agency can also help to identify creators who are making the kind of content you are seeking, and help you manage a successful influencer marketing program with Instagram reels.
What's the Future of Instagram Reels?
As video continues to dominate social media, the likelihood that Instagram Reels is going anywhere is slim. Embracing the feature and figuring out how to make it work for your brand is highly recommended.
If we look at Instagram and their history of building out their features to support businesses, we think it is worth it to put some of your efforts into figuring out a Instagram Reels strategy. Video will continue to be a strong focus for Instagram in the coming year, and you don't want to miss out on any boost that Instagram might give your profile for being an early adopter.
One key factor in making sure the feature is "Reely" working out for you (pun intended) is to pay attention to the analytics. Look at where traffic is coming from, and who is engaging. You may be surprised at the results. We recommend using these results to build out your long-term strategy for integrating Reels into your social media and marketing efforts.
To learn more about how to incorporate Instagram Reels into your influencer marketing strategy, reach out! We'd love to put together a free proposal for you.