While influencer marketing was once primarily a blog-based industry, there are now plenty of social platforms available, and many sponsored programs don't include blog posts at all. We're often asked which social platform is best for an influencer campaign, and our best answer hasn't changed over the years: it depends on your goals.
That may not be a very satisfying response, but it's the truth — there really is no one-size-fits-all platform that's guaranteed to work for your campaign. At Sway Group, every influencer program starts by evaluating your business goals and target audience, and then we can recommend the platform(s) best suited for sharing your message.
We can, however, share some ideas and suggestions based on platform performance and historical influencer campaign successes. In this post (originally published on Forbes) we'll go over each platform's strengths and when to include them in your marketing efforts.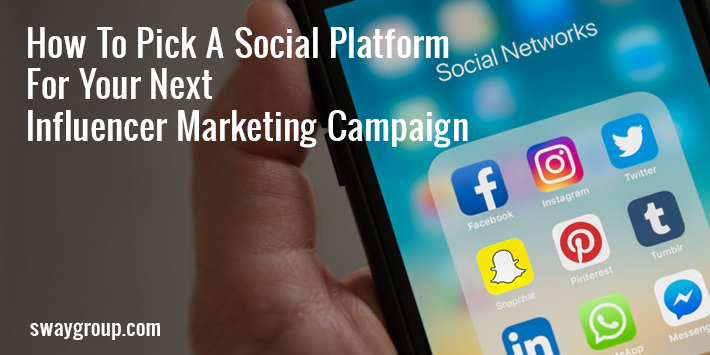 Which social platform makes sense for your next influencer campaign?
Instagram
Instagram has emerged as one of the most popular platforms for millennials year-round, according to Pew Research Center, with high engagement on both posts and stories. Stories, in particular, is a great option for sponsored content, as it has a less polished feel than a user's regular feed. As a result, sponsored content can feel more authentic and relatable (much like the less-formal blog posts of years past).
Additionally, features like live streaming and the swipe-up tool help drive real-time engagement and provide the ability to guide audiences to longer form content and sales links. If you're targeting a younger audience or focused on visually-oriented verticals (home decor, food, fashion, makeup, etc.), this platform definitely has the right elements for success.
Instagram has continued to add new features with Instagram Shop, Instagram Reels and the newest, Instagram Guides. All of these add value to influencer marketing campaigns and are exciting developments for the platform.
TikTok
A relative newcomer in the social media scene, TikTok's memes, lip-synced songs, and comedies have become hugely popular recently, with over 1.5 billion downloads. Most TikTok devotees are young (16-24), and while marketers aren't targeting this platform as much as others, that's changing as the app gets more popular with older generations. (Get this: The app has 1,000,000 estimated daily page views.)
TikTok is ideal for reaching Gen Z and Millennials in a way that lets brands be informal and connect with users through funny videos, challenges, and other platform-specific strategies. Creativity and humor is paramount on this app, and while best practices haven't emerged yet, it's definitely worth considering if your target audience is on the younger side.
Facebook
With over 2.45 billion monthly active users, Facebook has more users than any other social network. Don't listen to anyone who tells you that millennials aren't on Facebook, either: Facebook is still a key channel for those aged 18-29, especially when it comes to sharing and reading content (memes, recipes, articles and heated political posts, of course) and connecting with family and friends. At Sway Group, our branded influencer content performs 3X above industry benchmark on Facebook, which has been enormously successful for our clients.
Tap into Facebook's undeniable appeal if you're looking to target millennials, Gen Xers or boomers, but look elsewhere for reaching young teens, who are using Facebook much less than other platforms.
Pinterest
Since its development, Pinterest has been evolving into a search engine rather than a social platform; it's now an incredibly strong traffic driver for DIY projects to try, recipes to taste and fashionable outfits to wear. In fact, 67% of people say they've discovered a new brand or product from Pinterest content.
At Sway Group, we typically pair sponsored blog posts with Pinterest amplification, since Pinterest is such a compelling way to reach audiences. With "Pinterest-ready" styled pin graphics, the use of strategic keywords in pin descriptions, and the Rich Pin feature, Pinterest is an ideal add-on component for evergreen awareness.
Twitter
Twitter is a huge driver of impressions, but it's more than just a strong user base: its environment is highly influential. One study shows that on Twitter, branded influencer content — when it feels authentic and genuine — results in increased brand favorability and purchase intent.
In our experience, Twitter is a great all-around channel for amplifying blog and video content, as well as directly sharing brand messaging via tweets. It's particularly well-suited for sponsorships centered around topical events and holidays, due to its hashtag-driven searchability. As the presidential race heats up in 2020, Twitter will be the place for conversation and info-sharing, and savvy brands who tap into this thriving social hangout will see big rewards.
YouTube
Love it or hate it, YouTube is the place to be to reach Gen Z. In fact, 95% use it and 50% state they "can't live without it." It's also a powerful platform for sharing brand experiences in a visual and participatory way (influencers showcasing makeup as part of a branded tutorial, for example). This platform is popular among boomers, too: over 50% of baby boomers watch online video, with YouTube was reported as the preferred site with 82% of video watchers using it.
Because YouTube does have a high cost of entry for popular influencers, we often suggest working with YouTubers on their other platforms, as this can yield a much higher return on investment and reaches the same highly engaged audience.
Blog Posts (not technically a social platform, but still important!)
Blogs continue to be an excellent vehicle for longer, more detailed content. Audiences often develop a strong connection to bloggers over time and are likely to trust their reviews and recommendations. Posts that feel authentic (a heartfelt story about parenthood that weaves in messaging from a baby food brand, for example) can be extremely effective and continue to drive brand awareness long after initial publication.
Because of blogs' stellar performance on search engines, we recommend using them for in-depth content — personal essays, photo tutorials, step-by-step instructions, etc. — that has the best chance of becoming an evergreen brand asset.
The final word on social media platforms
Regardless of the platform, you should gather and analyze performance metrics like traffic, views, social shares, likes, comments, repins and follows. This information not only helps determine the success of your campaign but also it gives you the insight you need to guide future content strategies. The winning recipe for influencer marketing success always comes down to identifying campaign goals and target audiences and matching that information to current platform trends.
Want to learn more about how we can help you develop a winning social strategy this year? Give us a call today!