Twitter is a popular social media outlet that attracts a substantial crowd. In fact, Twitter has over 330 million monthly active users, and of that number, 145 million use Twitter on a daily basis. However, with over 500 million tweets sent every day, it can be hard to cut through the noise to actively promote your content or reach your target audience. The rising use of Twitter algorithms can create a more considerable barrier to reach your existing or potential customers. The new algorithm emphasizes pushing tweets and accounts that encourage engagement among users, which is most commonly found among influencers. Before jumping into a Twitter influencer marketing campaign, it's important to consider if the Twitter platform will work best with your companies goals.
Your Guide to Twitter Influencer Marketing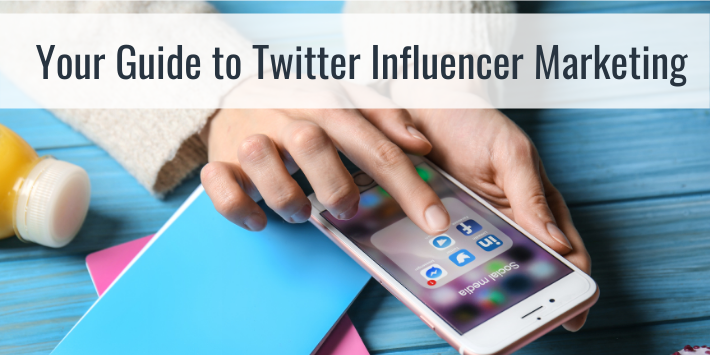 What are your influencer marketing goals on Twitter?
As with any influencer program, it's essential to determine if Twitter is the right platform for your influencer marketing campaign. First, ask yourself who you are trying to reach with your marketing campaign. Approximately 46% of Twitter's current users are between the ages of 35 and 65, with a median age of 40. If you're looking for a wide audience range, Twitter would be a great platform to consider.
Twitter is a popular platform to use to gain customer engagement, impressions on your website or products, and click through to your brand. Twitter's short messaging platform allows you to entertain or quickly entice your customers to act a certain way, whether that means clicking through to a video or a funny tweet that's connected to a product page. If any of these uses match your marketing goals, Twitter should be considered for your next influencer marketing campaign.
Why use Twitter for Your Influencer Campaign?
Twitter is a popular social media outlet to use for your influencer marketing for a wide range of reasons, from its popularity to real-time analytics. Below are some of the most popular reasons to use Twitter for your campaign.
Twitter is Popular – As we mentioned above, Twitter has over 330 million monthly active users, and of these users, 145 million use Twitter on a daily basis. Tweets are short enough to gain attention, with the average user scrolling through Twitter an average of 3.39 minutes per session, multiple times a day. People are browsing through Twitter, which means your ideal target audience is on there too.
Delivers message to a Large Audience Fast – Twitter is a popular platform to share news with a large audience quickly. In fact, even journalists find Twitter to be one of the most valuable social media platforms to share messages with their audience. Tweets are essentially mini headlines that can draw users to perform some action quickly. Plus, in terms of promoting something through a creator, Twitter says that 61% of users follow a creator, which is higher than any other social media platform and allows your message to be spread quickly.
Twitter's Audience Trusts Influencers – Other social media platforms, like Instagram, are already flooded with influencers. Twitter is a less used option that has massive potential for marketers. According to Twitter research, there's a massive increase in purchase intention when consumers see tweets from influencers. 49% of Twitter users have purchased solely on recommendations from another influencer, which is a high conversion rate for your brand.
Quick and Real-Time Updates – While other platforms will share content based on what accounts you like or most interact with, Twitter will show real-time updates from the people you follow. When your influencer pushes a tweet, their audience will see it when scrolling through Twitter. This is unique because other platforms will hide content from users, which can create a less effective campaign.
Amplify Already Existing Content –You don't need to reinvent the wheel with Twitter marketing. Instead, you can easily share and promote products or content you have already created. For example, if you have a post you made for Facebook, you can use the same image, same link but shorten the text to match Twitter's requirement. Plus, if you share content from your website to Twitter, it will automatically trim your content to fit their posting guidelines.
Is your target audience on Twitter?
The great news about marketing on Twitter is that all ages participate in the application.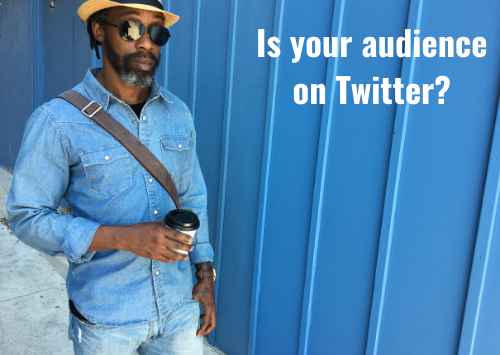 According to Sprout Social, 41% of Twitter users are between the ages of 18-24, 31% are between 25-30 years old, 26% between 30 to 49 years old, and 20% between 50-64 years old. The least represented audience are users who are 65 or older, with only 7% of that population using Twitter. If you're looking to market to a wide range of users, Twitter would be an ideal platform to use.
Ideas for Twitter Influencer Marketing
There are many ways to optimize your influencer marketing campaign for your Twitter campaign. The basic idea is that you want to promote engagement with your audience to turn potential customers into paying customers.
Videos: Using videos for your Twitter Influencer Marketing strategy is a quick and easy way to highlight your products and services. When you post a video to Twitter, it will pop up and play so users can instantly stream your content. Twitter users want short videos that are entertaining and serve a purpose. Avoid using long videos on this platform, so you keep your audience interested in your brand. Users can easily re-tweet your video links or share them with friends, which quickly allows you to reach a broad audience.
Twitter Parties or Chats: Twitter parties or chats are a great way to engage your customers and create real-time interaction. Twitter parties involve multiple users talking about a specific topic at the same time. The idea is that your influencer would create a party focused on a subject at a particular date and time. They would invite their audience to participate with a specific hashtag. On the day of the event, the host will lead the conversation, encourage interaction, and even giveaway prizes.
Giveaway, coupon, or code promotion: The short character limit of Twitter is perfect for sharing promotions with your audience that will catch their eyes. Consider sharing a link to your services or products with a coupon code so that users will react to your deal. You can even host giveaways, asking users to follow an account and re-tweet or tweet with a brand name tagged. This will increase your brand's analytics and popularity.
Amplify blog posts: With tweets, you can share a link to redirect your followers to relevant content that is important to them. Blog posts are an easy way to help users find answers to product questions or educate users on problems that your brand can fix.

Paid Social Advertising on Twitter
Unlike other social media platforms that make it necessary to use paid media for reach on a campaign, Twitter is not one of them. You can conduct a Twitter marketing campaign without using paid media. However, if you're looking to have a massive reach with your tweets and increase the number of impressions, clicks, and video views at a cost-effective rate, paying for advertising may be a good option for you. If you're not interested in figuring out this part for yourself, hire a reputable company, who understands how paid media can amplify influencer marketing to take care of your marketing needs.
Finding Influencers on Twitter
The last step before you can launch your Twitter Influencer Marketing strategy is to find your influencers. There are a few things you should consider when searching for your ideal influencer:
Use Twitter search: Twitter search will be the easiest way to find potential influencer's profiles. You can search relevant hashtags to find users who already talk about the topics you want to promote. Once you find a potential influencer's Twitter, search through the content they're posting to see if it's the right fit for your company. Remember, they're going to represent your brand, so if something is not up to standard on their profile, consider looking for another influencer.
Search users' followers and who they're following: Twitter followers are an easy way to see what type of audience likes to follow this user. Their audience may be drastically different from the audience you need for your campaign. Consider if their followers are active users or fake accounts to see if they will have the reach you need for your campaign.
Attend Twitter chats: Check out popular Twitter chats to find ideal influencers for your campaign. You'll be able to see the type of reach they hold and identify their target audience to know if it's appropriate for your brand.
Use a Reputable Influencer Agency: Using an influencer agency, like Sway, will help you find the exact perfect match for your Twitter influencer marketing. We even handle the paid media, so you don't have to.
Additional Tips for Twitter Influencer Marketing
Look to engage users that are within your ideal industry niche. Finding followers in your niche will help to create higher engagement and visibility with your brand.
You'll want to ensure someone checks your content once it's live while ensuring you're not running into any disclosures. Unlike other platforms that allow you to edit your post, if you mess up a tweet, you have to delete and repost, which can waste time and confuse users. If you're not comfortable with this, hiring a quality assurance staff that looks at every piece of content before and after it's posted, like the Sway group offers, is necessary for your campaign.
Wrap-up
Finding an influencer for your marketing campaign can seem complicated, but it doesn't have to be. Using an influencer agency, like Sway Group, will help you find the best influencers for your Twitter influencer marketing campaign. Once the influencer-client relationship has been formed, Sway will handle all the logistics to reach your ideal target audience.
Reach out today for more information about Sway Group's influencer marketing services!