Holiday marketing with TikTok influencers just makes sense.
In fact, we can definitely expect TikTok to be one of the go-to platforms when it comes to influencer marketing during the holiday season. With over a billion monthly active users and a demographic that's growing up with more associated spending power, TikTok's promotional appeal has never been stronger.
TikTok's explosive growth has transformed the platform in recent months into a vibrant place of brand discovery. Its highly engaged community loves to shop, share thoughts on products and services, and talk about brands and consumer experiences.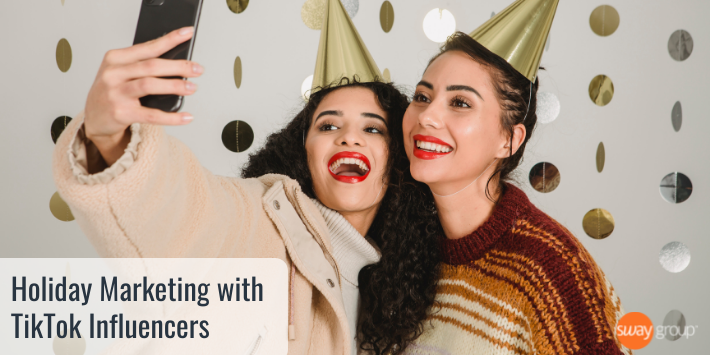 You've likely seen stories of TikTok's enormous consumer influence throughout the last year, emptying retailer shelves in the wake of surges in demand for skorts, feta cheese, leggings, and much more.
Truly, TikTok has become the perfect destination for brands to be part of the latest trends and viral moments. Content verticals of all kinds have flourished on TikTok, with specialty niches that are ripe for incredibly targeted marketing opportunities.
Tiktok is loaded with popular hashtags from #blackfridayshopping, #giftgiving, #holidayhauls #unboxing, to #gifts, which shows just how much holiday shopping and gift-related content is available on this platform.
Holiday marketing with TikTok Influencers
The #blackfriday and #itsblackfriday hashtags each have more than 1.2B views, demonstrating the excitement that TikTok users have for holiday sales. TikTokers have also taken the art of gift-giving — and unwrapping — to its creative limits, with #gift up to 12.4B views and #unboxing at a whopping 21.7 billion views and counting.
You can expect to see plenty of creative, engaging, and exciting branded content on TikTok this holiday season, and Sway Group is here to help you connect your business with like-minded consumers.
When it comes to planning social media marketing for the holiday season, we recommend brands have a clear vision of their goals. For example, are you looking to increase awareness, drive app downloads, boost sales for a specific product, or…? Understanding your brand KPIs will help us select the perfect TikTok creators who are aligned with your brand values and aesthetic.
The TikTok community is primed to embrace 2021 holiday-related challenges, trends, and viral moments, and we can expect this season to be full of brands wanting to join in to be a part of the holiday spirit.
Want to learn more about how we can help your brand find success on TikTok? Contact us today!