Regardless of whether you run your influencer marketing campaigns in-house or outsource the work, the key ingredient to every successful influencer marketing strategy is a strong foundation.
In this article, you'll learn our 8 step action plan for creating a winning influencer marketing strategy that ultimately is measurable and drives sales.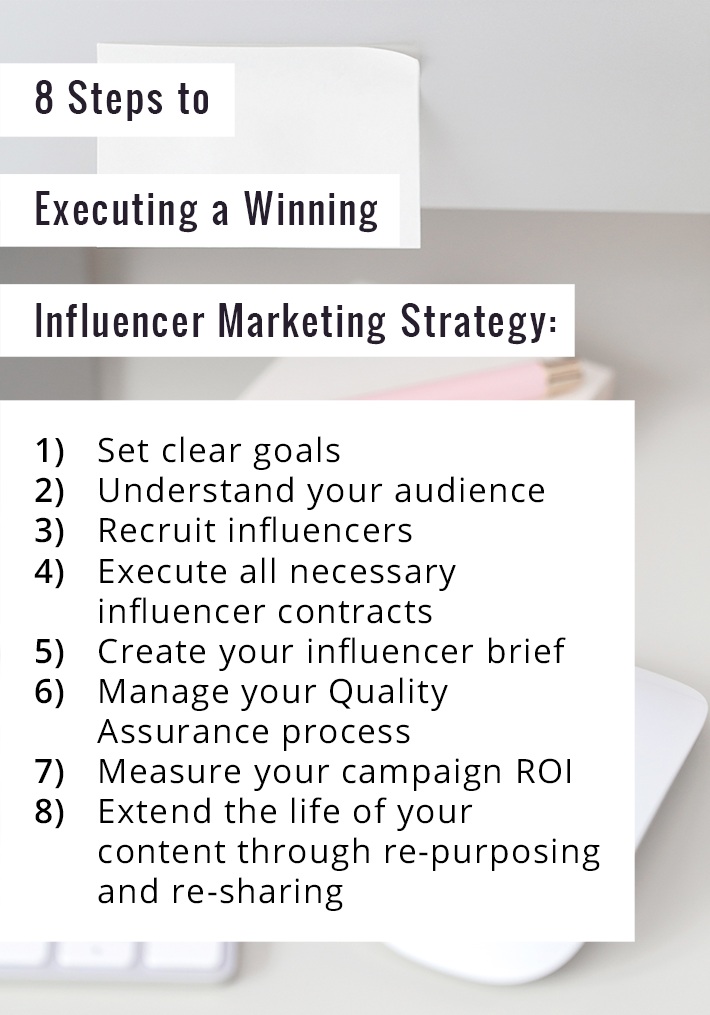 8 Steps to Executing a Winning Influencer Marketing Strategy
Set clear goals
Understand your audience
Recruit influencers
Execute all necessary influencer contracts
Create your influencer brief
Manage your Quality Assurance process
Measure your campaign ROI
Extend the life of your content through re-purposing and re-sharing
What Does an Influencer Marketing Strategy Require?
According to Wikipedia, influencer marketing involves endorsements from "people and organizations who have expert knowledge and social influence in a respective field."
When it comes to expanding your brand's reach and engagement online, a strong influencer marketing strategy is all about connecting with social media influencers: the experts, tastemakers, and social media mavens who have built up an active following on their digital platform.
Whether you're just getting started with influencer marketing or wanting to brush up on the basics, this overview will help you understand what goes into creating a successful strategy and also the benefits of influencer marketing.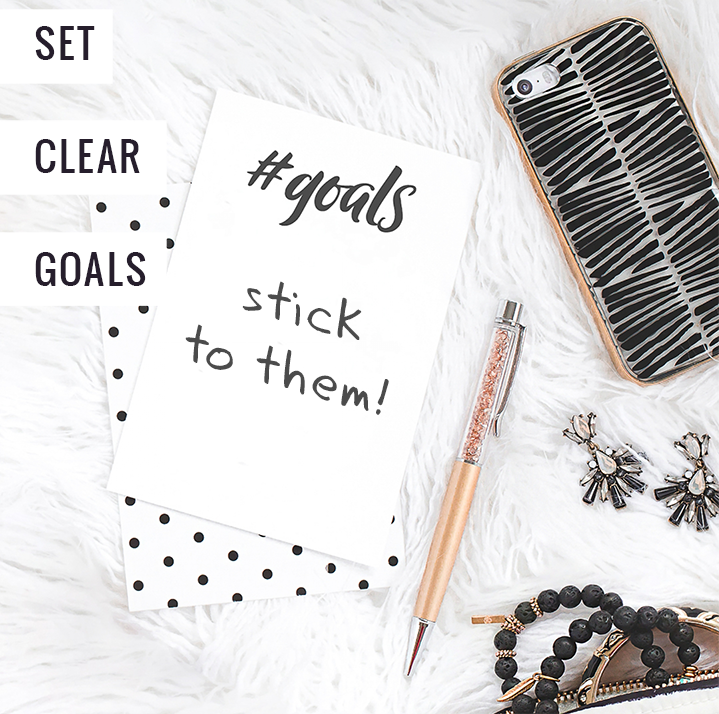 1. Set Clear Goals
Before you can truly dive into establishing your influencer marketing strategy, you need to understand your business objectives.
Are you hoping to spread awareness for your company's latest product? Drive traffic to a certain web page or video? Boost sales? Start a social conversation? Your KPIs — key performance indicators — will not only help lay the groundwork for influencer marketing strategy success, but they're also necessary metrics for determining success.
Keep your goals in mind throughout every stage of the planning process. This will help you determine which type of influencer is best for your needs and how best to utilize their skills.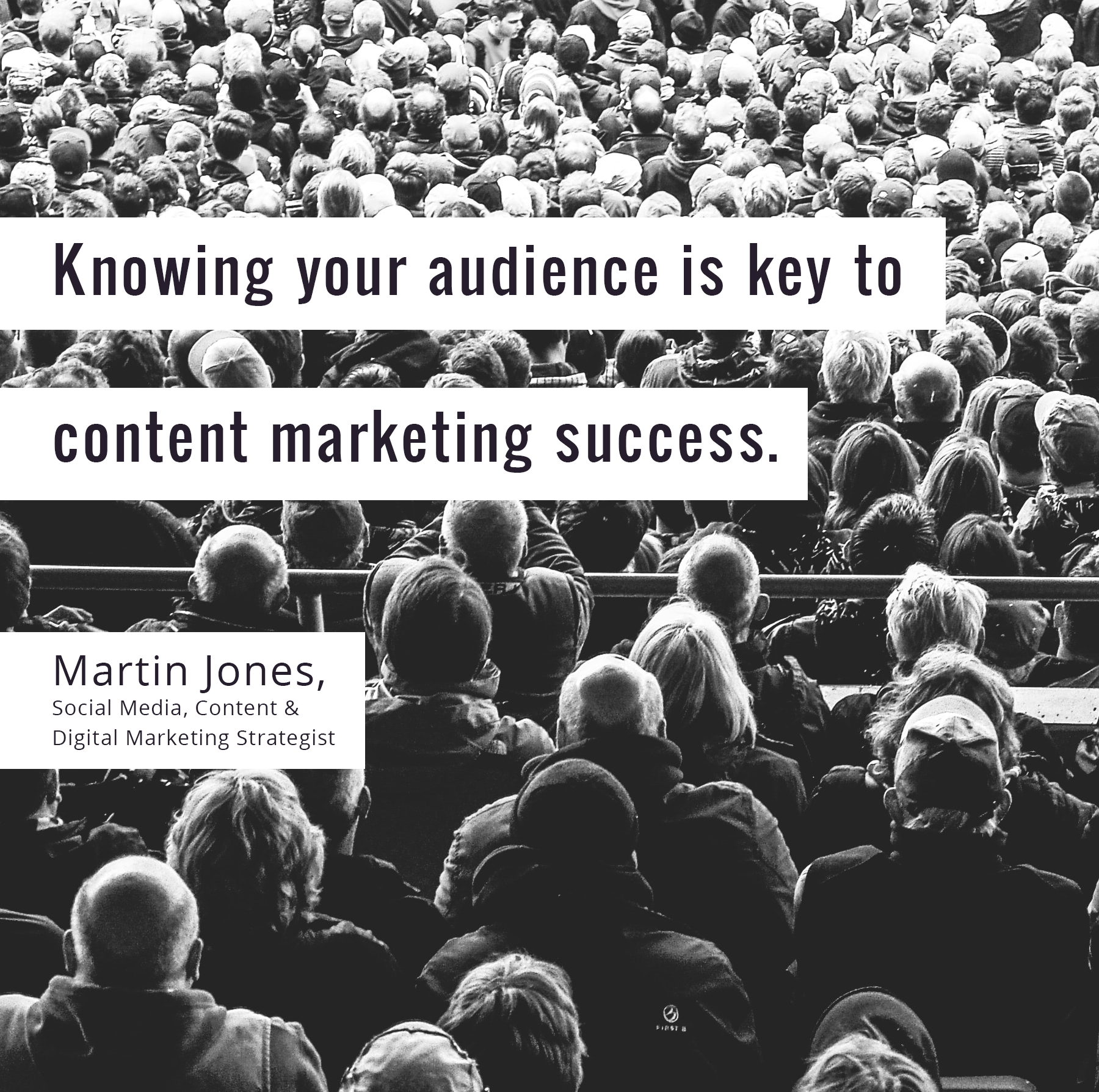 2. Understand Your Audience
Insight into your target market's key interests is critical for influencer marketing strategy success.
Listen to existing customers, and spend time on relevant discussion forums and engaging in social media conversations. Once you understand the tone and topics that resonate with your target market, you'll be able to see who they're paying attention to.
A key part of every influencer marketing plan is identifying the tastemakers and top social media influencers who dominate their social feeds.
However, don't make the common mistake of targeting just the influencer. Their follower demographics are even more important.
Influencer audiences aren't always a perfect representation of the people they follow, especially for large accounts. In order to make sure your targeted audiences match your ideal customer profile, you should be looking at follower characteristics including:
Age
Gender
Location
Occupation
Likes & Interests
One way to conduct deep-dive audience research is with an influencer marketing agency. (At Sway Group, we can perform custom, detailed queries in our influencer network, and send out surveys to gather even more information.)
Other options include using an influencer audience insight tool, or paying for an influencer selection service that includes analytics.

3. Recruiting Influencers
If you are actively participating in your target market's online conversations, you may already have a good idea of the influencers you want to align with. Otherwise, there are a number of influencer marketing tools and platforms to help identify the top bloggers and social media users in your niche.
Some influencers will have a media kit complete with past performances and results, or you can always request screenshots or other proof of prior campaigns.
If you are looking to activate a large number of influencers as part of your influencer marketing strategy, working with an influencer marketing agency can save time spent on research, recruitment, negotiations, activation, payment, and more — but it's certainly possible to manage this process in-house!
Once you've identified influencers who are actively looking for projects and are a good contextual fit for your brand, it's time to agree on a price and a project.
Most influencers are willing to negotiate their compensation, but be prepared to pay a fair price for the sponsorship. Also, be prepared to negotiate with an intermediary. Many influencers have hired managers to help negotiate their compensation terms. Payment will vary greatly depending on their social influence and audience; smaller influencers may charge as little as $100 for a sponsored post while others will expect to be paid thousands.
4. Is an Influencer Contract Necessary?
When it comes to executing a successful influencer marketing strategy, a contract is absolutely necessary.
If you're a business making a legal relationship with an independent contractor then the influencer contract should contain important details such as when payment is due and who owns what after it is created.
Common Influencer Contract Details
What the deliverables are – be as specific as possible
When content is to be posted with concrete dates
Which platforms will be used
When payment is due
Who owns what after the content is posted
Cancellation clauses
Confidentiality and exclusivity
FTC disclosure expectations
The influencer's role has been evolving along with the industry. Once viewed simply as a product placement opportunity, influencers are now being commissioned as photographers and videographers, brand ambassadors, writers, and marketing specialists.
However, you decide to work with an influencer, be upfront about your expectations and document all of the relevant details in the contract.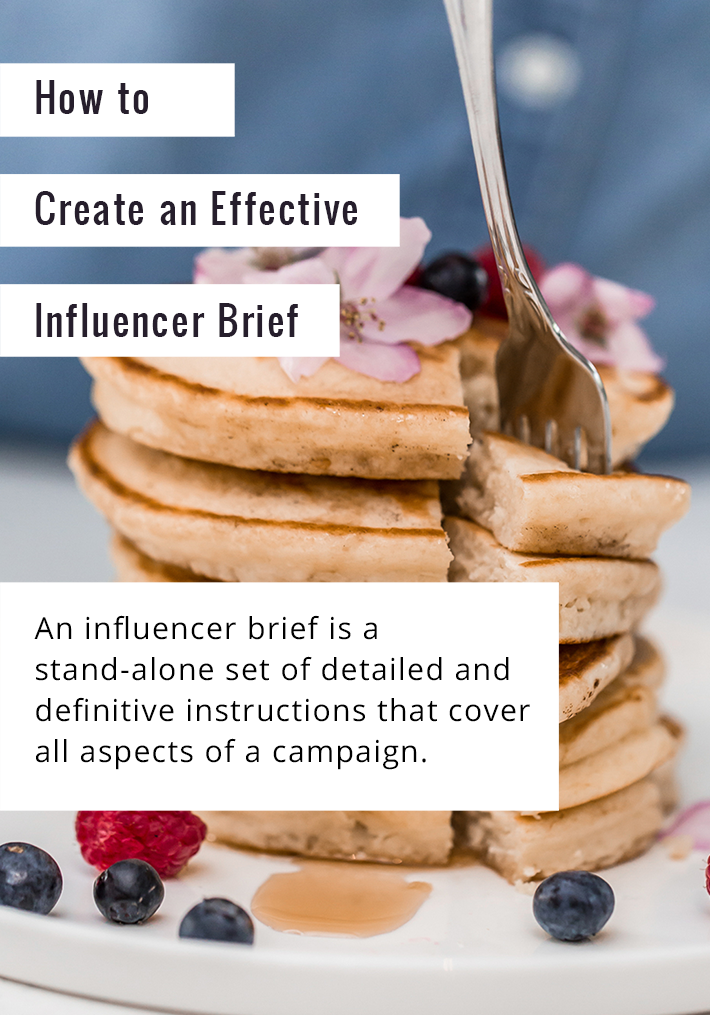 5. The Influencer Brief
When designing an influencer marketing strategy that will be successful, second only in importance to the contract is the influencer brief. This document ensures influencers know what is expected of them, and clearly outlines the influencer marketing campaign deliverables.
An influencer brief should at minimum clearly outline the campaign goals, key product and brand messages.
Further details can include content prompts, a theme outline, what not to include (i.e., messaging to avoid, phrases you dislike, etc.), detailed social share requirements such as links, hashtags (and who to tag), blog post directions, image direction including brand assets and sample photography, deadlines, content review process, exclusivity and licensing requirements, and FTC disclosure guidelines.
This detailed brief becomes your influencer marketing strategy's north star. Not only does it reduce any confusion about campaign goals and expectations, it also means that influencer-created content can be appraised in a quantifiable manner.

6. Don't Skimp on Quality Assurance
Every influencer marketing campaign should include the ability to quality check the content, both during the development process and after it goes live. You don't want mistakes, you don't want low quality content, and you definitely don't want to risk being in violation of the Federal Trade Commission Act.
There's no one-size-fits-all guide to developing a solid influencer marketing QA process. The ins and outs will depend on the size of your team, the number of stakeholders, the scope of the campaign, and so on.
Regardless of workflow, we recommend building at least one review checkpoint prior to content going live into every campaign so that any issues can be discovered with built-in time to make adjustments. At a minimum, we suggest reviewing content within 24 hours of publication.
7. Metrics Matter
Metrics may not be the most exciting part of your influencer marketing strategy, but they give you the information you need to understand the impact of your current campaign, determine ROI, and fine-tune your future projects.
The type of metrics you'll want to measure will be based on your program objectives. Maybe you are aiming for a certain number of video views or post shares. Maybe your focus is on likes, newsletter signups, coupon code redemptions, or sales. Every campaign will have its own unique set of meaningful influencer metrics.
Which Metrics Are Most Important?
Again, that will vary based on your goals, but we recommend starting with engagement, or cost-per-engagement (CPE). Engagement goes beyond exposure by showing how a consumer took action with a piece of content — likes, views, comments, repins, tweets, hashtags and shares are all part of your campaign's overall reach. This will help you understand the level of audience involvement and interest in your influencers' sponsored content.
CPE can be measured in terms of dollars spent per "like," comment, or interaction such as a video view or click-through.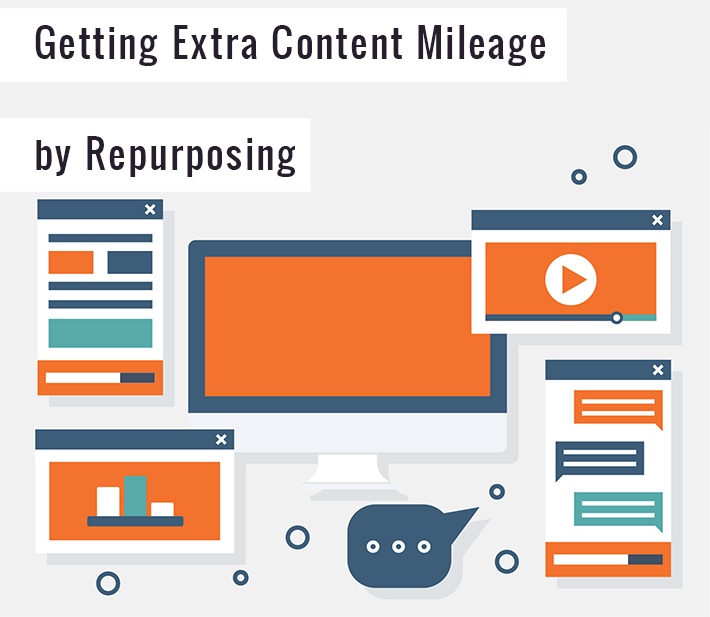 8. Extending Your Content
Once you've made an investment in influencer-created content, it behooves you to make it work as hard as possible. Brands often continue to promote influencer posts once the campaign has ended, but there are lots of options for extending content beyond additional social shares.
Consider the ways you might repurpose that amazing blog post: could it be included in a newsletter, or mentioned on a podcast? How about a particularly compelling influencer graphic; would it work on your brand website or as part of a paid advertisement?
Important Tip: Remember that content versatility is dependent on usage rights! If you want to be able to repurpose influencer content, make sure commercial rights are confirmed and approved by both parties in the contract.
When you repurpose content, you're not only improving your ROI, you're building repetition. By continually adding touchpoints with your target market, you'll increase credibility — and ultimately, drive more engagements and sales.
Finding Your Influencer Marketing Strategy Success
While we've covered the basics for developing and executing a strong influencer marketing strategy, there are obviously many additional details and possibilities that can be customized to your specific brand goals.
At Sway Group, we've been doing this work for over a decade, and we'd love the chance to share our expertise with you.
Contact us to learn more about how to reach your ideal audience through influencers, and start getting the kind of engagement that turns prospects into loyalists.