The use of key influencers to drive awareness and spark engagement has become an integral part of almost every modern marketing strategy, but for many brands, even the most successful influencer marketing campaigns aren't as powerful — or cost effective — as they could be.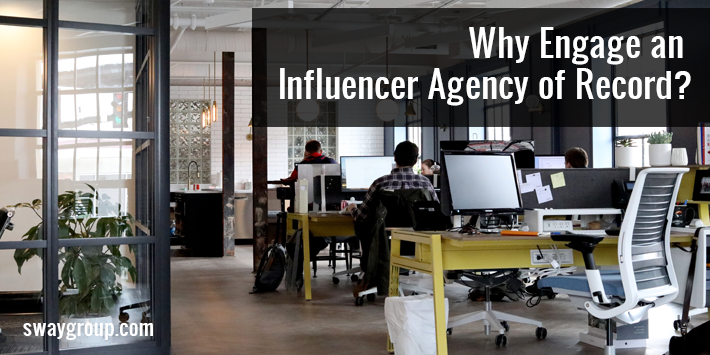 Here's the problem: most brands have multiple agencies with a seat at the table, including PR, media-buying, digital, and creative (among others). Ownership of influencer marketing has typically been up for grabs. This can lead to a siloed approach in which each agency runs or outsources their own influencer component. For one brand, there could be influencers working on behalf of advertising, digital, and PR, all at the same time, and all managed by a different entity with a different set of objectives.
This is where things can start getting sloppy. There is potential competition for the same influencers, inconsistent execution deliverables, non-strategic timing, and varying content quality.
Time for an Influencer Agency of Record
What's the solution? It's surprisingly simple: it's time for brands to bring on an influencer agency of record (AOR).
Engaging an influencer agency of record means that the full brand marketing plan, including other agency tactics, can be seamlessly incorporated into the influencer marketing approach. This concept isn't totally new. Ergobaby is a great example of a brand who has benefited from employing an influencer AOR. Sway Group handles all paid influencer engagement for Ergobaby. This has freed up brand resources while allowing the team to outsource time-intensive tasks like influencer recruitment, contracting, post instructions, and payments.
In this scenario, influencers who reach out to Ergobaby asking to work with them on sponsored content are directed to the Sway recruitment department so they can be considered for upcoming campaigns. It's important to note that bringing on an AOR hasn't prevented the brand from being able to work directly with influencers. Ergobaby still has strong relationships within the influencer community, and routinely sends out products for review and engages with influencers at events.
A few additional benefits of employing an influencer agency of record.
More Continuity. A unified influencer marketing effort means that the consumer experience and deliverables are more consistent across multiple campaigns. More than once, my agency has been in the position of creating two separate campaigns at the same time and for the same exact brand. How does this happen, you ask? Because there is often no real "owner" of influencer marketing, existing agencies (typically PR and media buying) can both end up hiring influencers for the same campaign. It's a colossal waste of both money and resources, and makes the task of recruiting more difficult than it has to be. The brand is essentially competing against itself for the influencers.
Increased Efficiency. This type of AOR integrates brand and agency processes and breaks down silos, which in turn reduces knowledge gaps. When a single group is coordinating the influencer tactics from the top down, brand spend is streamlined: timing is perfected, duplicate or overlapping campaign tactics can be eliminated, and ultimately, content quality is improved.
Personal Relationships = Better Content. Influencer agencies are not all alike: some rely on technology platforms to select and communicate with influencers, while others take a more hands-on approach. An influencer agency of record should have the ability to personally survey and recruit content creators, maintain direct communications throughout a campaign, and leverage QA processes to ensure content quality and eliminate influencer fraud. Influencers with this hands-on approach are likely to produce more meaningful campaigns and provide valuable perspectives over time.
Fresh Content. When brands can rely on one agency to oversee long-term programs rather than individual campaigns, it's easier for marketers to tweak tactics and swap in different types of influencers in order to find the perfect mix. This allows for the creation of new high-performing brand content throughout the year — content which can be extended and repurposed on brand-owned channels and through media buys.
A True Partner. It's more efficient to work with the same agency over a period of time, particularly when the brand story is complex or multifaceted. An agency partner who is familiar with brand goals and messages is better suited to guide a variety of influencer campaigns, and cuts back on the time necessary for getting new stakeholders up to speed.
An influencer AOR can be a game-changer for brands with multiple marketing efforts (large brands, umbrella brands, etc), but it's important to do the research before selecting your agency. We have some tips for finding the right partner:
Make sure the agency has a large and diverse network of influencers and that they're continually recruiting; an AOR needs to provide a diverse set of options that can fit a multitude of campaigns.
An agency should have a solid track record of delivering the kind of results a brand is looking for. If most of the agency's campaigns are designed to bring in impressions but a brand is looking for engagement, it may not be a good fit.
Consider hiring a full-service agency who provides everything from recruitment to post-campaign metrics. From an AOR perspective, this is likely a better choice than an agency who only offers access to a do-it-yourself influencer platform. Agencies of record should provide consulting, strategy AND deliverables.
Determine which internal team should own the AOR relationship – is it Brand? Communications? Digital? All teams should have input to ensure goals are met, but one team should own the working relationship.
This article was originally published on Adweek.
Interested in learning more about how this works?
Please reach out – we'd love to set up time to discuss!