In influencer marketing, the power of great content cannot be overstated. People have learned to tune out impersonal ads, but they respond to top-quality content that's unique, genuine, and relevant — whether it's a sponsored post or not.
Brands are starting to realize the cost-effective model of relying on influencers to create the sort of content that used to be handled by pricey creative agencies and media publishers. Where branded content creation and distribution used to be a budget-buster, influencers are not only more affordable, they're far more effective.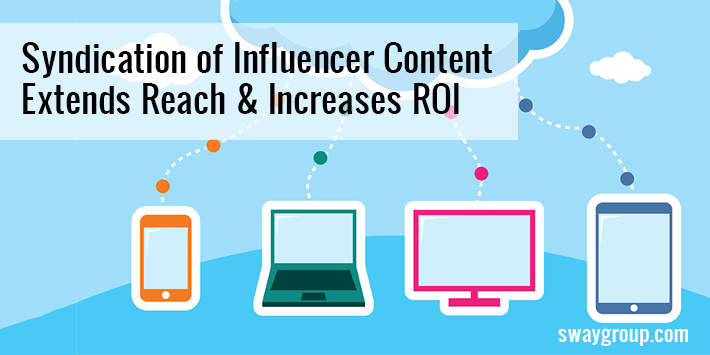 Syndication of Influencer Content Extends Reach & Increases ROI
Expert influencers know how to create the sort of content that results in active engagements, from likes to shares to purchases. Influencer content doesn't need to be limited to a specific campaign or the influencer's readers. In fact, brands have several low-cost options for extending the value of their influencer content, while reaching new audiences and increasing ROI.
Brand-Owned Channel Distribution
Sponsored blog content often includes social media sharing, where influencers post their sponsored content on Twitter, Facebook, or other social networks. Another option is for brands to share influencer content on their own corporate channels. When a brand re-posts influencer content from a company account, it not only helps build trust and goodwill among existing followers, influencer audiences are often attracted to the brand channels.
Paid Media Pays Off
Brands can work with media buying partners to place influencer content (in lieu of in-house or agency creative) in ad units across the web. Ad targeting can identify receptive audiences, and the organic, word-of-mouth tone of influencer content can resonate far more than traditional advertising messages.
More and more, paid media is being used in the syndication of influencer content beyond individual social accounts. In this way, campaign reach can grow exponentially, and brands can utilize existing content for new programs.
Influencer Agency Opportunities
For brands who want to use influencer content to run media buys on Facebook and Instagram, Sway Group manages this in a couple different ways. With the ability for an influencer to assign advertiser access on these platforms, we can manage the media buy using best-practice placement strategies, depending on campaign objectives and target markets.
Additional influencers can be used amplify someone else's great content. At Sway Group, influencers with large social media followings on specific platforms can be hired to tweet, pin, or post with links to the branded content that was created by others. The advantage here is that the content can be created by the influencers who do the best job regardless of what their social reach may be. It also means that brands can expand outreach while continuing to leverage the trust and credibility between influencer and audience.
Influencer Content Usage Rights
In most campaign scenarios, influencers retain rights to their own content. But brands can pay for the exclusive right to use the content in future campaigns and advertisements. Typically, this comes at a fraction of the cost of purchasing agency-created media.
High-performing influencer content can be used for more than just new social campaigns. It can also be repurposed for other mediums including print, TV, and so on. Influencer images, video, and custom creations like recipes and home decor tutorials tap into consumers' preference for user-generated content. They also have the added benefit of feeling like a recommendation from a trusted friend.
Here at Sway Group, great content is always the goal. Once created, the ways to share and promote can be long-lasting and varied. Let's talk.