In 2013, the Oxford English Dictionary added the increasingly common term "FOMO", defining it thusly: fear of missing out: anxiety that an exciting or interesting event may currently be happening elsewhere, often aroused by posts seen on a social media website
Yes, FOMO is a real word — and a real phenomenon. Thanks to the pervasive nature of social media, many of us are all too familiar with the feeling of comparing ourselves to the (often exaggerated) lives of others. FOMO doesn't have to be negative, though, and smart marketers are using it to drive brand exposure.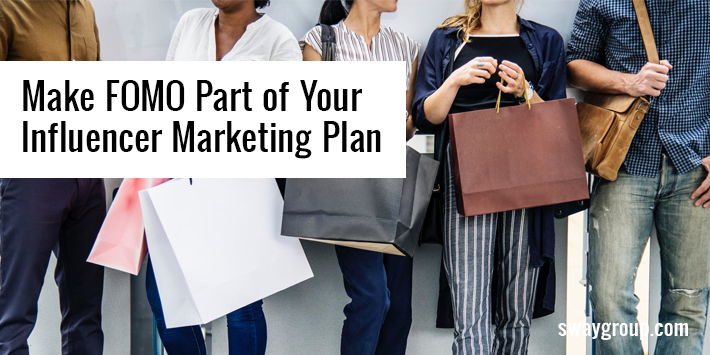 Faith Popcorn, founder and CEO of consulting firm BrainReserve, has identified three ways brands can leverage FOMO in their marketing plan: Foster, Fight, or Flip.
Fostering FOMO

: Boosting buzz around events or purchases in order to encourage the feeling of not wanting to miss out on the action or conversation (Coachella, AirPods, Instant Pot).

Fighting FOMO

: Providing a curation service so that consumers feel plugged into current trends (beauty subscription boxes, Spotify).

Flipping FOMO

: Turning away from the FOMO trend altogether with options to unplug or avoid popular activities (REI's anti-Black Friday #OptOutside campaign, downtime-focused apps like Calm).
Influencers can be an integral part of your FOMO efforts by driving demand or providing a feeling of being in the know. As credible and often aspirational sources, influencers bring an emotional element to your product or service. Their audiences trust their recommendations and can feel a heightened sense of interest or desire for a shared experience. After all, if your favorite beauty influencer is raving about the benefits of a new face cream, you're not only more likely to want to try the cream for yourself — but also share it with your own followers.
Influencer campaigns can also prompt consumer action by being based around scarcity or exclusivity. Scarcity, such as limited stock or time offers, adds urgency to the purchasing decision and creates a sense of demand. Invitation-only websites, memberships, and content providers all prompt curiosity and a desire to be part of an exclusive group.
Whether you're chasing FOMO with your marketing efforts or turning it on its head, it's a great tactic for generating traffic and prompting engagement. Talk to us today to learn more about how we can design an action-oriented campaign for your business with our network of talented influencers.
---
Have you recently executed an influencer campaign that produced amazing content? Do you know how to make that content work as hard as possible?
The good news is that a piece of influencer created content doesn't have to be limited to a single campaign. We created this guide to share some ideas for getting the most value from your influencer-created brand assets. Get started today!