Influencers across every social media platform have taken on increased importance as consumers look towards the endorsements of others for what they try and buy. In fact, 88% of consumers trust online reviews as much as personal recommendations.
Today's influencers produce complex marketing campaigns via various forms of media, seamlessly weaving brand messaging into their own opinions and recommendations. No matter how you are working with influencers to promote your brand, we've got three ways to ensure successful influencer campaigns.
Three Ways to Ensure Successful Influencer Campaigns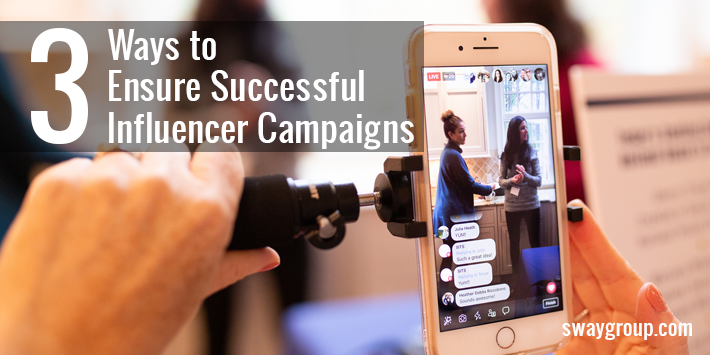 1) Find the right influencers.  There are lots of ways to approach selecting influencers. Many brands and agencies look for influencers who match their demographics. Sometimes this makes sense (for instance, a parenting blogger will likely have many readers who are moms), and sometimes it doesn't. Consider their readership. If you're trying to reach a certain age or location, you don't necessarily need an influencer who fits these parameters – you need an influencer whose audience does. Your influencer agency or platform should be able to provide audience demographics (age, sex, location, and other pertinent audience insights) so that you can confirm your campaign content reaches your target consumer.
Another crucial trait is an influencer who has an engaged audience. Someone whose followers trust their opinion, and consistently read, comment on and share their content on social media. This will naturally lead to an even more successful influencer program. Engagement rate for each influencer is also something your agency or platform should be able to provide.
2) Set expectations. One of the most important aspects of a successful influencer campaign is having succinct key messaging and clearly defined expectations. This should include which platforms the influencer(s) will use to promote your brand (e.g., one blog post, two Facebook posts, and one Instagram post) and during what time period an influencer should publish their content about your brand. Outline your goals and 3-5 key messages you want to communicate to their audience, as well as anything you absolutely don't want them to say.
3) …but let them be creative. That being said, you should be relatively flexible about how and when an influencer writes about your brand. Let them speak in their own tone of voice, weaving your messaging in with their own words, and allow them to be creative with how they approach the content. For brands who are new to influencer marketing, it isn't always easy to shift gears from the traditional advertising model. It can be tempting to provide influencers with a highly-defined, scripted assignment that leaves no room for creative interpretation.

The problem with this approach is that audiences don't want to be blatantly pitched — and influencers don't want to simply re-publish brand messaging. The most successful sponsored content emerges when influencers are allowed to tell stories in a way that resonates with their audience, which results in a diverse campaign with many unique voices and approaches.
Ready to develop your own successful influencer campaign? Contact us to discover how we can help.