Nowadays, every social media platform has its own component for sharing video content. Whether it be livestreams, pre-recorded videos, or spur-of-the-moment stories, it's crucial marketers understand how to use each of these features in order to fully capture their audience's attention. That's why today we're sharing our best tricks to crafting successful video content for social media.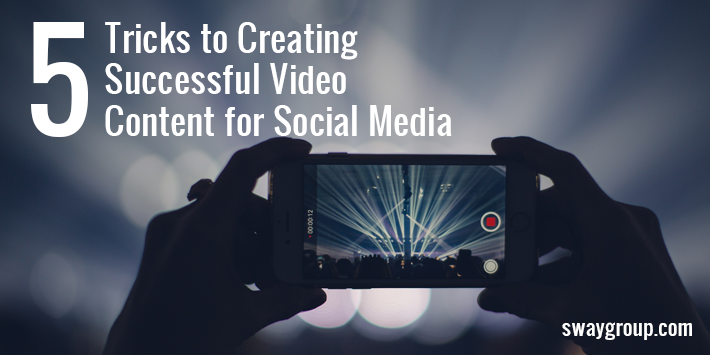 5 Tricks to Creating Successful Video Content for Social Media
Check out our best tips for creating engaging and successful video content for social media:
1. Make It Mobile
Social media applications are mostly used on smartphones. So make sure to design your video content with a mobile audience in mind. More specifically, keep your pre-recorded videos and stories short so they're easily understood. Most users watch videos in silent when they're on the go so make your videos easily understood in silent mode. To do so, use hands-on demonstrations or subtitles to ensure your videos are effortlessly comprehensible.
2. Align Videos with Events
Search trending hashtags and hashtag holidays in order to create video content that coincides with a popular event. People love to be in the know when it comes to current events so matching your videos to a widely viewed event is a guaranteed way to get eyes on your content. You can either use pre-recorded videos centered around a hashtag holiday or you can even start a lifestream or post a story from the event itself. Make sure to include the trending hashtag and geotag to optimize views.
3. Answer Questions
Posting how-to videos or Q&A's are both super simple ways to answer any questions your followers may have about your product. To do so, use a series of stories that depict each step in a short manner. Another fun way to answer questions is to host a lifestream where you can immediately respond to questions as they role in. This way you're directly engaging with followers in a way that is more personal and intimate. This intimacy is crucial to customer loyalty because they feel acknowledged instead of lost in the crowd of consumers.
4. Take Suggestions
Coming up with ideas for videos can be a challenge. An easy solution is to take suggestions from followers. This way, you're creating content your audience actually wants to see which ensures more views as well as more shares. Since the video relates to their interest or inquiry, they're will save the video for reference or share it among other social media platforms to help other followers with the same question.
5. Host a Takeover
Takeovers are an awesome way to engage with more audiences at once. First, find an influencer that relates to your product. From there, they can host a lifestream or post stories of them using your product in their daily life or from a live event promoting your product. They should post this video content on their social media account as well as on your company's accounts. Need help finding an influencer? Just give us a shout and we'll find the perfect influencer that not only relates to your company's product but also matches your brand's core messaging.