If you're new to this industry, it can be hard to discern the differences between influencer marketing agencies and influencer marketing platforms. Influencer marketing is an ever-expanding industry with more and more brands opting to partner with influencers on various campaigns.
In fact, on Instagram alone, influencer marketing grew from about $1 billion in 2017 to over $2 billion in 2019. When brands decide to develop an influencer marketing campaign, they must decide which route is best for them: choosing an influencer marketing agency vs influencer marketing platform. But what's the difference? And which one is better?
We'll dive into specifics shortly, but briefly, an influencer marketing agency takes most of the work off a brand's plate in regards to planning, strategy, execution, influencer communication, compliance, and reporting.
An influencer platform on the other hand is a robust tool that brands can use to help them fully run campaigns in-house.

Influencer Marketing Agencies vs Influencer Marketing Platforms…the True Differences
Let's take a look at a typical influencer marketing campaign from start to finish and see how an influencer marketing agency and influencer platform match up.
With an influencer marketing agency, brands receive a robust campaign strategy, including creative content, appropriately matched influencers, paid media, and a plan that ties back into the brand's overall goals and Key Performance Indicators (KPIs). At Sway Group, we have a dedicated team that takes all this into consideration when developing a customized influencer campaign proposal.
An influencer platform typically offers a rigid, metrics-only plan, devoid of any strategy regarding content and influencers. This works fine when a brand already knows exactly what they want and will be executing the campaign themselves.
Influencer Marketing Campaigns at Scale
Influencer agencies have the ability to scale influencer campaigns from small programs to large multi-flight ones including those with hundreds of influencers. At Sway Group, we excel at managing large-scale campaigns with various levels of influencers.
Platforms require a lot of heavy lifting for large-scale campaigns. From influencer communication and setting up campaign guidelines to monitoring content and gathering data, it's no small feat.
Finding Influencers for your Campaign
Influencer marketing agencies value and have personal connections with influencers. They foster these influencer relationships of all follower sizes (nano influencers, micro influencers, macro influencers and celebrity), in various verticals and can actively go seek potential influencers to match a campaign so a brand doesn't have to do it themselves.
Using the established relationships, influencer marketing agencies know how influencers/content creators perform and have an understanding of their aesthetics and writing style. At Sway Group, influencers are carefully selected to present to the brand for the specific campaign. We actively engage with our influencers through our Influencer Network and dedicated Facebook community.
When a brand executes campaigns through an influencer marketing platform, they are limited to only influencers who are signed up on that particular platform. The brand is then on their own with all communication as it relates to influencer fees and campaign requirements/expectations.
Influencer Campaign Execution
From influencer management to quality control, an influencer agency takes the front seat with all influencer communication during the execution of an influencer campaign including conveying the brand's goals, KPIs, and program requirements. At Sway, not only do we have multiple staff who manage communication with influencers, but our team is tightly interconnected, ensuring that the brand's goals don't miss a beat.
Brands are required to handle all communication and campaign execution including influencer fees and campaign requirements/expectations, etc. when they work with a platform. This can lead to smaller programs due to time constraints and management of communication throughout the various stages of execution. .
FTC Compliance for Influencer Marketing
Influencer agencies are experts in FTC guidelines for influencer marketing. They often have multiple points of compliance review to ensure protections for the brand. At Sway Group, this includes a before and after content review, as well as once all influencer content is live, and is always checked by humans, not bots.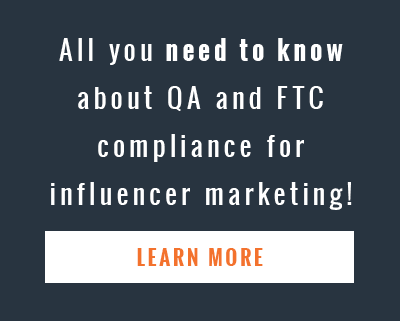 Platforms typically have technology that will flag for various forms of disclosures. Ultimately though, it comes down to the brand's responsibility to be in compliance, which requires they be up to speed on the latest FTC regulations.
Paid Media for Influencer Marketing Campaigns
Social platform algorithms have evolved, making it harder for influencers to organically reach their audience without any kind of paid media element. Influencer agencies are able to layer a targeted paid media strategy to their influencer campaigns to reach a brand's target audience.
At Sway Group, our dedicated Insights and Analytics team obtains advertising access to the influencer's account and/or social post to maximize its reach and develop ads to reach the brand's target audience
When a brand works with an influencer platform, they must work with their digital team to execute any additional paid media element for the campaign.
Influencer Campaign Results and Reporting
An influencer agency considers the brand's KPIs and goals from start-to-finish. These metrics are tracked and measured throughout the program and presented in reporting. From benchmarks to influencer feedback to goal-exceeding results, agencies are able to add much more color to a robust campaign performance report.
At Sway Group we love preparing reports for our clients. We can customize based on what a brand needs, and are happy to provide interim reporting for lengthy campaigns.
With a platform, the metrics are delivered without context for how the program ran and how it was received.
Influencer Marketing Investment
Not only do agencies offer a wide range of influencer marketing services, they also handle all influencer fee negotiations and payments. As a full-service influencer marketing agency, Sway Group's competitive costs include full operational support to maximize your influencer marketing ROI.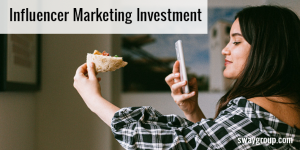 In addition to paying influencers for their work, if a brand works directly through a platform, they will be responsible for paying for that service (which often has monthly fees).
Time-saving Expertise
From strategy to influencer management, to execution and comprehensive reporting, working with an influencer marketing agency provides full-service support. Your dedicated Sway team sees your campaign through from planning all the way to reporting and beyond! We're always happy to share additional context for leadership teams.
Running small campaigns might not be so difficult or time-consuming, but to manage medium and large campaigns at scale, it takes dedicated time and resources, not to mention the knowledge required for understanding and managing the campaign through the platform.
If you are putting together an influencer marketing strategy, let's talk. We can be the influencer marketing agency your brand needs. We would love to create a customized proposal so you can see how influencer marketing fits into your larger marketing strategy.