Spending on pets is expected to increase to about $60 billion dollars this year, and that's not just because the cost of services in the pet market are rising. Pet safety and pet technology are the fastest growing areas, with standard pet products (i.e., toys, food, training) growing as well. As pets become more ingrained as family members, the opportunity for your brand to make a splash in the pet market increases exponentially.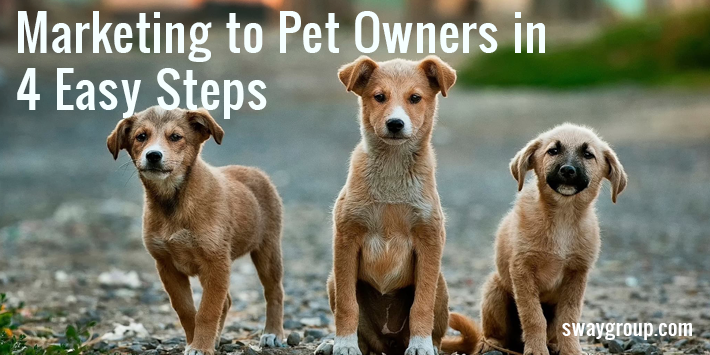 How to Market to Pet Owners
1. Engage with Your Audience
What's more fun than bragging about your pet? Nothing! Everyone thinks their cat is the cutest, or their dog is the silliest, and they want the world to know. There are over 170 million dog and cat owners in North America, and thousands of them have social media accounts for their pets. Use social media to start a conversation with potential customers, find out who they are and what they're looking for when it comes to their pets. Ask questions, encourage people to share stories, and use a specific hashtag to keep the conversation going.
2. Build a Relationship Through Photos
Photos are the key to connecting with pet owners. Photos evoke emotions in a way words can't. There's a reason the internet is overflowing with cute animal pictures: people love them! Sharing adorable photos regularly gives your audience a reason to check in with you to enjoy the new animals on your feed. You can also ask your followers to post their own photos and share them on your channels. Building this relationship will establish a relationship between you and your potential consumer.
3. Don't Underestimate the "Awww" Factor
Last year, more than $50 billion was spent on pet products by pet owners. As a marketer, you are probably analyzing these spending habits and drilling down on your audience with data, and you should be. But don't underestimate the "awww" factor. Your consumers are purchasing so much for their pets because they want their pets to be comfortable, well-behaved, healthy, and loving life. Pets are family, and pet owners treat them as such when it comes to spending. How is your product making the pet owner's life easier, or the pet's life better? Tell a story with your product messaging that brings out the "awww" in your audience.
4. Partner with Influencers
Influencer marketing is a powerful tool because it is seen as more authentic than other forms of advertising. There is a special connection and level of trust that is formed when an influencer shares their personal journey with their followers. An influencer can be a great spokesperson for your brand when it comes to pets.
Last year a national pet care company partnered with Sway Group to build awareness around pet wellness plans. By hiring influencers to share stories about their dogs, how they are a part of the family and why it was important to take care of their health, weaving in messaging about the wellness plan was a natural fit and felt authentic. The campaign garnered 22 million impressions (more than 5 times the campaign goal) and a 3.19% unique click through rate to the brand's website.
Keep Reading:
Interested in learning more viral marketing strategies? This post will help:
Let's Make Your Campaign in the Pet Market a Success!
With National Dog Day coming up on August 26 and National Cat Day on October 29, it's a great time to start planning your pet campaigns. Learn how you can tap into our network of more than 90,000 influencers to reach pet owners and drive awareness around your pet product or service.