Influencer marketing, in a nutshell, is about partnering with content creators to produce and share relevant brand content with highly targeted audiences. But finding influencers can be a difficult task. Before planning can begin in earnest, it's important to identify the right kind of people to work with. This may seem like looking for a needle in a haystack, but don't worry! There are a number of ways to find influencers for a brand sponsorship, and we'll walk you through some of the best options for choosing influencers for your campaign.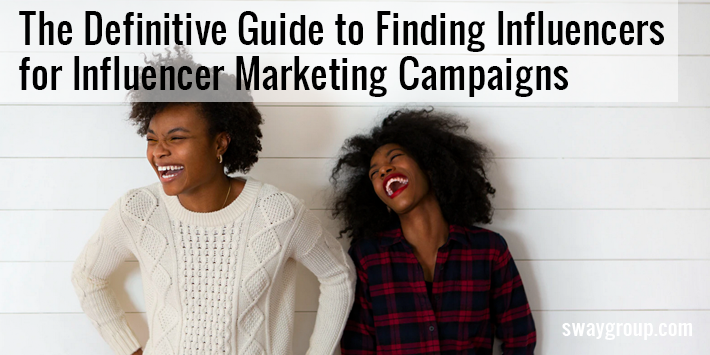 Before we delve into the process of finding influencers, let's start with the basics: what IS an influencer? In this context, we're talking about the social media users who have a connection with the audience you're looking to reach. From celebrity-level creators to nano and micro influencers, you want to find influencers who are known and trusted by your target audience on topics that are relevant to your brand.
A few examples of potential brand/influencer partnerships:
A food brand with a spice line collaborating with an Instagram influencer known for her delectable baked goods in order to share an original recipe featuring the brand's cinnamon.
A wellness brand partnering with a fitness blogger to share a workout challenge including an authentic review and recommendation for the brand's line of recovery supplements.
An electronics brand sponsoring a parenting content creator in order to promote the brand's digital photo frame as the perfect gift for a long-distance grandparent.
A common theme with the above: in every case, the brand found the right influencer for the job. When chosen carefully, creators can help boost your brand awareness and drive consumer action with on-trend, highly targeted content.
What to Look For When Finding Influencers
The first step in finding influencers for your marketing efforts is to clearly define your campaign KPIs (key performance indicators). Conversions, brand reach and awareness, referral traffic, app downloads, video views, audience growth and engagement … whatever the desired outcome may be, taking the time to clarify your marketing goals is integral to campaign success.
From there, you can start to narrow down your influencer search by prioritizing two aspects of their online presence: relevance and engagement.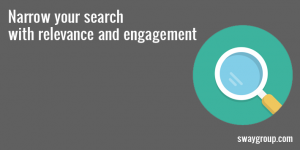 Relevance has to do with who they are, what they post about, and who they're connected with. If you're a vegan beauty brand, you want to partner with influencers who are known for their interest and expertise in veganism, vegetarianism, green beauty, cruelty-free beauty and skincare, or other topics that are closely aligned with your brand. Conversely, if you're selling a ready-to-cook frozen burger, a more relevant influencer choice would be a grilling enthusiast, tailgating fan, or a busy parent looking for quick and easy weekday dinner choices.
Engagement measures how audiences interact with an influencer's content: views, clicks, saves, comments, likes, shares, and direct messages are all forms of engagement. A high-engagement influencer is someone who sparks conversations and shares with their content, who routinely connects with their audience and drives interest.
A common influencer marketing mistake is over-valuing follower count with potential reach in mind. This is like paying for the largest billboard in town, rather than ensuring that your brand message will actually resonate with the right audience!
Celebrity-level influencers may offer a tempting amount of perceived star power, but smaller influencers tend to have higher engagement rates than macro influencers. Generally, as an influencer's follower count rises, their rate of engagement decreases. While smaller accounts have fewer followers, their audiences are often much more active and loyal.
Make Sure Their Audience is Your Audience
As you consider your target customer for this campaign, you probably have a number of demographic details in mind, such as:
Location
Gender
Age
Occupation
Beliefs
Interests and hobbies
It seems like a safe assumption that an influencer who aligns with your target demo will have a perfectly like-minded audience — however, that isn't always the case. Female gaming influencers often have more male followers, for instance, and plenty of male beauty influencers have large numbers of female followers.

The Right Platform for the Right Message
With your campaign goals and audience in mind, you can further refine your search by identifying the best social media platform(s) to target. While there's no one-size-fits-all strategy to choosing a network (and often a combination of approaches yields the best results), there are some guidelines to consider: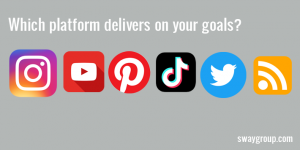 Every platform option has its own nuances and quirks, with a great variety of promotional strategies that can be used to amplify engagement. This is where working with a full-service influencer marketing agency can be particularly helpful, since an expert agency is best suited for aligning your brand goals with the right platform for success.
How to Find Influencers
It's finally time to get down to the nuts and bolts of identifying potential influencers to work with. This relationship will leverage existing trust and credibility between creator and audience, advocate for your services, and ultimately shape the voice of your brand — so it's important to choose your partners with care!
One option is to use an influencer discovery platform, which can help ease the process of searching influencers and contacting them. Note that influencer platforms and marketplaces are limited to DIY discovery and activation, as opposed to the creative and strategic services provided by an agency.
The most common way brands are finding influencers is simply by searching through social media platforms, which has the advantage of being free — although potentially time-consuming. A few best-practice tips:
Reach out to influencers you've worked with in the past. If you know somebody who is in, or close to, the vertical you are looking for, ask them for recommendations. They will likely be able to point you in a good direction to start your search.
Connect with your most engaged followers. You may not have to look too far to find your next brand ambassador: check your existing social media followers to identify your most enthusiastic and engaged fans.
Use targeted hashtags and keywords. Browsing through hashtags on social media platforms gives you quick access to a multitude of influencers, which just may lead to finding someone who is perfect for your campaign. Be sure to search your own branded hashtags to see who is already posting about your brand!
Set up a Google Alert. Monitor the web on an ongoing basis via Google Alerts to see who is regularly sharing content about topics that are relevant to your brand.
Once you find an account you like, look at who they follow. A quality influencer is likely to follow other quality influencers.
Many brands don't have the resources to search, identify, vet, contact, and manage influencers throughout the lifespan of a campaign, which is why partnering with a full-service agency can save a lot of time and effort.
At Sway Group, we can handle anything and everything from creative strategy to influencer recruitment to campaign management and reporting. Our diverse influencer network includes a wide range of influencers across all verticals, and our services mean our clients can stay focused on the big picture.
Before committing to a partnership together, brands should perform due diligence by reviewing past influencer content and sponsorships. Past campaign work may not necessarily be the best indicator of future performance, but it's important to be sure there's a strong fit in terms of tone, language, and adherence to brand guidelines.
Agencies can manage this process by providing historical performance information for potential influencers. At Sway Group, all of our creators complete a profile as part of their registration process, which gives us detailed information about their interests and lifestyle. We can search by creator and audience interests, brand affinities, and demographic information in order to hand-select lists of vetted influencers for our clients. Our dynamic influencer profile one-sheets include social reach, engagement rate, audience demographics, historical performance, and more.
A Final Note on Finding Influencers for the Job
Every influencer marketing campaign will have its own unique set of criteria for the ideal creators to work with, platforms to target, and message to share. Some brands choose to work with the same people over and over again, others rely on a mix of new faces for every promotion.
Whether you're doing influencer in-house or working with an agency, the brand-influencer dynamic is one of the most critical elements of any campaign. By taking the time to find relevant, engaging creators whose content focus can be mapped back to your overall marketing goals, you're far more likely to see a positive outcome.

[/vc_column_text][/vc_column][/vc_row]