For our agency, the new year is starting out with a big reason to celebrate: Sway Group was recently selected by Chief Marketer and presented the Chief Marketer 200 Top Marketing Agencies of 2022 Award — for the third consecutive year.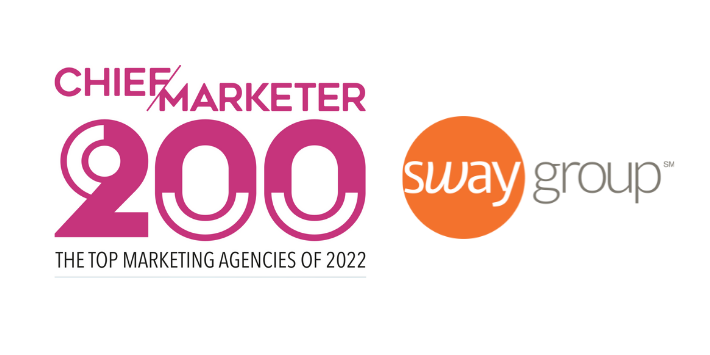 So, why is this such an important list? Well, Chief Marketer's CM200 is the world's only editorial listing of best-in-class brand engagement and activation agencies across 11 categories and specialties serving the United States. According to Chief Marketer, the agencies selected for this year's program are thought leaders in their craft and representative of the best of the marketing industry.
It's always an honor to be recognized by our industry, particularly after all the uncertainty and turmoil of the last couple of years. As Jessica Heasley, Group Editor & Publisher at Chief Marketer puts it,
This year's CM200 represents an agency community made stronger and more resourceful than ever before. They have all demonstrated incredible creativity and resilience and are poised to transform challenges into opportunities in the year ahead.
This year's winners were selected based on several criteria including insightful client testimonials, outstanding case study submissions, high caliber, consistent work across programs and clients, innovative and creative executions, and bold and inspiring concepts and ideas that are moving the industry forward.
We are extremely proud to be in such good company in the CM200 — and we're thrilled to add Chief Marketer's endorsement to our recent industry accolades, which also includes winning 3 MarCom Awards!