One of the many benefits of using influencer marketing is that when done correctly, it feels like a natural extension of the influencer's regular content. Rather than being perceived as an ad break, good sponsored content matches the native content of the influencer's platform.
This works because as consumers we've largely come to tune out or distrust traditional advertising. We avoid commercials, use ad blockers, and wait impatiently for the "skip ad" button to appear on the content we want to see.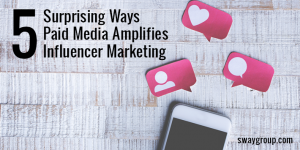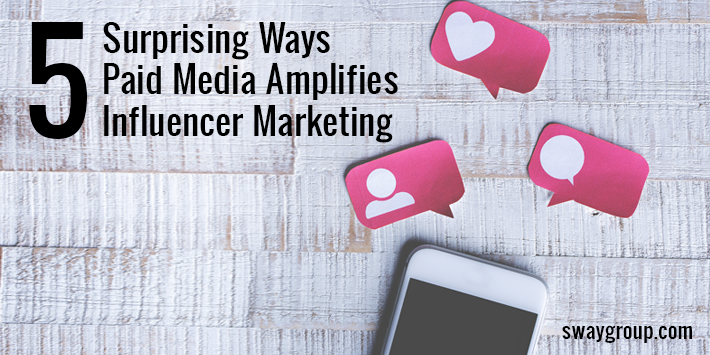 With traditional advertising spend on the decline because of these trends, it might seem contradictory to invest in social media ads. Here at Sway Group we're often asked why paid media is one of our recommended strategies. The truth is, as influencer marketing continues to evolve, using paid media to boost brand content shared by influencers isn't just a savvy tactic, it's becoming more and more necessary for success.
It's not about going back to the outdated strategy of "spray and pray" advertising, it's about using highly targeted methods of boosting content that appeals because it's nothing like an ad. In this article, which was originally published on Forbes, you'll learn the value of paid media — and why it's such an effective way to reach consumers.
5 Ways Paid Social Advertising can Greatly Improve the Effectiveness of Your Influencer Marketing Campaign
1) Paid Media Increases the Visibility of Your Brand
If there's one constant in the social media world, it's that platforms are always changing. Social media platforms use algorithms in order to determine how to display posts in a user's feed, and the rules for relevancy are often a moving target.
No matter how many followers an influencer has, there's no guarantee every follower will see a given piece of content. While it used to be enough to simply put up a post, today's overloaded feeds combined with ever-changing social platform algorithms have made it far more complicated to achieve organic reach.
As platform engagement continues to fluctuate in the wake of display changes, the best way to ensure content gets seen is to invest in paid amplification. Paid social advertising options such as Facebook and Instagram ads and boosting not only increases visibility, they offer deep-dive targeting and reporting.
2) Paid Campaigns Allow Your Brand to Reach Specific Audiences
With an influencer campaign that includes no boosting or paid support, the content will only reach the influencer's followers. But by adding a paid element to a campaign it allows you to expand your reach to the specific audience you're targeting. And with Facebook and Instagram, there is a "Lookalike Audience" feature that targets people who are similar to your existing customers or an influencer's followers.
Platform ads can be targeted based on all sorts of granular data: age, location, demographics, interests, behaviors — even the apps they use, the ads they click, and the accounts they follow.
Facebook and Instagram's Branded Content tools were made specifically to help businesses reach targeted audiences beyond the people who follow brand and creator accounts. By boosting influencer content via the Branded Content tool, businesses can reach relevant audiences via the influencer content that consumers are drawn to.
3) With Paid Campaigns, You Can Optimize for the Objective You Want
Your influencer marketing campaign may have more than one main objective — you may be interested in driving overall brand awareness but also want to encourage video views, for instance. By selecting the right objective for your social media platform boosting, you can achieve different KPIs.
Using Facebook Ads as an example, if you're interested in driving audiences to click through to a brand website, blog post, Ebook, or other brand assets, then the traffic objective becomes your paid media goal. Other objective options include video views, app installs, conversions (tracking sales or other valuable actions on another site), and engagements (ideal if you want people to interact with the content via likes, shares, comments, etc.).
Ad objectives should be based on your business goals, and will likely evolve as your business does.
4) Paid Media Amplification Provides Valuable Campaign Performance Insights
When you amplify influencer content on a social media platform, both the brand and influencer can learn useful information about how the paid posts perform. By monitoring and tracking the results, both parties can adjust their content strategies to better reach relevant audiences.
Ad analytics include the number of people you reach, impressions (reach is different from impressions, which can include multiple views of your ads by the same people), and results based on your objectives (i.e., how many people clicked through to buy, or engaged with the content, or viewed a brand asset).
5) With Paid Elements to a Campaign, You Can Leverage the Right Kind of Content
Today's consumers aren't interested in old-school ad tactics. Brand claims simply don't hold the weight they used to, and digital audiences tend to ignore sales pitches in favor of word-of-mouth recommendations.
By creating paid social campaigns from organic influencer posts, brands can utilize powerful ad tools without resorting to traditional ad content. Paid social media  lets brands get more from their influencer marketing investment: their message is shaped and shared by influencers who are both trusted sources and experts in content creation — and ultimately exposed to an even larger, more targeted audience.
When you put paid social behind creator content, you help ensure it reaches the people you want it to. It's no longer enough to create and share amazing content: in today's attention economy, social media amplification gets the visibility and effectiveness that drives results.
Contact us today to learn more!