For influencers and brands, the FTC guidelines for influencer marketing are likely something you're aware of.  But you may be unsure why it's such a crucial step in the campaign process, or what the best practices are for brand sponsorship disclosures.
In this blog post we'll get you up to speed on the what, why, and how of proper influencer FTC disclosure.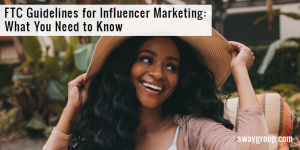 In February of 2020, the Federal Trade Commission issued a statement warning against undisclosed influencer marketing posts on social media.
According to FTC's endorsement guides, not only are brands accountable for making sure sponsored posts include proper disclosure, influencers need to take personal responsibility to comply with laws against deceptive ads.
The importance of doing influencer marketing the right way by not misleading consumers can't be overstated.
As a brand or influencer, not only will it help you avoid landing in legal hot water, it helps the industry as a whole by keeping recommendations authentic.
FTC Guidelines for Sponsored Content
Influencers are required to disclose when they have a financial, employment, personal, or family relationship with a brand. As stated in the latest FTC guidelines for social media influencers, "Don't rely on others to do it for you."
Consumers have a right to know when an influencer they follow stands to gain something from recommending a brand to their audience.
As an influencer, if you stand to make money or receive any kind of benefit, it MUST be disclosed.
On that last note, compensation is not limited to financial payment. There are many ways influencers can benefit from brand partnerships, such as:
Cash payments
Commissions or affiliate payments
Free products or services
Store credit
Discounts or coupons
Special access
Favors of any kind
It doesn't matter if an influencer has 1 or 1 million followers, nor does it matter what the value of compensation is or the length of the review. Any influencer who receives any kind of compensation from a brand being mentioned must adhere to the FTC disclosure rules.
Transparency helps maintain the trust between an influencer and their audience, which is paramount. 94% of marketers agree that transparency and authenticity are key to influencer marketing success.
The bottom line is that disclosure helps the influencer marketing industry as a whole. While influencers need to take personal responsibility for disclosing, brands are the ones who may have the most to lose if this step is skipped.
The FTC has stated the following about merchants:
 If law enforcement becomes necessary, our focus usually will be on advertisers or their ad agencies and public relations firms. 
As an example, Lunada Biomedical agreed to pay a $40 million settlement to the FTC for making misleading claims and misleading consumers by "Not revealing that the product's endorsements were from people affiliated with the brand."
This certainly doesn't mean influencers are exempt! Note that the FTC also states,
Action against an individual endorser, however, might be appropriate in certain circumstances.
In 2017 the FTC issued warnings to 45 celebrities/influencers, their agents and the brands they were publicizing.
While brands, advertisers and tech platforms are currently the most likely to be targeted by the FTC for violating disclosure requirements, influencers need to take responsibility as well.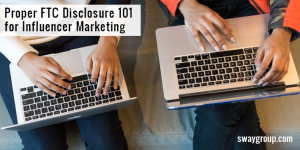 Proper FTC Guidelines for Influencers
The FTC does not require specific language  in disclosure, but states that "The guiding principle is that it has to be clear and conspicuous."
It's not good enough to include a vague term like "sp," "spon," "affiliate," or "collab." These captions aren't familiar to everyone and can be easily missed.
A short "#ad or #sponsored hashtag is acceptable, although it's better to simply include a very clear statement such as "Thanks to Acme Brand for the free product," or "Thanks to Acme Brand for sponsoring this post."
In the Disclosures 101 guide provided by the FTC, the critical step is to ensure that disclosure is placed where it is hard to miss.
Disclosures that are only in a profile page or site navigation, or at the tail end of a post (past the scrolling point), or only in the description of a video aren't acceptable.
Disclosures should go as close to the beginning of the content as possible, with a statement available in the first place a user looks within the sponsored content.
Disclosures at the end of posts or somewhere else that's less than obvious do not meet the disclosure requirements.
Some social platform tools now include a "paid partnership" tag, but as the FTC says,
Don't assume that a platform's disclosure tool is good enough, but consider using it in addition to your own, good disclosure.
It's important to note that disclosure requirements apply to every device or platform the sponsored content will be accessible from.
Let's say an influencer places their disclosure message on their website which makes it prominently available when viewed on a desktop computer, but it doesn't display the same way when viewed via mobile devices. If that disclosure gets obscured in any way on a different device, the influencer is not in compliance.
Disclosures should not be made less noticeable in any way from regular content. It's not acceptable to put a disclosure in tiny letters or require viewers to click a link (i.e., "Read my disclosure policy for this post"). Even if all other aspects of the disclosure adheres to the rules, making it difficult for audiences to access violates the rules.
Truly, there is no way to disclose inconspicuously while also complying with the guidelines.
The FTC provides further clarity with the following:
The ultimate test is not the size of the font or the location of the disclosure, although they are important considerations; the ultimate test is whether the information intended to be disclosed is actually conveyed to consumers.
Examples of Influencer Disclosure Done Right
Instagram Example:

Facebook Example:

Blog Post Example: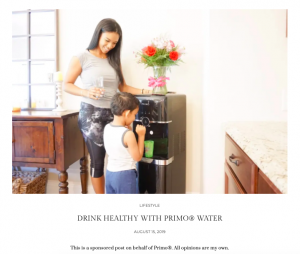 How Brands Can Stay in Compliance with the FTC Guidelines for Influencer Marketing
As a brand, the best way to ensure that you meet FTC disclosure requirements in your influencer campaign is to include a clear directive in the influencer campaign brief.
The campaign brief — a document outlining campaign details and influencer expectations — should be part of every influencer marketing program.
Not only does the brief reduce any confusion about campaign goals and deliverables, but it also means that influencer-created content and those all-important disclosures can be appraised in a quantifiable manner.
At our agency, we handle the creation and management of the campaign brief for our clients. We have a full-service quality assurance team that reviews all content prior to publication. They check for many things, and proper FTC disclosure is high up on the list.
For brands who are managing influencer programs on their own, it's important to check influencer content (ideally before, during, and after publication) for disclosures.
While you want to be sure all your campaign content fulfills the requirements outlined in the brief, the FTC disclosure is the piece that keeps your company from being at risk of being in violation of the Federal Trade Commission Act.
You can learn more about how to make sure your campaign meets all brand quality requirements, with our FREE comprehensive e-book that covers QA basics on everything from brand messaging to proper disclosure language.
Trust is bolstered by following the FTG guidelines for influencer disclosures
In the end, influencer disclosure enhances authenticity and trustworthiness — as long as it's done the right way. (For a stunning example of NOT doing it right, one only has to revisit the infamous 2016 Instagram fail by Scott Disick.)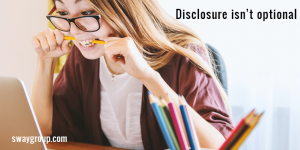 Brands need to understand that influencer marketing works best when audiences trust the person referring their products or services. They're much more likely to be interested in an influencer's favorite items and promoted products, and be receptive to brand messaging endorsed by the influencer.
When influencers and brands are untruthful about sponsorships, it damages credence and credibility and runs the risk of actively alienating audiences. By always disclosing to an audience when a piece of content is a paid endorsement, followers' trust remains intact — and subsequently more receptive to brand promotions.
---
At Sway Group, we can handle everything from influencer recruitment and management to quality assurance and reporting.
Get in touch today to learn more about how our award-winning influencer storytelling and media yields 3x the industry engagement rate.