Twitter now has a whopping 126 million daily active users, which means roughly 39 percent of Twitter's monthly active users are on the app every day. The potential for connection is massive — but so is the possibility of failing to get noticed. For brands looking to spark true engagement on this bustling social platform, it's important to make every tweet count.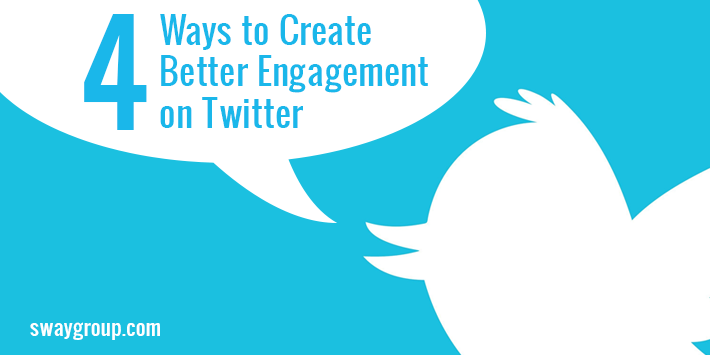 4 ideas for improving your Twitter outreach and encouraging new and existing customers to interact with your content:
Show Some Personality. Branching out from our advice about including images and calls to action, a tried-and-true Twitter tactic is to get informal and show the human side of your brand. Funny memes and GIFs are enormously popular and tend to get re-shared, but you don't have to turn your corporate account into amateur hour at the stand-up club, just consider mixing in some humor and behind-the-scenes commentary.
Some brands are taking a first-person approach to their social media channels, an intimate move that's definitely not for every business. We recommend focusing on a tone that communicates transparency and authenticity, and if you can encourage a little laughter in the process, all the better.
Boost Outreach with Promoted Tweets. Social shares on nearly every platform have been sharply declining thanks to increased competition and algorithm changes. Twitter's Promoted Tweets allow you to pay for your Tweets to display in several different locations on Twitter, including:
At the top of relevant search results pages

In Promoted Trends search results

On a user's live Twitter feed, if the Promoted Tweet is relevant to that user

On user profiles that fit the targeting qualifications for the ad campaign
Another option is to buy a Promoted Trend, which sends your sponsored topic or specific hashtag to the top of the trending topics list.
Paid support helps ensure that great content gets the engagement you're looking for. It works particularly well in conjunction with influencer marketing: when influencer posts are boosted with paid support, you reap the benefits of the authentic, credible content that resonates with today's audiences — along with the visibility and metrics provided by Twitter's ad structure.
Be Strategic with Hashtags. Hashtags can make your posts easier to find, particularly when they're centered around industry terms, trending topics, or current events. They can be fun, too — after all, who didn't enjoy the popular "#1LetterWrongMovie" craze? (Personal fave: THE HANGER GAMES.)
Don't just include a string of spammy-sounding hashtags in every single post, though. Spend some time tailoring hashtags to your target audience: try a tool like RiteTag, which gives you feedback about the popularity of a hashtag.
Finally, be sparing with your use. You'll lose followers if you're always posting #tweets with #way #too #many #generic #tags.
Partner with Influencers. As Twitter puts it,
"For marketers today, it's not "if" you should be partnering with creators but more so "why and how" to partner with them. What's even more important for brands to understand is that there is a unique why and how for every platform – especially for Twitter."
Twitter creators are constantly entertaining, informing, and inspiring their audiences. They know what their followers are interested in, and they know how to connect with them. By partnering with the right influencers, brands can tap into the credibility and influence these social mavens have built over time.
Today's consumers are tuning out traditional ad messages more than ever, in favor of reviews and recommendations from their social circles. In fact, Twitter users who recall an ad from a creator show a +39% increase in brand favorability and +41% increase in purchase intent, versus ads recalled that were produced by brands.
Interested in what influencer marketing can do for your brand presence on Twitter? Our diverse community of influencers are experts in creating social content that drives engagement and action. Talk to us today to learn more!