Working with Nano influencers offers a surprising amount of value for today's brands. These influencers are generally defined as content creators with a social media platform following below 10,000; their smaller size means their audiences tend to be more active and loyal, and their recommendations are perceived as more genuine.
Nano influencers may not bring the so-called star power that influencers with large followings have, but don't make the mistake of discounting their impact! These influencers are more relatable than macro influencers and can share brand messaging with the authenticity that today's consumers are drawn to. They're often focused on niche topics that resonate with like-minded audiences, offering deep-dive targeting possibilities.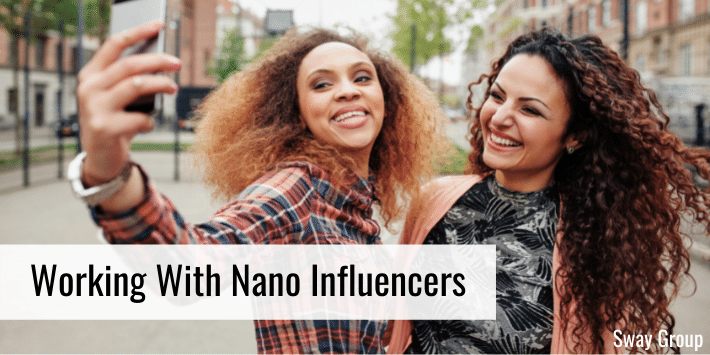 As nano influencer marketing continues to rise in popularity, brands should realize that working with a nano-influencer isn't necessarily the same as working with a long-established professional influencer.
For brands that are handling influencer work in-house rather than through an influencer agency, this can sometimes be a tricky adjustment — but the rewards are worth the effort. Here are some tips to keep in mind when working with nano influencers.
Pay nano influencers (just like any other contractor)
While pricing varies, nano influencers are far less expensive than, say, hiring Chrissy Teigen to promote your brand. It's not an uncommon practice to trade free products for a review, but it's far better to pay an influencer as you would any other freelancer or contractor.
Every influencer marketing contract should include the basics, like timelines, deliverables, language to avoid, FTC guidelines for influencer marketing, compensation, and so on. This is where brands can get specific about what they want and when, and hold influencers accountable for their work.
Paying influencers rather than trading free products for a mention not only recognizes the value they bring to the partnership, it puts structure in place for brands or agencies to review content, request changes and ensure campaign quality. It is Sway Group policy that all influencers are paid for their work.
Free product may be part of the overall campaign (in order for the influencer to have an authentic experience with what they're promoting) or included as audience giveaways, but as a general rule, unpaid collaborations don't bring the engagement like a paid campaign.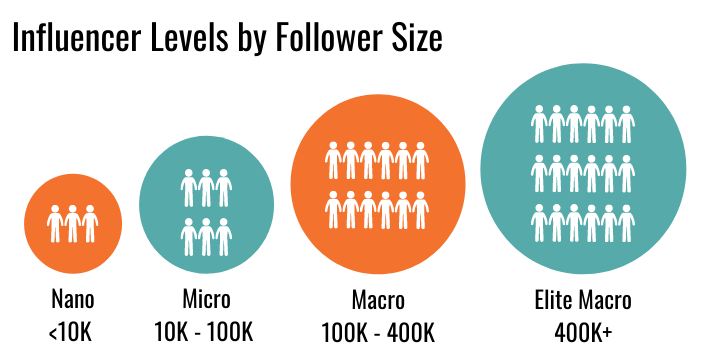 Add paid media amplification to your nano influencer budget
Regardless of whether an influencer has 100 followers or 1 million, ever-changing social media algorithms often make organic reach a challenge. Since it's not guaranteed that every piece of content will be seen by every follower, the best way to amplify overall engagement when working with nanos is with digital advertising. This can look like post boosting, dark ads, programmatic buys, etc.
Paid social advertising not only increases visibility, it helps businesses reach highly targeted audiences beyond the influencer's followers. Social platform ads can target interests, behaviors, location, age, demographics and more.
With nano influencers, their brand endorsements feel less like an advertisement and more like a relevant recommendation from a trusted friend. By adding paid media amplification to the mix, brand messaging is shaped and shared by the influencers who are considered trusted sources — and ultimately exposed to an even larger, more targeted audience.

New nano influencers may need guidance
Some nano influencers are longtime pros at brand partnerships, while others are brand new to sponsorships. When working with less experienced nano-influencers, it's important to add in some checkpoints for success:
Verify they have an Instagram Creator Account. Sponsored influencers should convert their personal accounts to a professional Creator account, which provides access to insight about followers, account performance, and more. Be prepared to talk new nanos through this process well before the campaign launch.
Agree on workarounds for driving action. Instagram's "Swipe Up" feature in Stories allows users to access links without leaving the app, but this feature is limited to business profiles with more than 10,000 followers. Without the ability for a nano influencer to drive immediate traffic to designated landing pages from their Instagram content, they'll need to be more proactive with their audience.
Options include prominently featuring Instagram's "DM me" sticker in their posts, adding a customized link to their bio, or simply connecting with followers in order to personally provide links and other relevant brand information.
Play the long game. As with any business partnership, building a real relationship takes time. One-off campaigns are still fairly common, but long-term influencer collaborations are proving to be a more successful strategy.
While new nanos may not yet have a lot of historical background on how their sponsored content performs, they can learn a lot through meaningful brand communications. In turn, brands can track results and optimize campaigns over time based on what works with the influencer's audience.
It's a smart move to start a working relationship with nanos while they're at a lower follower count and maintain that partnership as they grow.
The Big Impact of Going Small
Nano creators bring a relatable, everyday vibe that cuts through the gloss and heavily stylized content of celebrity-level influencers. Their audience size may be smaller, but the quality of their interactions leads to higher engagement rates and more impactful brand sponsorships.
Whatever your business goals may be, consider adding nano influencer marketing to the mix. With the right kind of nano influencer campaign planning and execution, these small-but-mighty social media mavens have the potential to help you move the needle in a big way.
Content originally published on Forbes.