In this post, we'll help you get familiar with how social display ads work, and how new and uniquely effective technology solutions like Spaceback make it all possible.
Quick marketing jargon quiz: when you see the phrase social media display advertising, what comes to mind? While it sounds like social media advertising — i.e., paid content that's served to users on social platforms — social media display ads are a different tactic altogether.

What are social display ads?
Imagine an extremely popular Instagram post created by an influencer for your brand. The content is great, the audience reactions are enthusiastic and it's just a straight-up home run.
Now imagine that you take that high-performing post and transform it into compelling creative for programmatic advertising.
Unlike a traditional brand-created ad, social display ads appeal to audiences' preference for organic social content. In fact, they can even include the comment and likes count (dynamically updated) from the original social post.
Social display advertising is an exciting new way to leverage valuable social proof beyond the walled gardens of social media platforms.

Sway Group CEO Danielle Wiley and Spaceback CEO Casey Saran
How does social media display advertising work?
Our digital media team utilizes Spaceback's technology to transform social media posts from popular social platforms like Instagram, Facebook, and TikTok. (It also works with Pinterest, Twitter and even LinkedIn for B2B programs!)
We take high-performing original social content and configure it for programmatic ads or direct display, centered around the influential imagery and social proof that made it a success in the first place.
Let's take a look at a sample ad: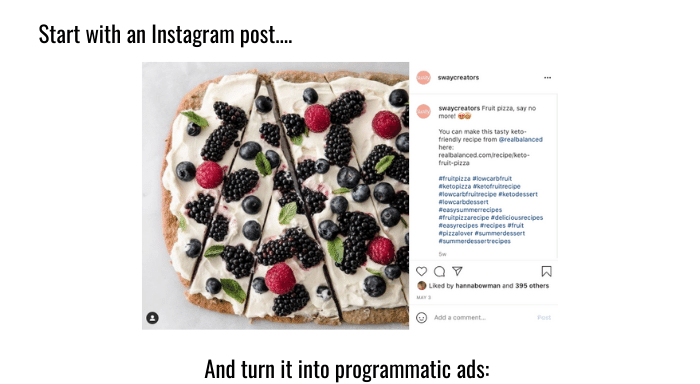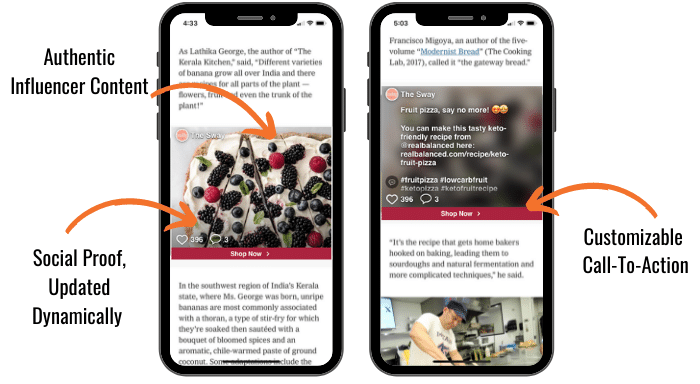 As you can see, the content has the appearance of an organic social post rather than a traditional banner ad. The social engagements are front and center, updated in real time, even as the original post continues to gain traction.
This kind of influencer-driven creative makes for a more compelling ad experience. Consumers are largely turned off by ads that feel overly intrusive *or* overly generic. Social display ads tend to strike the right balance.
According to Spaceback, social display ads consistently deliver increased CTR when compared to traditional banner ads. Additionally, brand studies have shown a 5X improvement in brand lift and consideration.
These programmatic social display ads offer the personalized, relatable social content today's audiences respond to, with targeting options that extend the right kind of reach.

What are some of the benefits of social media display advertising?
Authentic, persuasive creative. With the right kind of influencer content, social display creative resonates — as opposed to brand-created ads that can get tuned out.
Social proof. Social display ads elevate valuable endorsements, engagements, and validation beyond social platforms.
More influencer ROI. Extending your influencer marketing investment with socially proven content is a savvy move that saves production costs.
A solution for "banner blindness." While digital audiences have learned to ignore ad-banner-like information on websites, social display ads are perceived differently.
Spaceback social media display ads and influencer marketing
Here at Sway Group, we spend plenty of time talking up all the reasons influencer content outperforms traditional advertising. On the surface, that concept doesn't seem to align with our advice that influencer campaign content can (and should!) be repurposed into high-impact paid media placements.
Here's the thing: it's *all* about that compelling, targeted, relatable content. Once you have influencer content that's been tested and proven effective among target audiences, you can take that same content and turn it into a uniquely effective programmatic social display ad that reaches thousands or millions more targeted audiences.
The result is high-quality, eye-catching branded content. It's been authentically shaped and shared by trusted influencers, with a strong call to action to click through to brand-owned landing pages or e-commerce sites.

Basically, influencer content and engagement is the way to hack old-school advertising. Great branded content deserves great visibility. Social media display advertising has become an exciting new component of our promotional strategies for maximizing audience reach.
Contact us today to learn how we can create a social display advertising campaign with cutting-edge Spaceback technology for your brand.