While micro-influencers can be amazing partners for a variety of brand goals, nano-influencers are an often overlooked (but incredibly effective) category of content creators in the influencer marketing space.
You might already be familiar with what influencer marketing is and how it works, especially as the industry continues to evolve. Many brands have seen how targeted content creator recommendations can greatly outperform traditional advertising when it comes to reaching audiences.
Micro-influencers,  and top nano-influencers in particular, keep gaining traction among sponsors for their superior engagement rates. Learn more about the nano influencer. While micro-influencers can be amazing partners for a variety of brand goals, nano-influencers are an often overlooked (but incredibly effective) category of content creators in the influencer marketing space.  and why you should work with them. 
Are nano influencers good?
A group of content creators, known as nano-influencers have definitely been on the rise and for very good reason.
Nano influencers aren't just good, these small-but-mighty creators offer excellent benefits for brand partners such as credibility, authenticity and often high engagement rates. Let's start with the basics:
What's a nano influencer?
Why would you want to work with nano influencers?
Examples of nano influencers
The downside to working with nano influencers
How can you find and work with nano influencers?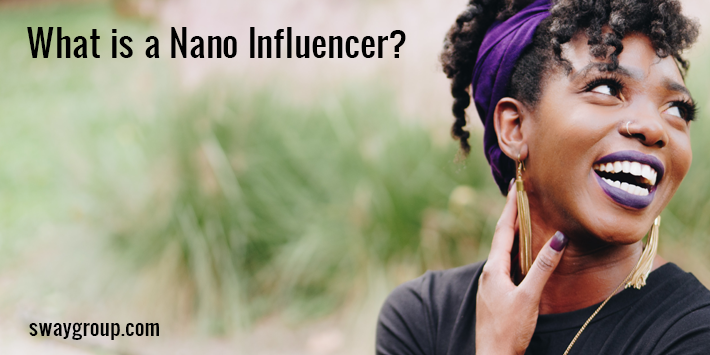 What's a nano influencer?
Generally speaking, a nano influencer refers to a social media content creator with a platform following that ranges between 1,000 and 10,000.
Nano and micro-influencers are categorized differently, as micro-influencers have between 10,000 – 100,000 followers on any given platform. For more on micro-influencers, download our FREE Micro Influencer 101 eBook here.
Why work with nano influencers?
Nano influencers tend to have a more personal connection with their audience since their followers actively looking forward to seeing their daily life updates. They have built trust with their followers, and when focused on niche topics, are often perceived as experts in their fields.
With content that's often less formal and not quite as curated as those with larger followings, nano influencers' brand recommendations often feel more genuine. This can likely also be attributed to the fact that their sponsorships are more infrequent and carefully chosen.
Despite having a smaller following, nano-influencers typically have higher engagement rates with more audience engagement than macro or even micro-influencers. Nano influencers often respond to every comment and direct message, which is something that not every influencer with a larger following is able to accomplish.
A nano influencer's audience size on Instagram keeps them from having access to the Swipe-Up link feature. While this may seem like a limitation, campaign links can be shared via direct message, which leads to more personal engagement.
The fact that nano influencers interact with so many of their followers indicates their promotion acts as a word-of-mouth endorsement. Word-of-mouth is a strong motivator for consumers to take action and moves one step closer to conversion for brands.
Nano influencers are great for hyper-local campaigns as they tend to have a strong regional influence. Their tight-knit, largely local followings make them the perfect partners for driving local retailer interest or sharing community updates.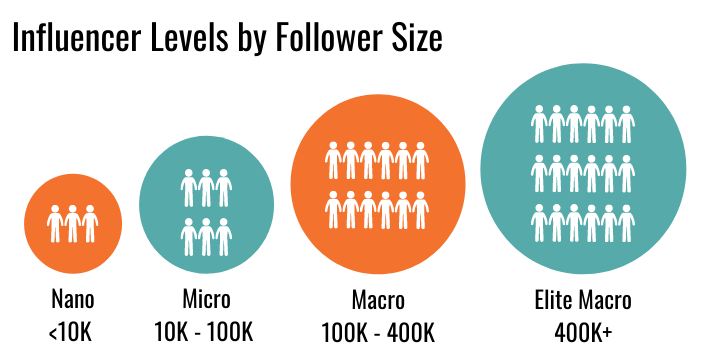 Most nano influencers aren't solely focused on monetizing their social media accounts the way some larger influencers are. This can lead them to be more passionate about the brands they work with.
Nano influencers often prioritize sponsored content that is an organic, natural fit with their own style and values, which leads to a better overall campaign.
Identifying and activating the most targeted, most effective influencers for every client is something we pride ourselves on at Sway Group. When it comes to cost, nano-influencers are less expensive than micro-influencers and beyond.
It's important to note that choosing a smaller influencer partner doesn't mean you can't scale up your outreach!
One option for widespread awareness and engagement is to partner with a large number of nano creators for a high-volume campaign. Working with an agency can make this process easier. However, it is definitely possible to manage large-scale influencer campaigns in-house.
Adding paid media efforts to any given campaign allows for greater targeting and exposure, with all the benefits of that high engagement, KPI-driven influencer content. The targeting capabilities of social platforms' advertising options make it possible to extend campaign impact far beyond an influencer's followers.
Nano Influencer Examples
Hopefully, by now you see how nano influencers are a key component of the influencer marketing world, and should not be discounted just because they have fewer followers.
The following are some great examples of nano influencers who are masters at connecting with their audiences:
Carla Mell might be a nano influencer, but you wouldn't necessarily know that by looking at her profile. With a visually arresting feed, she takes great care in the way she portrays her life, interests, and brand sponsorships. She has an eclectic, yet mild pastel color palette that would be a natural fit for most brands. The types of content she posts about make her a great fit for many campaigns that might come her way.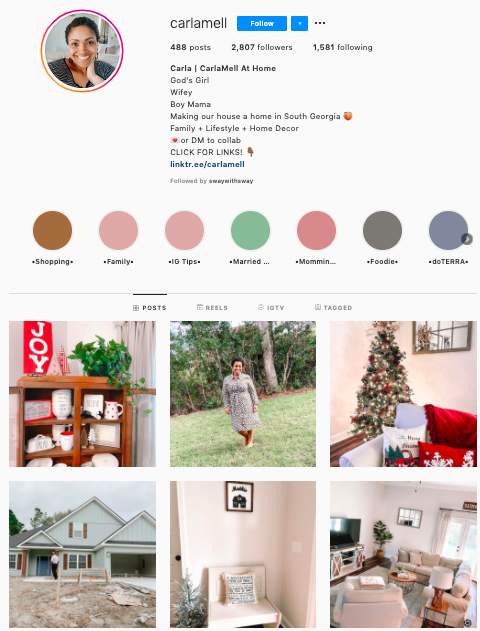 Anastasiia, aka @anastasiia_dots has a very fun (and unique) aesthetic. As a mom, she shares creative and engaging content that many brands could benefit from. She has a positive outlook which her audience responds well to.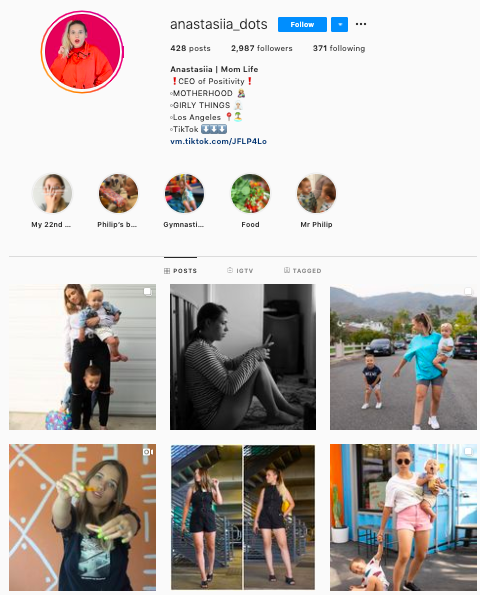 As a young mom of two, Fina of @houseofsonshine takes you on a journey of her very real #momlife. She also showcases her approachable take on comfortable fashion. She's not sharing high fashion in one frame and messy kids in another. Her realness comes through, making her a relatable nano influencer who would perform well for household, clothing, and parenting brands.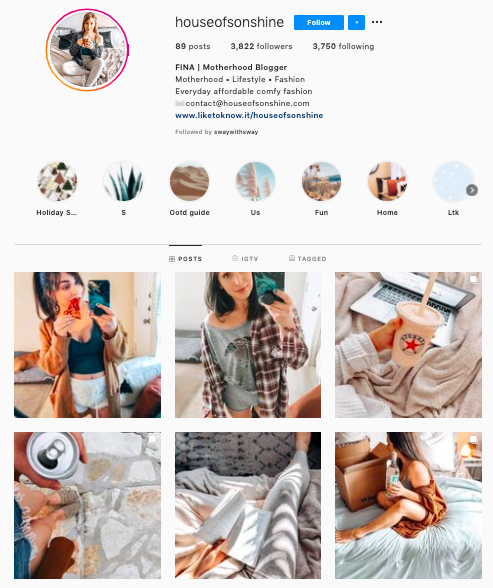 The Downsides to Working with Nano Influencers
With a smaller following, nano influencers obviously have a smaller overall reach. If this is a top priority for a brand's campaign, then they should consider using a large quantity of nanos.
They should also plan on implementing a hefty paid media strategy since Instagram influencers with less than 10,000 followers do not have the swipe-up link feature.
While clicks are often a key engagement metric, there are ways to get around the absence of the feature for nanos while also increasing their engagement.
Influencers can ask interested followers to direct message them for a link. This also further solidifies their strong relationship with their followers by encouraging more interactions.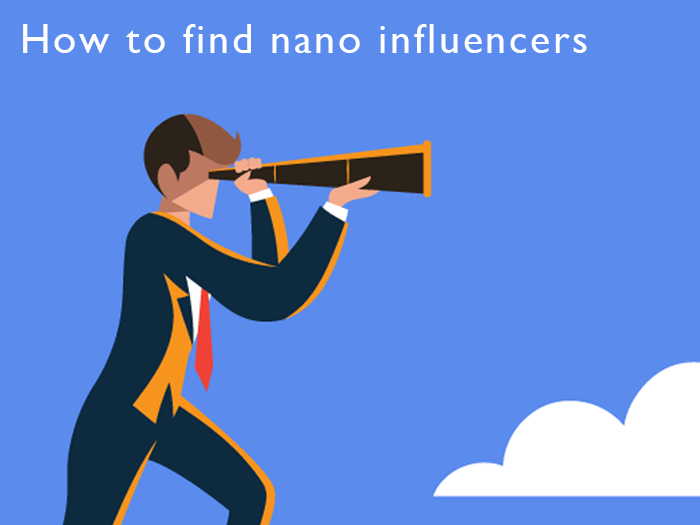 How can you find and work with nano influencers?
There are several ways to search social media platforms to find the right content creators:
Reach out to influencers you've worked with in the past. If you know somebody in or aligned with the vertical you're looking for, ask them for recommendations. They will likely be able to point you in a good direction to start your search.
Identify a few hashtags that fit within the particular vertical or location you want to reach. Looking through hashtags gives quick access to a multitude of influencers, and may lead to someone who's perfect.
Once you find an account you like, look at who they follow. A quality influencer will follow other quality influencers.
Use an influencer marketing agency like Sway Group. Our diverse influencer network and proprietary dashboard technology means that we can easily identify and activate the best nano influencers for a campaign.
The Sway Network includes influencers across all verticals and includes nano-influencers, micro-influencers, macro-influencers and more.
We hope you've learned just how powerful nano influencers can be as part of an influencer marketing strategy. If you're curious about how nano influencers can play a role in your marketing strategy, please reach out.