We're very excited to announce that Sway Group is part of the Chief Marketer 200 – the top marketing agencies of 2020. The 2020 Chief Marketer 200 (CM200) is the world's only editorial listing of best-in-class brand engagement and activation agencies, covering a wide range of agency categories.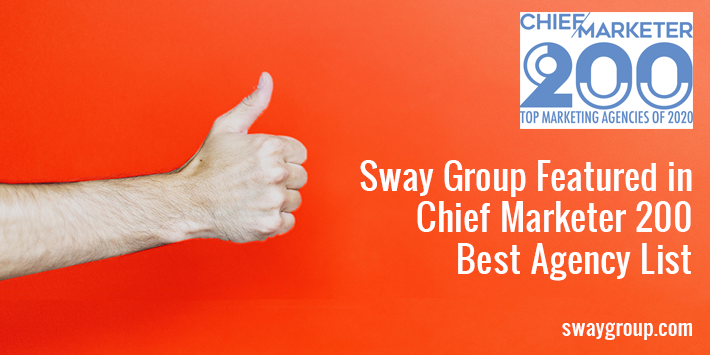 Winners were selected based on several criteria including: insightful client testimonials; outstanding case study submissions; high caliber, consistent work across programs and clients; innovative and creative executions; and bold and inspiring concepts and ideas that are moving the industry forward.
According to Jessica Heasley, Group Editor & Publisher at Chief Marketer:
"We created the CM200 three years ago to shine a spotlight on this vibrant and fast-growing agency community, and to help modern marketers find the partners that will help them craft the kind of campaigns that modern consumers demand."
The Sway Group CM200 editorial profile lists some of our capabilities and specializations, along with client examples.
A huge shout out to global online content portal Chief Marketer for including Sway Group in this prestigious list! If you'd like to learn more about how we can use our industry-recognized skills to help your business, get in touch today — we'd love to hear from you.