According to the Influencer Marketing report from Influencer Intelligence, 84% of marketers say they're challenged by proving influencer marketing's ROI. This isn't surprising: it's a common misunderstanding that you can't measure influencer marketing ROI.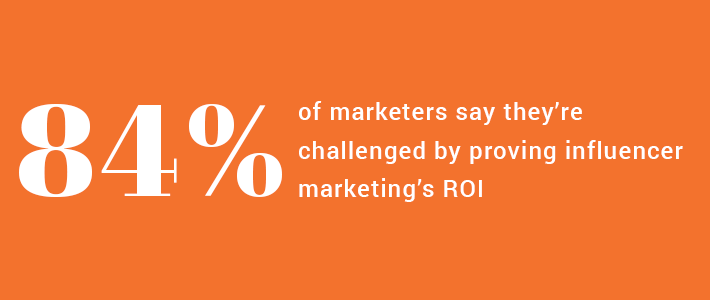 The truth is, many influencer marketing campaigns simply don't include the kind of in-depth reporting that determines ROI. Combine that with the fact that many campaign benefits reveal themselves over time, and it's no wonder the perception lingers that influencer marketing is nothing more than a hopeful roll of the dice.
While most marketing strategies involve at least some degree of uncertainty, the way to structure a measurable influencer marketing campaign is to clearly identify brand goals. Your key performance indicators (KPIs) will inform how you measure results. These are the metrics that give you the information you need to understand the impact of your current campaign and fine-tune your future projects.
Of course, as the influencer marketing landscape shifts, so do the numbers that are actually worth tracking! The days of counting passive marketing-message recipients have been replaced by more dynamic methods of examining influence and information sharing.

How to Measure Influencer Marketing ROI
At Sway Group, we gather many different types of data for our clients and keep the latest trends and findings in mind as we analyze the results. Here are some tips for understanding how to measure influencer marketing ROI:
Establish S.M.A.R.T. Goals for Influencer Content
The first and most important step in determining influencer marketing ROI is to figure out what you're trying to achieve. S.M.AR.T. goals are Specific, Measurable, Attainable, Relevant and Timely. In other words, it's not enough to want to "increase brand awareness." That can't really be measured because it's not accurately defined.
Other common influencer marketing goals include reaching new audiences, improving brand affinity, increasing website traffic, and increasing sales. These are all great, but they should be broken down into granular details.
For instance, specific goals that are easily measurable might be to attract 50 new visitors to your company website in a week, gain new followers on a social platform or to increase shares on social media by 10 percent over a month's time.
Focus On Total Campaign Engagements to Measure Influencer Marketing Success
At Sway Group, we believe the overall number of engagements is one of the most critical metrics when you measure influencer marketing performance and the success of a campaign. We're not alone: according to a Linqia study, engagement is the most-used metric to measure influencer marketing programs (cited by 90%).
As opposed to an impression, which is an estimate of the number of people exposed to a particular advertisement, engagement is a specific action a consumer takes with a given piece of content.
Engagement examples include
Likes
Comments
Replies
Saves
Shares
Click-throughs
These metrics help demystify campaign reach, but more importantly, they reveal levels of audience involvement.
Engagements give brands the opportunity to listen, share, and build lasting relationships with customers. At Sway, these metrics are carefully tracked and analyzed across each campaign and platform. We do this reporting in order to provide valuable performance insight and influencer marketing ROI for our clients, but also to continually improve our knowledge and expertise.

Measure Influencer Marketing ROI by Accurately Tracking CTR, Reach, and Impressions
CTR (click-through rate) is a standard industry method of determining how many people clicked a link included in an advertisement. Sway influencers include a proprietary tracking pixel within their blog posts, which allows us to see exactly how many total and unique visitors viewed the branded content. Customized bit.ly or UTM links provide analytics that help clients understand the what, where, and when of the traffic within their campaign.
Of course, plenty of influencer marketing is happening on social networks, rather than blogs. In these scenarios, it's important to understand the difference between reach and impressions:
Reach: The total number of people who follow the influencers on your campaign. For example, if an influencer has 50,000 followers, their reach is 50,000.
Potential Impressions: This number is determined by reach multiplied by the number of posts. So if an influencer who has 50,000 followers posts two times, the potential impressions becomes 100,000.
Actual Impressions: This is the actual number of followers who saw the content that's being measured. Note: this number is only available with direct access to a platform's API.
With both potential reach and impressions, you can make some assumptions about how many people will see an influencer's post based on the number of followers they have —but that wouldn't be very accurate. An influencer with 50,000 Instagram followers can't guarantee that all 50,000 will see the content they post, thanks to quirky algorithms and a myriad of other factors. By studying actual impressions, you can measure how many people actually viewed the content.
Actual impressions are accessed by platform APIs. API stands for application programming interface; it's a software technology concept that basically refers to how multiple applications can interact with and receive data from one another. Major social networks like Twitter, Facebook, and Instagram all have APIs that can be accessed via third-party measurement tools.
At Sway Group, our proprietary dashboard is enhanced by CreatorIQ, an end-to-end influencer marketing technology platform. We can measure social media API data for deep-dive analytics that aren't available to the general public.
With all of the variables that contribute to understanding how to calculate influencer marketing ROI, it's best to use a social analytics tool for tracking metrics — or partner with an agency who provides in-depth reporting.

Evaluate Campaign Data Points
Your original campaign goals will lead you to the performance data that are most relevant. For instance, if you were looking to boost direct sales, you can analyze discount codes, sales funnel activity or affiliate links. In order to measure conversions, zero in on the action audiences take after interacting with a piece of content (i.e., did they go on to download your app, sign up for a newsletter, or view a brand video?). For increased brand visibility, you'll want to use social network and search engine data to see how many mentions your brand generated during the campaign.
One of the most popular goals for an influencer marketing campaign is to increase the number of brand followers. This one's relatively simple to track, by documenting the number of social media followers before and after the campaign.
Clarify Brand Objectives in Real-Time
When determining social performance for a given campaign, we analyze the number and type of engagements along with the content itself. When an influencer-created recipe demonstration video drives views, that's an important measure of success — but we're also looking at the number of likes, shares, and click-throughs over time, as the brand messaging continues to organically gain traction among larger audiences.
For some campaigns, views may have been the main goal, but the value of sparking conversation becomes clear as content gains traction. Comments and tags offer great insight into how audiences are responding to sponsored content and provide brands with the invaluable opportunity to be part of the discussion.
Stay Current with Platform Insights
As different social networks continue to evolve and build their advertising functionality, the metrics available to users also shift. Privacy concerns and overseeing regulations are always in flux, as are the platforms themselves, along with industry analytics tools.
It's not enough to pay attention to which top social media platforms are the most popular. In order to help ensure that you are directing your influencer marketing efforts to the right places, you have to keep up with trends and best practices.
If you know what your social media goals are, the next step in proving ROI is having the tools to do so effectively. Facebook Insights, Twitter Analytics, Instagram Insights, and Pinterest Analytics all offer performance insight, along with third-party software from data aggregation companies.
Working With a Partner to Measure Influencer Marketing Results
It can feel like a full-time job keeping up with all the changes and added features. Brands often don't have the resources to constantly adapt their social media content development strategies. Working with an influencer marketing agency — particularly one with API access to social platforms — allows brands to focus on the big picture. By joining forces with an expert partner, brands can embrace these changes for what they are: new opportunities to create more audience connections.
Like everything else in digital marketing, influencer measurement is evolving at a rapid pace. At Sway Group, it's our job to be experts in this field, and we can help you reach the right people, in the right place, at the right time. It doesn't have to be a guessing game to measure influencer marketing ROI: we have the metrics and analysis so you can make informed decisions. Interested in learning more about what we can do for your business? Talk to us today.