Today's digital influencers are more than social mavens: they are content creators with diverse skill sets from writing to photography and videography. Whether they're sharing beautifully styled images on Instagram or choosing the perfect lighting for their professionally-edited YouTube channel, social influencers are often talented media creators as much as they are tastemakers. This ability to produce high-quality, engaging content that resonates with audiences is perfectly suited for brand sponsorships — but savvy marketers should be looking beyond the campaign for truly making the most of the influencer content from their campaigns.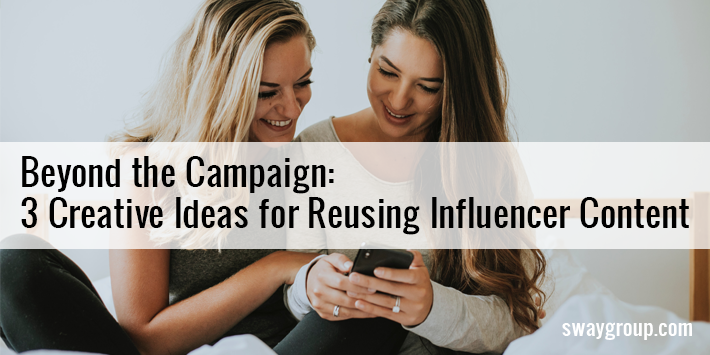 Syndicating or repurposing influencer content is a great way to extend the value of a campaign, at a price point far below agency-created media. As long as usage rights are secured ahead of time, brands have plenty of options for incorporating influencer content into their own marketing efforts.
3 Creative ideas for making the most of your influencer content
1). Add to your Instagram Stories Highlights. While regular Instagram Stories disappear after 24 hours, Instagram Stories Highlights can be permanently displayed on a brand's profile. It's a great way to display collections of influencer content in the Story format, in a prime location that audiences can discover. You could even have an influencer create a custom Story Highlights cover to really showcase the partnership.
2). Customize your social media covers. Facebook covers, Twitter headers, YouTube channel art: all of these places are high profile and can feature temporary imagery created by influencers or featuring influencers (or both!). When audiences see their favorite influencer on a brand's owned media channels, they're more likely to associate the qualities they enjoy about the influencer with the brand itself.
3). Crowdsource imagery for IRL marketing and events. Bedding brand Brooklinen used influencer-created images of pets lounging in bedding for a popular subway ad campaign. Beauty brand Glossier routinely shares influencer content on billboards across the country. At Sway Group, we worked with Day Owl wines to host a live influencer event and photo shoot that both delighted partygoers (who in turn shared brand imagery with their followers) and generated plenty of beautiful brand-owned photography.
Influencer content performs so well because they understand their audience's interests, and know how to bring brand content to life in a way that feels authentic and relatable. Think outside of the initial sponsorship, and get more value from your influencer partnerships by putting that amazing campaign content to work across your brand channels.