Create buzz around your brand with a unique online campaign that's perfectly timed for the thriving purchasing season of back-to-school promotions.
Kids would probably be horrified to know that many parents begin gearing up for back-to-school as early as July. That's right, children, while you're blissfully running through sprinklers in the backyard and listening for the jingle of the ice cream truck, your folks are already looking for the best deals on backpacks. Welcome to your thrilling future of being a responsible adult!
Since we know parents are always ahead of the game, we recommend that our clients start planning for the fall season sooner rather than later. Classroom lists and school requirements will always be king when it comes to back-to-school spending, but coupons, reviews, and online recommendations are more influential than ever. And we can help you ace your back to school marketing campaign.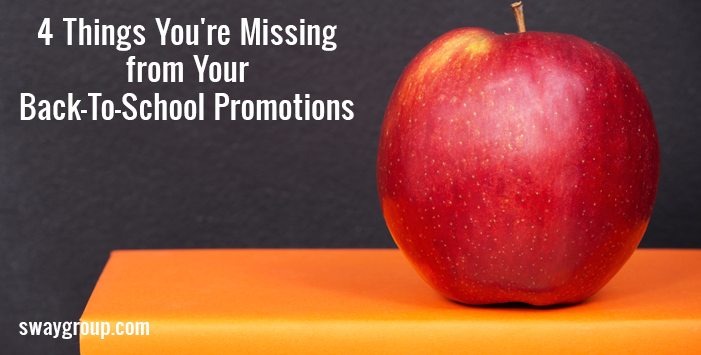 How To Plan For Back-To-School Promotions
A few key statistics to consider:
Families with children in grades K-12 will spend an average of $699.28 on apparel, shoes, supplies and electronics.
63.5% said they have previously purchased a back-to-school item they saw on social media.
44% of back-to-school shoppers plan to shop online.
Back-to-school searches on Pinterest grew 377 percent in 2014.
A portion of this $72 billion dollar industry will be funded by $913 million of teenagers' own dollars.
Supplies, Organization, and Efficiency Are Key
School supplies, apparel, accessories, and electronics stand out as obvious categories for a back-to-school promotional push, but we also know this can be a great time to reach moms. As kids head off to school, some moms may have more breathing room to focus on projects they've been putting off during the summer.
Fitness, cooking, organizational, "me time" products: between our Sway roster and Massive Sway network, we've got the voices to spark brand conversations among the parenting crowd.
Back-to-school is also an important time to promote anything that helps families be more efficient, since fall is all about readjusting to a hectic daily schedule. One of our success stories from last year involved a children's toothbrush: we recruited lifestyle influencers to share key messages and stories of integrating brushing into morning routines. The campaign pulled in nearly half a million impressions, and delivered an impressive unique clickthrough rate of 19.5%.
Maximize Your Reach
Shoppers have more ways to engage and interact than ever before, and we know how to leverage the immense power of social, from blogs to video to visual media like Pinterest and Instagram. Talk to us today about creating some back-to-school buzz with a unique online campaign that's perfectly timed for this thriving purchasing season.
Let's Make Your Back-to-School Promotions a Success!
Back-to-school season is right around the corner, and there's still time to align your marketing campaigns with savvy back to school shoppers and families. Contact us today and learn how you can tap into our large influencer network to reach moms, families, and teachers alike, by aligning your back to school marketing campaign with creative visual media.