Whether you want to connect with moms of young children or moms with older kids heading off to college, the time to develop your back-to-school marketing plan is now. Every day, more people are turning to their online communities as trusted information sources, making influencer marketing a strong strategy to earn awareness and engagement for your brand. Create buzz around your brand with a unique online campaign that's perfectly timed for the thriving purchasing season of back-to-school promotions.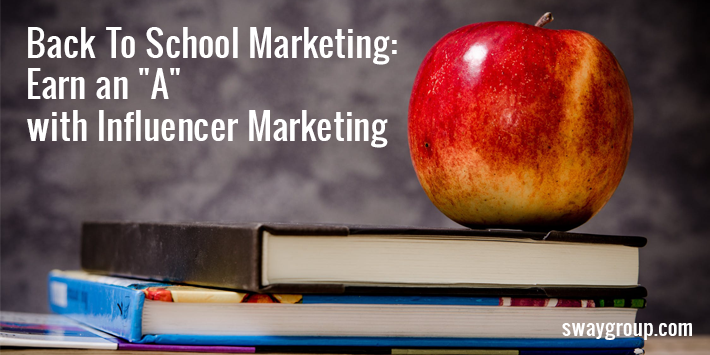 Back-To-School Spending
Back-to-school season is the second biggest shopping season of the year touching 29 million households and accounting for $27 billion in sales in the US.  We recommend that our clients start planning for the fall season sooner rather than later to make sure promotions are set to capture the excitement of the season.
A few key statistics to consider:
Families with children in grades K-12 will spend an average of $699.28 on apparel, shoes, supplies and electronics.
63.5% said they have previously purchased a back-to-school item they saw on social media.
44% of back-to-school shoppers plan to shop online.
A portion of this $72 billion dollar industry will be funded by $913 million of teenagers' own dollars.
Back-To-School Marketing: How to Earn an "A" With Influencer Marketing
Amplify Your Brand Messaging with Visual Content
On Instagram, your content obviously needs to have visual appeal. Facebook posts do well with eye-catching images or video and short, compelling stories. Twitter is key to taking advantage of current trends and announcing short-term deals or contests.
Since visual content is more than 40 times more likely to get shared on social media, the importance of including high-quality images or video in your campaign can not be overstated. Pinterest states that 11 million U.S. users saved nearly 45 million back-to-school-related ideas in 2016. Pinners start searching for back-to-school ideas twice as early as those on other platforms so starting your back-to-school marketing campaign as early as April is imperative to reaching your audience at the right time.
Sponsor Influencer Content to Optimize your Reach
Influencers have an excellent platform for increasing brand awareness and driving product sales. They have an established audience who has already developed trust in the influencer's opinion. By sponsoring a blog post, you can hire an influencer to write a post about your product while they are sharing your brand's key messaging all over their social media platforms. While you can give some general guidelines and key marketing messages, it's best to give them some creative freedom so the post seamlessly blends into their blog and feels natural to their readers.
See It In Action: Last year, Sway engaged multicultural mom influencers with sons between the ages of 12 and 17-years-old for a back-to-school campaign with a male hygiene brand. Their goal was to reach consumers with an interest in personal hygiene products for their sons. We launched an activation with 22 influencers who created blog posts and shared their posts across Twitter, Facebook and Pinterest.
The campaign proved to be a huge success garnering over 75M impressions with high engagement:
8K total likes
3.7K total shares/repins/retweets
1K clicks to the campaign landing page
2.8K total video views
Connect Emotionally with Live Event Advertising
Sponsored blog content offers flexibility; blog posts can tell a longer story, include visuals and be tailored to the blogger's audience demographics. That said, the annual first day of school has become a rite of passage – the new class, new teachers, new friends, new challenges. It's so easy to highlight how your brand or product helps both students and parents feel more confident about this next step. One way is by utilizing online influencers offline at live events. Combine online reach with live event advertising by inviting relevant online influencers as attendees to your brand's social event or hire influencers to host a sponsored live party. You get to connect your brand with all of their audiences in a very real way. They can see exactly how your product works and how it can help their families.
Have you started planning your back-to-school campaign yet? Contact us now to brainstorm an influencer marketing activation that will blow your campaign out of the water.