High school seniors have just decided where they will spend the next several years of their lives. So naturally they (as well as their parents) have began thinking about the next steps in preparing for their move out. These students already have enough stress as is, so they need marketing campaigns that not only underline exactly what they're looking for, but also speak to them in a way that's easy to understand. So today, we're sharing our top 5 things to keep in mind when marketing to the college student.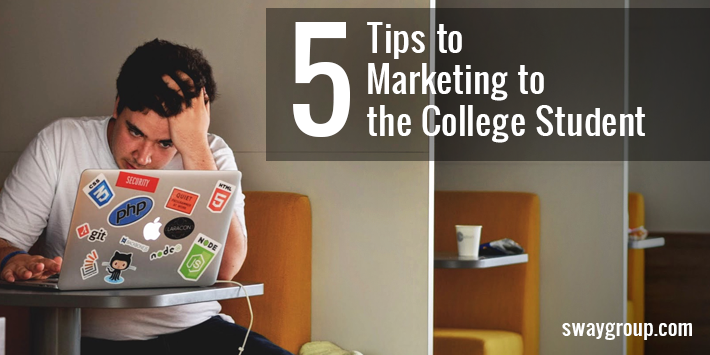 5 Tips to Marketing to the College Student
These tips are sure to make marketing to the college student a breeze:
1. Put Yourself in Their Shoes
Think back to when you were in college. More specifically, think of the items or discounts that would've made your transition a little smoother. College students don't actually know what they need until they get there, so they appreciate advise on what they should have in their dorm or what financial route that should take. Not only that, but it also relieves their stress because it narrows their shopping list as well as helps them stay within their budget. This is great for brands because they can constitute creative campaigns like the top 10 dorm essentials.
To create this campaigns, working with influencers is a must. This is because college students are already following these influencers on social media so they will automatically see their posts. Also, influencers are masters at producing content that is artistic but still fully expresses your brand's message.
2. Think Stress-Free & Easy
As we mentioned, new college students' stress level is at an all time high as they think about all of the things they'll need when living on their own. So take some of the stress off of their search by making your campaigns easy to read. More specifically, keep the language simple, the pictures clear, and the location easily accessible. Eye-catching images or colorful videos really resonate with these students as well as captures their attention. So when designing your campaign, take the time to produce multimedia graphics that not only convey your brand's product or service, but also appeals to the senses.
3. Don't Forget About Their Parents
First-time college students aren't the only ones stressed. Their parents are freaking out too, of course! Not only are they worried about sending their kids off on their own, but they also are focused on staying within their budget. So any discounts on room essentials is greatly appreciated. A creative way to advertise discounts is to host a contest or giveaway. This can be easily accomplished on social media. Typical contests consist of the participants following the brand's account, reposting one of their photos, or responding to a post. This not only helps promote brand awareness with all of the reposts, but it also ensures massive engagement on any social media platform.
4. Talk to Them in the Language They Know Best
In other words, tweets, pins, YouTube videos, Facebook posts, and Instagram pictures. College students are constantly interacting on social media which means they'll look for dorm ideas on apps like Pinterest or Instagram. This is beneficial for marketers because you have a plethora of social media platforms to choose from when deciding where to advertise your brand. Moreover, by advertising your product or service in a place students are guaranteed to see it, you'll have an easier time turning prospects into customers.
To create this social media content, it's best to work with influencers. This is because they've already acquired a large following of users, such as college students, that watch them regularly and trust their insights. These influencers are also naturally skilled in creating crafty pins and stunning Instagram pictures so all you have to do is provide your product or service, have them write a post centered around it, and watch the students engage from there.
5. Work with Influencers
As you've probably noticed, we've been hinting at working with influencers. That's because influencers can make any campaign a success with their innate ability to create authentic-sounding and innovative content that's unique to each brand. And marketing to the college student is no exception. If you'd like to get ahead on your back-to-school campaigns, give us a shout and we'll find the perfect influencer to market your product or service!