Successful influencer marketing campaigns can sway opinions, spark conversations, increase brand loyalty and boost sales. It's the critical difference between a potential customer tuning out your message or embracing it wholeheartedly — and the key ingredient is a strong content strategy.
An ideal strategy should be built on four key criteria that drive success in influencer marketing: platform insights, social and search trends, a strategic content calendar, and trust in your influencers.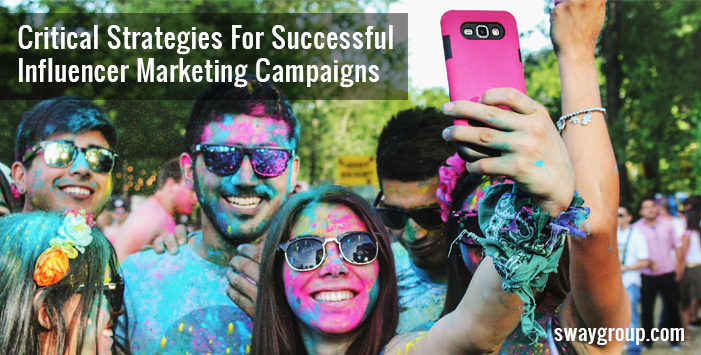 4 Critical Strategies For Successful Influencer Marketing Campaigns
1. Platform Insights: The Right Content In The Right Place
Your campaign objectives will determine which social media platforms to use, and those choices will drive the content strategy for each platform. For example, beauty content is almost certainly going to perform better on Instagram or YouTube than on Twitter. A product targeted to teens is much better suited to Instagram or TikTok than Facebook.
On Instagram, your content obviously needs to have visual appeal. Facebook posts do well with eye-catching images or video and short, compelling stories. Twitter is key to taking advantage of current trends and announcing short-term deals or contests. Sponsored blog content offers flexibility; blog posts can tell a longer story, include visuals and be tailored to the blogger's audience demographics.
While platform trends are an ever-changing landscape, they provide critical information. When you know that visual content is more than 40 times more likely to get shared on social media, you understand the importance of including high-quality images or video in your campaign. When you learn that pinners start searching for holiday gift ideas twice as early as those on other platforms, you realize that you should start planning your holiday Pinterest campaign as early as August!
Also, consider what sort of content works best for a particular audience. Printables are popular among craft enthusiasts while foodies respond well to professional, easy-to-follow recipe demonstration videos. New parents tend to relate best to raw, personal stories from those who are also in the trenches of babyhood, while tech-focused readers gravitate toward content presented via podcast or video.
Savvy marketers use reports and analytics to understand how consumers are reacting to content across multiple platforms. At Sway Group, we are continually testing content to see what works and what doesn't on individual platforms by tracking traffic, views, social shares, likes, comments, repins and follows. Then we use this information to determine not only the success of a given campaign but to help shape future content strategies.
2. Ever-Changing Trends
Posting the most appropriate content on the perfect platform may fall short if your timing is off. We know that health content is popular after the new year, children's activities are popular leading up to summer, and holiday content should be posted on Pinterest as early as September for it to show up during Q4, Pinterest's highest performing season.
By piggybacking on the content people are already searching for, brands can boost the results of an influencer campaign. The biggest way for brands to capitalize on trends occurring within their vertical is to listen to and watch their audience. There is no easier way for a brand to find out what its audience is talking about than to manage the conversation around brand hashtags and social handles.
Take Elmer's Glue, for example, and the slime craze that swept the internet a few years back. Elmer's found itself at the forefront of it all — with skyrocketing brand awareness and a two-fold increase in sales — without pushing out its own marketing program. By doing nothing at all, Elmer's watched its brand proliferate on YouTube, Instagram, Facebook and Twitter. That is the power of social search. Building influencer campaigns in tandem with existing trends can deliver significant results.
3. Your Friend, The Content Calendar
An editorial content calendar will help you stay abreast of both social and search trends and keep you organized. The calendar will serve as a repository for future content, which can be planned weeks or even months ahead of time while also capturing emerging trends you may want to leverage.
Holidays and national days are always certain to trend across social platforms. They give brands and businesses an effective way to connect with their audiences by providing an easy segue into any conversation happening online. And the hashtags are usually readily apparent. Christmas, National Bagel Day, National Dog Day — the list goes on and on.
Want to take this strategy one step further? Check out this calendar that details all the days during the year when you can get free stuff, and use it when developing your program strategy.
4. Trust Your Influencers
The single most effective way to get the kind of compelling, viral content that your influencer's audiences will respond to? Allow the influencer to create the content. Influencer marketing is all about authenticity; today's audiences want natural-sounding recommendations from real people, not blatant advertising. Sponsored content that doesn't match the influencer's tone or language will come across as fake, which can alienate audiences and damage the reputation of both influencer and brand.
The most strategic marketers and agencies will look into their influencers' audiences so they can target niches within verticals. Let's say you're looking to market a home decor product or service. Is your ideal audience interested in DIY, high-end, eco-friendly, modern? When you have the ability to drill down to find the right influencer, your brand aligns with their personal brand and the result is an authentic (and persuasive) content experience for audiences.
There is no one-size-fits-all answer for how to produce a great influencer marketing campaign, but understanding your goals is always the first step. Research the trends, pay attention to what works (and what fails) and partner with expert influencers who know exactly how to make your message come to life.
Get in touch with us today to learn more about our strategic services and influencer marketing campaign options.
Originally published on Forbes