Keeping up with the latest social media trends can prove to be a difficult feat. Unless you have someone working around the clock to ensure your business is able to actively monitor the rapid-fire social media landscape, you need to have an editorial content calendar to keep you organized and on-track.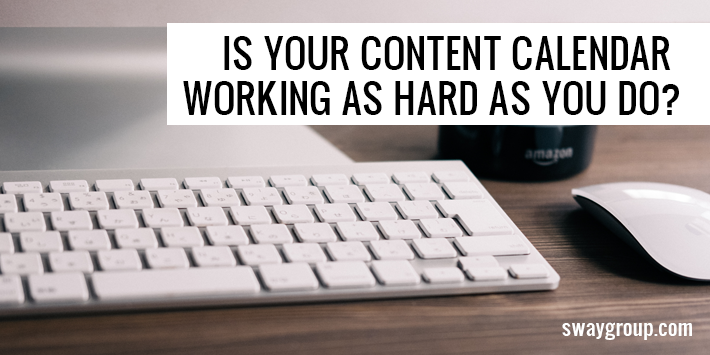 Content Calendars 101 – What You Need to Know
Managing your content calendar weeks, or even months, ahead of time is a vital part of a successful social media strategy.
Below are three sure-fire ways to make sure that your content calendar is helping you gain more traffic and hitting all of the seasonal trends you want to be a part of.
1) Repurpose Old Content
Evergreen content allows your blog posts to yield value long after they have initially been published.
Don't let a lack of time hold you back from having killer content all year round. If you do not have time to draft an entirely new post, consider updating or "re-purposing" older content that has performed well previously. With just a few tweaks, they can be republished year after year.
There are many different ways to tailor an old blog post to fit your new aesthetic. Updating a post with new information, speaking to a specific need or including new visuals can make all the difference.
2) Ensure Your Calendar Reflects Holidays and National Days
Holidays and national days are always certain to trend across social platforms. It's the easiest way for brands and businesses to connect with their audience since it's content that most everyone can relate to.
Christmas, National Bagel Day, May the Fourth (also known as National Star Wars Day), National Dog Day – the list goes on and on! Using holidays and national days provides an easy segue into any conversation happening online. And the hashtags are almost ALWAYS readily apparent.
Think of the opportunity as a real-life encounter with a stranger – you need to find that common ground to get the conversation started.
Want to take this strategy even one step further? Check out this calendar that details all the days during the year when you can get free stuff.
3) Trend Watching + Planning Ahead
These days, you can find new trends everywhere…
Hashtags: #MotivationalMonday, #ThrowBackThursday
Clothing and Make-Up: Adidas, Yeezy, Kylie Cosmetics
TV Shows: Game of Thrones, Riverdale, The Bachelor, and pretty much anything on Netflix
National Events: "The Big Game," political elections, the Olympics
Many business and brands miss the mark on capitalizing on the conversation around media trends because they don't believe that it makes sense with their vertical, but trust us when we say you can make it work.
The biggest way for brands to capitalize on trends that are happening within their vertical is to listen to and watch their audience. There is no easier way for a brand to find out what their audience is talking about than to manage the conversation around brand hashtags and social handles.
For example, the DIY slime craze is SWEEPING the internet and
Elmer's Glue
is at the forefront of it all – skyrocketing their brand awareness and doubling their sales within months. Elmer's is seeing their brand name across
YouTube
,
Instagram
,
Facebook
, and
Twitter
, without having to push their content marketing strategy at all – THAT is truly the power of social trends. Once the slime craze exploded, Elmer's dedicated a
section of their website
to the topic, sharing recipes and directions on how to create the perfect DIY slime.
If your brand is suffering from seasonality, staying current with trends can help you boost your online traffic during a time you know is usually slow. It's also a great way to keep your brand name top of mind all year round.