As 2017 has come to an end, it's a great time to review influencer marketing programs and make plans for the year ahead. As we consider what industry trends are likely to emerge in 2018, we know one thing for certain: influencer marketing shows no sign of slowing down.
Predictions in Influencer Marketing for 2018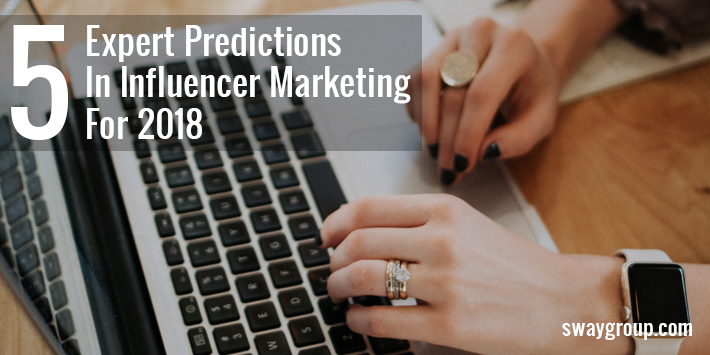 The landscape continues to shift and evolve, but the pattern of increasing growth and opportunity holds steady. Within that growth, changes aren't just likely; they're inevitable. From agency trends to social media platform challenges, here are predictions for how you can make the most out of your influencer marketing in 2018:
1) Brands will have multiple ways of connecting with influencers.
Brands are starting to use more than one strategy when it comes to the nuts and bolts of their influencer marketing programs. For those using internal resources to recruit and manage influencers, they may rely on agencies for additional amplification or high-volume campaigns. Some may use agencies for the majority of their planning and influencer sourcing, then handle a handful of specific campaigns in-house. The options are many and the needs are fluid: there are times when a one-on-one relationship with a familiar influencer works best, and others when it's more effective to tap into the resources and knowledge found at an experienced agency.
2) Brands will increasingly turn to influencer content over expensive creative shops.
With premium agency-created content racking up sky-high production costs a 30-second spot averages over $350,000, influencers are a far more cost-effective option for brands in search of compelling, original content. More and more, influencers are creating the sort of content that used to be handled by agencies and large media companies. Influencers aren't just great storytellers, they're photographers, videographers, and skilled marketers who are experts in their field. These are the content creators who can help forge real, meaningful brand connections, and they cost less than the old-school ads no one's paying attention to anymore. The value of high-performing influencer content can easily be extended, either by paid media boosts, brand-owned channel distribution, or repurposing for other mediums like print, TV, and so on. Influencer images, video, and custom creations like recipes and home decor tutorials taps into consumers' preference for user-generated content, and has the added benefit of feeling like a recommendation from a trusted friend.
3) Experiential marketing will increase as part of the marketing mix.
Experiential marketing — known by many terms, including event marketing, on-ground marketing, participation marketing, and more — is a strategy that invites consumers to engage with a brand through hands-on experiences such as live events. Influencer-hosted live events bring brands to life by showcasing product features and benefits through demonstration, examples, and take-home ideas.
While photos are the most popular type of content created and shared at events and experiences, almost half of consumers (49%) capture video with their mobile devices during their participation at branded events. Content shares via social media significantly amplify the impact of events, and the event itself improves brand perception: 74% of consumers say engaging with branded event marketing experiences makes them more likely to buy the products being promoted. In 2018, we'll see more brands turning to experiential marketing to drive on-site engagement, capture brand content (photos, video, commentary) for other marketing campaigns, and influence sales.
4) Paid media will be the secret trick for extra engagement.
Surprise: in an industry increasingly devoted to uninterrupted, native sponsorships, paid digital advertisements are successfully being used to springboard content. In these scenarios, influencer content is promoted in lieu of in-house or agency creative, leveraging the organic, word-of-mouth tone that resonates with like-minded audiences. Ad targeting on social media platforms like Facebook can identify receptive demographics who are far more likely to click on a compelling blog post than a sales pitch.
Additionally, popular influencers can help amplify someone else's great content. At Sway, influencers with large social media followings can be hired to tweet, pin, or post on Facebook on another influencer's behalf, with links to the branded content. The trust and credibility built up between influencer and audience help brands to expand outreach in a personal, meaningful way.
5) Instagram's ad-flagging algorithm will become a bigger challenge.
In our experience, Facebook's advertising algorithm can be overly zealous. Restrictions like prohibiting the use of personal attributes, strict guidelines regarding mentions of medical conditions, and limitations on text in images all add up to a tricky minefield that requires ongoing familiarity with all the ever-changing rules and regulations. Unfortunately, it seems that Facebook-owned Instagram is succumbing to a similar trigger-happy vetting process. Some influencers are getting flagged for changing their bio link to a brand-owned-URLs and when content is flagged, the entire campaign can be impacted, as posts receive less priority in the newsfeed. Experience, ad policy knowledge, and a wealth of creative workarounds are increasingly necessary in order to take advantage of these platforms' tremendous reach — without raising the ire of their finicky AI programs.
The foundation for next year's success begins now, as you plan out your next influencer marketing moves. Contact us today to learn more about how we can help you exceed your goals in 2018.