While there are a number of factors to consider, choosing the right influencer is crucial — and one of the unique advantages Sway Group brings to the table for brands and marketers is the connection we have to our influencer network.
Most influencer networks are simply databases of influencers and their stats, which offers marketers a platform to search but not much more. In comparison, our influencer network is made up of over 30K vetted, diverse influencers who are experts in creating content that drives engagement around brand messaging.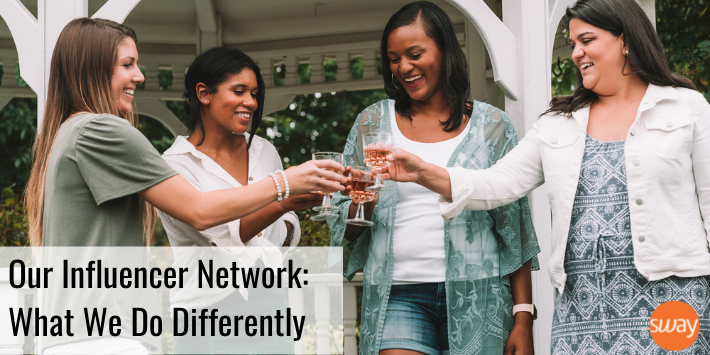 Sway Group's Influencer Network
Sway's network of content creators encompasses a wide variety of platforms, content niches, and following sizes, but that's not what makes us stand out from the crowd. The real difference is in how we grow and nurture this network, and what that means for our clients.
Strategic Influencer Recruitment
Our focus on continually growing our network in strategic ways means we're able to offer clients a spectrum of incredibly targeted campaign options. (Looking to reach Midwest millennial mom health enthusiasts who also love dogs? We can do that.)
Sway Group's recruiting efforts aren't solely focused on building up follower counts: we look for diversity, creativity, content expertise, audience engagement, authenticity, and much more.
Sway's talented Influencer and Community Management team is always on the job recruiting and supporting the creators in our network. We're deliberately building upon the types of influencers we work with, so we can provide a breadth of vetted creator opportunities and associated content strategies.
Authentic Influencer Relationships
Sway Group's proprietary influencer dashboard helps streamline our campaign workflows, and it also facilitates the influencer communication and management we handle for our clients.
Our influencers have convenient access to all available campaigns and communications, including brand assets and best-practice content quality resources.
While our software is integral to what we do, we know the best influencer marketing requires a strong human element. Unlike a platform service, our agency offers the benefit of insights and strategies gained from the real relationships we have within our influencer network.
Our agency teams are dedicated to building and maintaining meaningful connections with the creators in our network. By keeping open lines of communication with our influencers at all times, we're better able to refine strategies and provide valuable feedback to clients along the way.
At Sway Group, we don't rely on automated solutions for influencer communications. Our technology allows us to focus on strategy and service — but it doesn't replace the valuable personal relationships and community expertise that drives our business.
Platform-Authenticated Campaign Metrics
Some brands and influencer marketing agencies use estimations based on influencer-reported metrics to extrapolate campaign performance results and demographics. This can make it extremely difficult to understand true campaign impact.
At Sway Group, we use platform authentication to pull engagement metrics directly from our influencers' profiles, which even includes data that's not publicly displayed to followers (content saves, for instance).
First-party API data from social networks includes a variety of valuable metrics, such as audience demographics, Stories views, impressions, video views, clicks, saves, and more. These metrics obviously help determine campaign success, but it's critical to have access to trusted historical data, to begin with — how else can you choose potential influencer partners with confidence?
Don't waste time with platforms or agencies that don't require authenticated influencer accounts. At Sway Group, you can count on accessing true platform data directly from the source, as well as additional demographics and campaign insights provided through our proprietary dashboard.
Valuable Creator Education
Sway Group's influencer community team is always working on creating education and opportunity for our influencer network. We provide ongoing resources and learning opportunities to our creators, in order to help them build their skills and offer more value to audiences and brands alike.
Just a few of our influencer network community efforts include:
Sway team member livestreams with interactive Q&A sessions
Blog content and other resources with relevant best-practice tips for sponsored content
Expert articles on niche topics (best lighting, how to film recipes, TikTok tips, etc)
Group discussions around influencer content/social platform trends
Ongoing groups and forums for info-sharing and community building
Our influencer network is so much more than a database of names and stats — it's a thriving place to connect and build creator expertise.
Investing in our network helps us continually improve upon the work we do for our clients, while keeping influencer needs top of mind.
The Sway Group Difference
By choosing to work with Sway Group for your digital and influencer marketing needs, you're tapping into our greatest resource: our amazing influencer community.
Want to learn more about the influencers we work with and the campaigns we've created? Get in touch today, we'd love to share what we can do for you.