This Sunday, March 8th, is International Women's Day: a global day celebrating the social, economic, cultural and political achievements of women. While it's wonderful to have a specific date each year to focus on women — how far we've come, how much there still is to be accomplished — here at Sway Group every day is female-centric. In fact, our business truly revolves around women: as employees, as influencers, in the marketplace.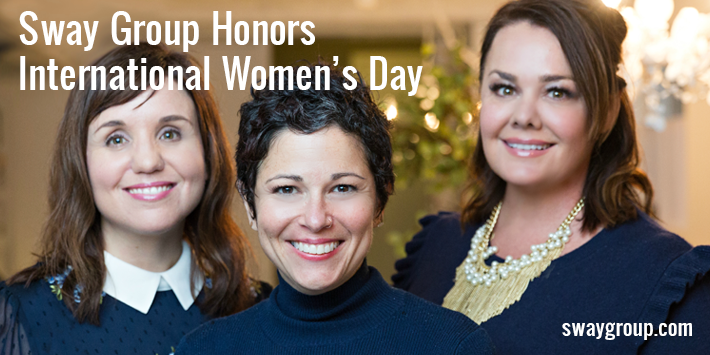 If you take a look at our team you'll see why women's issues are always important to us. We don't exclusively hire women, of course, but we do pride ourselves on working with the people who have impressed us, who bring something special and unique to Sway and what we can offer our clients.
We are women-owned, women-run, and largely women-focused in our business efforts. While we are not limited to marketing to women (and those who identify as such), we definitely consider ourselves experts in this area! Many of us have a background in the female-driven blogging movement that led to what influencer marketing has become today, and we know the power of women sharing stories with other women.
At Sway Group, our diverse community of influencers is full of talented creators who bring their authentic selves to the brand partnerships we help them forge. Our campaigns bring 3x the industry engagement rate because we understand this industry, and the kind of content that resonates with today's consumers.
Traditional advertising aimed at women has been historically problematic, and honestly hasn't improved all that much in recent years. We know that when done correctly, influencer marketing reaches women in a more authentic, compelling way — and drives the kind of action brands are looking for. Today's influencers know better than to rely on outdated, stereotypical messaging that women are tired of seeing from commercials and print ads.
Advertisers know that women are the biggest buying force in the marketplace: we are overwhelmingly the ones buying or influencing the purchase of most of the consumer goods for ourselves and the people in our lives. However, many marketers still make the mistake of thinking of women as one big category rather than taking into account all of our differentiating factors.
That's where an agency like Sway really makes a difference, because we truly understand women's needs and interests — and our influencers do too.
We are proud to say that our agency truly empowers women, from those we work for and with, to the social audiences who deserve smart marketing that never stereotypes or condescends. On International Women's Day and every day, we're deeply grateful for our business — and for the clients who value what we do.