In 2017, Facebook updated its Branded Content Guidelines which caused many issues for influencers, agencies, and brands who are looking to implement social media marketing campaigns.
With Facebook's constant monitoring of acceptable sponsored content, your brand needs to make sure that you are not only effectively utilizing the branded content tool but understanding how it works.
Are You Using the Facebook Branded Content Tool Correctly?

What is the Facebook Branded Content Tool?
Facebook wants to make sure paid content is labeled in a clear and consistent manner. In order to do this, they've created a "handshake" tool. This tool was previously available only to those pages with the blue verified checkmark. Now, the handshake tool is available to nearly every Facebook page, verified and unverified. All sponsored/paid content must be shared using this tool, without exception.
How does the Branded Content Tool work?
When an influencer shares sponsored content, they'll use the handshake tool to tag your brand's Facebook page. The post will publicly tag your brand as sharing "with" the influencer's page and denote the post as "Paid", making it transparent to any consumers viewing the post that they are viewing sponsored content.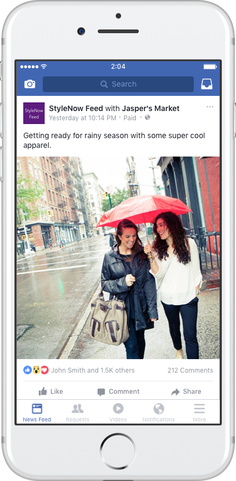 What happens if an influencer does not use the Branded Content Tool or what if I'm tagged incorrectly?
If the post is not shared correctly, using the handshake feature, Facebook will hide it from view until the post is in compliance with the new guidelines. Also, influencers must have permission from brands before using the handshake tool. Brands are able to reject the handshake, which would then hide the post from Facebook feeds. Also, brands can adjust their page settings so that influencers must have permission before tagging them with the handshake tool in the first place.
Does this replace #ad/AD on sponsored content shared on Facebook?
Nope. Standard FTC disclosures are still required on all sponsored content. While the handshake tool makes it easier for consumers to differentiate between paid and unpaid content, it does not replace standard disclosures. Each post must include the standard AD disclosure before the shared link.
Why should you care?
The Facebook Branded Content Tool will help your brand make smarter choices when it comes to how you spend your marketing and advertising dollars by allowing you full access to the post's analytics. Now, brands can see the complete picture of how their sponsored content is performing on Facebook.
The Branded Content Tool also gives brands the ability to create an ad from the post and boost the content, thus expanding the brand's reach even further. Of course, Facebook is only one part of a successful influencer campaign, but knowing how these new tools can improve your ROI on the platform will become vital when creating your custom influencer marketing program.
Want to know more?
Sway Group is a full-service influencer agency. We keep up to date with all of the latest updates and trends on social media so you don't have to. We are here to help you navigate these changes and make the most of your brand's marketing budget.
Contact us today to discuss how to make these new Facebook Branded Content Guidelines work for your brand or agency.