"We're interested in influencer marketing, but …"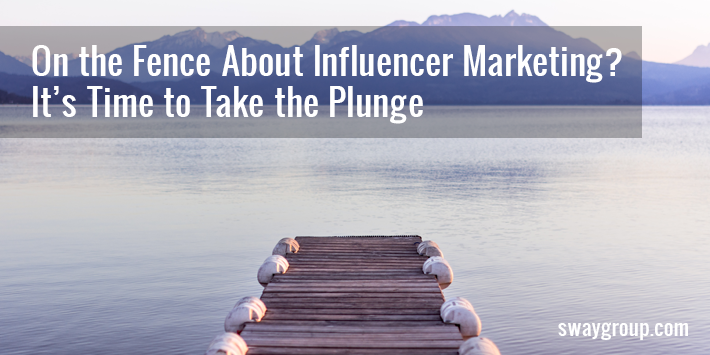 As VP of Sales here at Sway Group, I'm familiar with many of the reasons some brands experience hesitation when it comes to influencer marketing. Sometimes it's a matter of limited resources or uncertainty about how to get started. Other times there's a reluctance to break away from traditional advertising efforts.
Before I joined Sway, my career was forged in traditional media advertising, primarily in the broadcast television space, and I know how challenging it can be to invest in new strategies. While influencer marketing seems to be here to stay, it can still have that anything-goes, does-this-REALLY-work? Wild West feel to it — especially for brands who have been utilizing "traditional media" for years.
What I truly love about Sway Group is that we can really put our money where our mouth is when it comes to influencer marketing. We can educate your team, strategize with you, share our best knowledge, and show you first-hand how influencer ROI can be measured with great accuracy.
Influencer Marketing Is Easier Than You Think
Influencer marketing can be as simple as a single tweet, or as complex as a large-scale video-centric campaign that spans a series of months. We start by working with you to truly understand your brand values and goals before we develop a spectrum of social media strategies that will produce the results you're looking for.
At Sway, we navigate influencer and content marketing for you and with you; we demystify and enlighten so you're never left with questions. We provide a friendly space for you to explore all the options that are interesting to you, and we free you up to focus on the issues you want to focus on.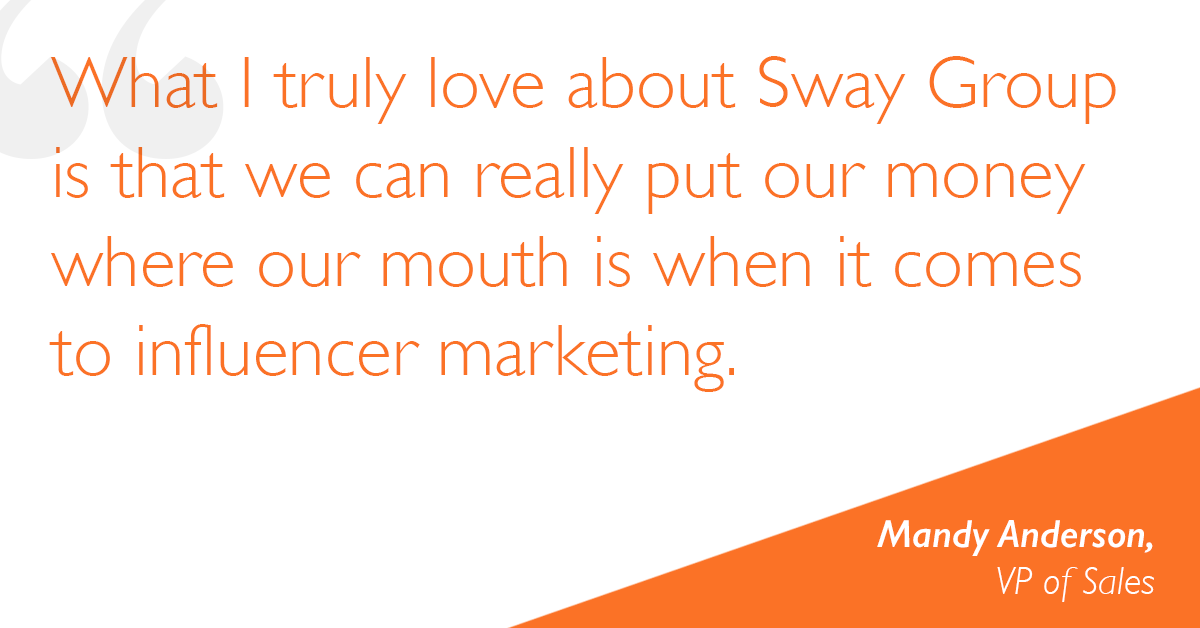 We Don't Believe in Guessing Games
I understand how important it is for brands to get real results from their marketing spend. Over my career I've seen a lot of money spent television advertising. While some clients perceive increased awareness or even sales, they have no way of knowing how many people saw their commercial, what demographics were reached, or how engaged viewers were when their
That's one of the reasons I personally find influencer marketing so interesting and rewarding — it's creative, but it's also quantifiable. The metrics we study help explain campaign reach, but more importantly, they reveal levels of audience involvement. Likes, clicks, comments, tweets, repins, shares: we analyze and report on every engagement metric so you have a complete picture of influencer and platform performance.
Engagements give brands the opportunity to listen, share, and build lasting relationships with customers. At Sway, these metrics are carefully tracked and analyzed across each campaign and platform. We do this reporting in order to provide valuable performance insight and influencer marketing ROI for our clients, but also to continually improve our knowledge and expertise.
Like everything else in digital marketing, influencer measurement is evolving at a rapid pace. At Sway Group, it's our job to be experts in this field, and we can help you reach the right people, in the right place, at the right time.
In the early days, brands approached influencer marketing as an exercise in throwing things at the (virtual) wall and seeing what sticks. While there's always room for experimentation, working with us means you get our combined experience, toolset, and data. Influencer marketing ROI doesn't have to be a guessing game: we have the metrics and analysis so you can make informed decisions. Nothing's left to chance … unless you want it that way!
The Final Word
In the end, influencer marketing is both an art and science. My favorite part of every campaign is seeing the amazing content created by our influencers, and how brand stories come to life in a way that truly resonates with audiences.
I love when first-time clients see how compelling and cost-effective influencer marketing can be, and come back for more. There's a reason we have so much repeat business: we know what makes influencer and content marketing programs successful, and we go above and beyond to please.
Are you ready to make a bigger impact with your marketing? Let's talk. I'd love to have the chance to tell you more about what Sway can do for you.