Marketing to parents has come a long way in the last 20 years. The number of platforms currently available for people to write and publish original content is too vast to list, but back in the early 2000's, blogging-specific resources were a brand new concept. As publication technologies expanded to support audience interest, we began to see options for blogger monetization, primarily in the form of static banner ads.
We now see this time as the beginning of the "mommy blogging" trend, which has evolved over time into a multibillion-dollar industry. Long-form written content has mostly changed to mobile-friendly posts and highly visual social media content. Parenting and family influencers often now include a niche focus, like fashion or healthy living, and are largely made up of millennials.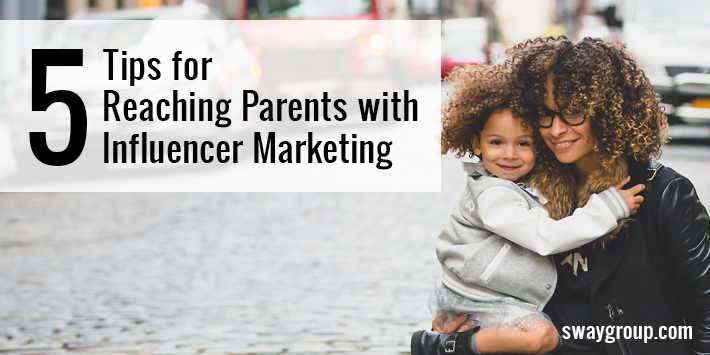 Here are 5 ways to market to parents with influencer marketing:
Today's diverse parenting audiences are still looking for the topics that will always resonate for anyone raising young children (first foods, potty training, and sleepless nights, for instance), but the expectations and interests have grown and evolved along with social platforms.
Don't make the mistake of trying to market to yesterday's parent-blog audience — today's parenting consumers are more savvy, with plenty of competition for their attention.
1) Marketing to parents isn't one-size-fits-all
Parents want to feel seen and understood, not pigeonholed as consumers into a catchall 'mom' category (also, they're not just moms! Dads are a lucrative and often-overlooked market). In one recent survey, one-third of Millennial moms say they are "most strongly defined by other non-motherhood aspects of their life and self."
This is an area where today's influencers really shine, because they know their audiences so well. They can speak to the topics they know their followers are also interested in, whether that's fitness, design, crafting, health and wellness, fashion, or other topic.
An example from a recent campaign we did with Stonyfield: Parenting Instagram influencer @its.rachelanne stayed true to her "always-outdoor lifestyle" with a post centered around getting kids involved with gardening while promoting Stonyfield's on-the-go snack packs. Her story about planting flowers to help out local bees fit perfectly with Stonyfield's environmental focus, and she was able to authentically weave in messaging about the brand's commitment to keeping the earth clean by removing pesticides and harmful chemicals from community parks and fields.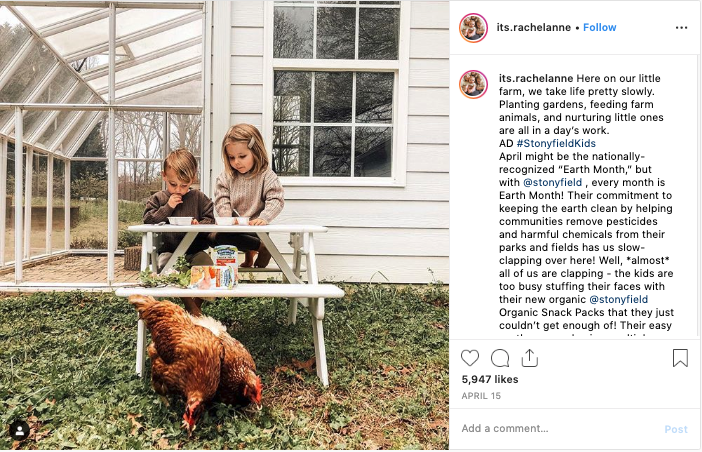 2). Use specialized influencers to reach specialized markets
Expanding on this last point, who better to share a brand's line of homeschooling products than a homeschooling parent? A special needs parent is the perfect ambassador for a special needs awareness program, a foodie parent is ideal for a new cookware collection, an aspirational fashion-forward parent for a line of clothing, and so on.
As an example, personal finance and frugal living is a thriving niche market for parenting influencers, reaching a large percentage of the population interested in reducing debt and saving money. In order to reach this market, we partnered with frugal-living influencer Thrifty Jinxy, who helped promote FreeShipping.com with a holiday-focused post on saving money by using the client's cash-back service. As a way to boost even more interest from this engaged audience, she included a contest with a cash prize.
Partnering with a niche parenting influencer is a great way to reach a highly targeted audience, from adventurous travelers to homebody decor enthusiasts. Parents who are searching for activity ideas, crafts, recipes, home remedies and more are turning to the online experts who are continually producing relevant content in these categories.
3). Authenticity is key
Allow parenting influencers to use their authentic voice when they're presenting your brand, to avoid losing that special connection they have with their audiences. The credibility they've built over time depends on them staying true to who they are, from their tone to their aesthetic. Authenticity and transparency are always key elements of a successful campaign. Brands who preserve influencer voices with flexible, transparent campaigns foster trust and loyalty.
According to marketing consultant Jem Bahaijoub, one of the biggest mistakes that can be made with influencer marketing is not being transparent.
"…you have to research your industry and see who is naturally interacting with your brand. You want an emotional connection between a brand and an influencer. The authenticity is communicated to the influencer's audience."
Sponsored blog posts should feel like a natural extension of the influencer's typical content rather than a commercial break. The influencer should connect to the company's product and market it to a relevant audience, but the influencer should also echo the brand's personal style. Even more critically, sponsored blog posts should be disclosed properly according to the FTC guidelines. Audiences don't like being duped, and being in violation of the FTC Act is no joke.
4). Reach them where they're at
Marketing to parents means having a strong social media presence. According to Statista, Facebook is the most popular social network among U.S. moms with 79 percent of respondents having visited the social network in the preceding week. Pinterest follows at 54 percent, Instagram at 44 percent, and Twitter at 25 percent. Millennial moms spend more time online than Gen X moms, and 44 percent of Millennial moms have made a purchase on their smartphone in the past week.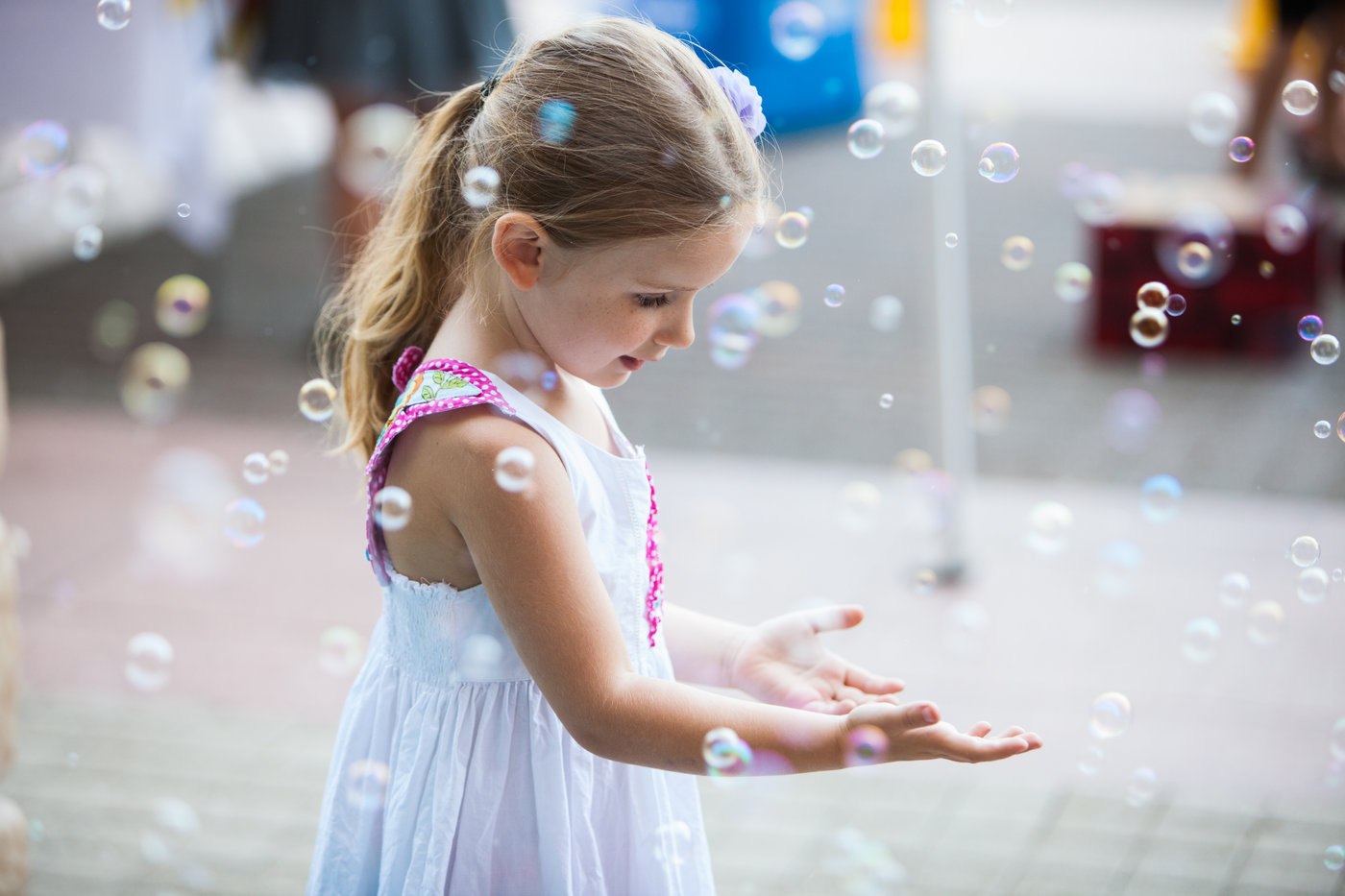 When targeting a social media network to reach parents, consider which platforms will work best for your brand message. While Facebook is the leading contender in terms of sheer numbers, Instagram is often a better way to showcase visual content (and also to market to Millennial moms!). And Pinterest reigns supreme when it comes to pinning evergreen topics like recipes, printables, and design concepts.
Perhaps not surprisingly, over a third of moms and half of dads say that they use social media daily for help in parenting. Today's digital villages are where parents, particularly millennials, are going for advice and recommendations on everything from baby strollers to behavior challenges.
There's no one-size-fits-all answer for choosing a platform, in fact, it's better to focus on finding the right influencer and develop a campaign strategy that includes multiple channels.
5.) Marketing to parents means recognizing that parents listen to other parents
Plenty of today's parenting creators are focusing in on highly targeted audiences, and they've built up a strong sense of loyalty among their followers. Pregnancy, adoption, snack ideas, party planning, family travel, military life — the list of niches goes on and on, as do the opportunities for brands to make valuable partnerships with these creators.
Jenny Kales, creator of the popular food allergy blog, The Nut-Free Mom, says she's been able to form strong connections with other parents whose children are nut-allergic over time:
"They see me as one of them, and I think it gives you more credibility and humanity when someone can see your platform and realize that you are speaking from experience."
Modern parents are looking for content that reflects the reality of their everyday lives, and that's why they turn to other parents over advertisements. In the end, leveraging the trusted voice of a parenting influencer is an ideal way to share your brand message in a meaningful way, without obvious marketing tactics that detract from ads-wary consumers.