When you hear the term "Instagram aesthetics," a certain visual theme is likely to come to mind — most likely reminiscent of what you tend to see on your customized Instagram feed. Maybe you think of lots of white space and immaculate interior spaces, grungy high-contrast fashion shoots or a green, perfectly lit smoothie.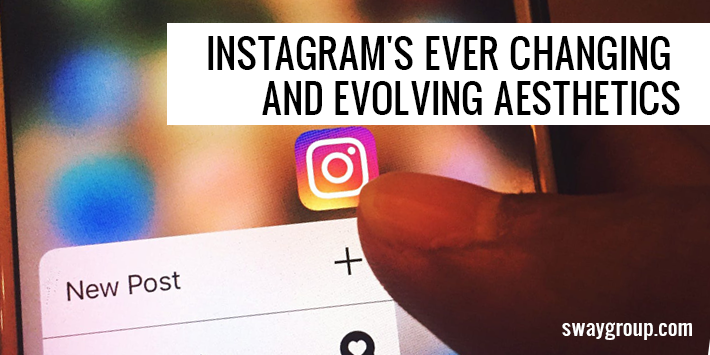 Instagram is a rapidly-evolving platform and its aesthetics are no different. Today's on-trend filtered picture is tomorrow's cliché (we're looking at you, heart-shaped latte art), and influencers are driving the changes they believe will appeal to their followers.
In this post, originally published on Forbes, we'll cover some Instagram aesthetic trends that brands may want to consider when choosing an influencer partner.
Instagram's Aesthetics: Ever-Changing and Evolving
Brands and marketers now have more opportunities than ever to partner with influencers who can work brand messaging into a look that feels natural for their account and highlight the product in a unique way. The diversity of accounts and audiences means brands can pick and choose influencers whose aesthetics line up with their marketing goals.
A Shift Toward Reality
We all know that "perfect" Instagram look and feel, and many users are pulling back the curtain on airbrushed, heavily-filtered, staged images. Brands like L'Oreal, Aerie, ASOS, Dove and more have created buzz with their unedited model photos. Lancôme launched a popular campaign with its reclaimed beauty ambassador: 65-year-old Isabella Rossellini, un-retouched and natural.
A very popular influencer trend is to show edited and unedited photos side by side in order to highlight real bodies, real beauty, real homes, real parenting moments, and so on. Influencers are often posting positive messages that encourage consumers to look beyond the inflated beauty standards created by edited visuals. Brands that encourage this transparency when working with influencers will gain consumer trust by "showing it like it is." Some examples of this practice in a variety of verticals include:
Fitness or body-positive influencers demonstrating how a simple stance can alter the appearance of his or her physique (often in unnatural ways: who can really hold that booty pop pose all day long?)
Beauty influencers showing makeup looks before and after post-processing or fashion influencers showing outtakes of their outfit shots
Foodie influencers comparing their real, on-the-fly meals versus their perfectly plated, professionally lit photos
Home design and decor influencers who share their perfectly styled living room — and the giant mess happening just outside the frame
Instagram Reels feature has become a fun and creative tool that can easily showcase before and afters with influencers using the beat of music to "jump" or "dance" to go from one look to another.
Instagram's Slideshow feature, which allows including multiple photos and videos in one post, has become a popular way for influencers to share multiple angles of the same visual story to further showcase how one perfect photo isn't necessarily reality.
Candid Commentary
As Instagram Stories has grown in popularity, and features like polls and live broadcasts offer more opportunities for brands to boost engagement, influencers have been using Stories in interesting ways. Stories offer influencers an outlet for candid, behind-the-scenes images and video — a sort of rough-cut version of what might otherwise be a carefully curated feed.
Not only can followers see beautifully styled photos on the influencer's feed, they can also get a sense of an influencer's real life on their Stories, providing them with an understanding of the well-rounded personality of an Instagram account. This sort of transparency helps influencers build connections and avoid being perceived as unrealistic.
Some influencers use Stories to communicate with their followers throughout their real days, sharing relatable glimpses of everything from playing with their pets to the gotta-get-through-it grind of a 3 a.m. feeding with a colicky baby. Others supplement their Instagram highlight reel with equally well-produced Story content (for example, a fitness influencer who shares a multistep Story demonstrating her workout and eating plan for the day).
With over 500 million daily active users, Stories trends are as diverse as the people publishing them. Stories are rapidly becoming a lucrative option for influencer marketing. While the media is temporary, the in-the-moment content feels more intimate and personal and builds a relationship with the consumer. With the ability to "swipe up," (available to influencers with a following of 10,000 or more), Stories also allow influencers to send consumers directly to outside content, including retail sites, giveaway pages and other branded content.
Always On-Trend Aspirational Instagram Aesthetics
Beautifully stylized, curated content still drives fantastic engagement, and audiences are constantly hungry for aspirational imagery (although what that means certainly differs by individual). Instagram was made for showcasing aesthetically pleasing visual content, and there are plenty of influencers who have elevated their feeds to a true art form. We all love pretty pictures, especially if we feel we can relate to the person behind the camera.
With the recent emergence of Instagram Guides, influencers are now able to consolidate their posts – and others' posts which have been saved – into a Guide. This allows for content to feel even more elevated as it can be showcased in a topically relevant manner, based on place, products, or posts.
What works best for influencer marketing?
As with any type of marketing program, there's no one-size-fits-all answer to what aesthetic will be most successful for your product or service on Instagram. Maybe your brand would be best presented in a heavily styled, design-centric post, or maybe it would be better received in a funny, informal format with minimal staging.
The key is to find an organic fit between your brand and the influencers you engage. If the fit is right, then your brand messaging can be presented in a variety of unique ways, all of which expand awareness and build engagement in a way that feels truly authentic.
Contact us today to learn how we can find the perfect partner (and aesthetic) for your next influencer campaign!