As of January 2020, there are over 48,800,000 Google results for the search term "marketing to millennials." It's no wonder so many brands are focused on cracking this diverse, evolving segment with over $200 billion in buying power. However, despite all the millennial buzz, the real powerhouses in spending are the older generations. There's a misconception that influencer marketing is a strategy that only works with millennials, when in fact it's particularly well suited for targeting older Gen Xers and boomers.
Generation X makes up just 25% of the population but earns 31% of U.S. income dollars. And baby boomers remain the strongest economic force of all, with their purchasing expected to reach $15 trillion worldwide by the end of 2019. Older generations are even more resistant to traditional advertising than are young people, and at the same time, they're often being overlooked by ads targeted to millennials. With Americans 55 and older accounting for a whopping 41.6% of consumer spending, brands need an effective, authentic way to reach this fast-growing and lucrative group.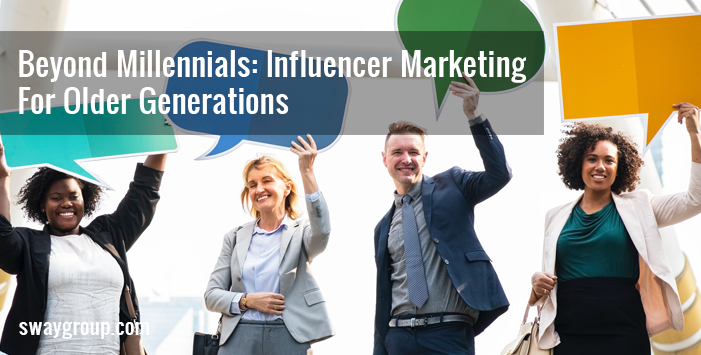 Enter influencer marketing. In this article (originally published on
Forbes
and since updated), we'll share some tips for reaching these more mature, digitally-savvy age groups.
Beyond Millennials: Influencer Marketing For Older Generations
Enter influencer marketing. In this article (originally published on Forbes and since updated), we'll share some tips for reaching these more mature, digitally-savvy age groups.
Market To Where They Are
While millennials are in the lead when it comes to tech adoption, older people are definitely online and active. Fifty-seven percent of boomers are on social media, along with 75% of Generation X. Interestingly, boomers spend an average of 27 hours per week online, which is two hours more per week than those between 16 and 34.
Among this older crowd, Facebook is by far the preferred platform, and they're highly engaged there: Boomers are 19% more likely to share content on Facebook than any other generation. For influencer campaigns targeting boomers and older Gen Xers, plan to include a strong Facebook element and consider incorporating short, instructive video content: 27% of boomers are regularly watching video on Facebook.
At Sway Group, our sponsored campaigns achieve 3X the industry benchmarks for consumer engagement on Facebook. We often hear from clients who aren't sure Facebook is still a relevant platform for influencer marketing, but when it comes to reaching an older, lucrative audience, it can be amazingly successful.
Partner With Like-Minded Influencers
If you partner with, say, a young millennial Instagram influencer, it's likely going to be a challenge to reach your target boomer audience. You need influencers who understand the lifestyle needs and interests (and platform preferences) of a more mature audience, either because they are of a similar age or have a strong connection to that age group.
You can use influencers to target older consumers directly or run a campaign aimed at their adult children, who are often in a position to make recommendations or even buying decisions. Sway Group recently launched a campaign with the goal of encouraging retirees to learn more about the types of vision insurance plans available to them. We used a mix of influencers: some older, who could speak to the benefits directly and some younger, who could address the issue of educating parents and other loved ones about vision care.
Influencers who are navigating their parents' aging process and can connect with audiences who are in similar situations often have powerful, personal stories to share. Allow influencers to share your brand messaging in their own authentic voices, because this is what audiences respond to, regardless of their age.
Tailor Your Content
The content in a boomer-focused influencer campaign shouldn't look exactly the same as a millennial campaign. For instance, while millennials greatly prefer photos, boomers are drawn to written content and video. Older consumers tend to spend more time reading and researching before making a purchase (83% of boomers research products online), which means that content targeted to them should be highly informative, with a value proposition that is explained without being too pushy.
Boomers are looking for products and services that enhance their quality of life, and they certainly don't respond well to marketing that implies that they're over the hill. They're much more likely to engage with respectful messaging that acknowledges their interest in supporting an active, healthy lifestyle.
With a combined population that's over 139 million and growing, Gen Xers and boomers are a thriving opportunity for marketers who are willing to think outside the millennial box. Influencer marketing, when done right, is the perfect vehicle for reaching this valuable and often overlooked audience.
Interested in learning more about how Sway Group can help you reach your target demographic — with above-industry performance and guaranteed social minimums? Talk to us today for a free proposal!