Influencer marketing has been around long enough to have proven its worth, but compared to television, radio, and print, it's still a relatively new marketing practice. In just a few short years influencer marketing went from an edgy Wild West tactic to a critical aspect of most brands' digital marketing plans. As a result, the conversation around influencer marketing has shifted: with its efficacy no longer in question, businesses are now looking for measurement and real ROI with their influencer programs.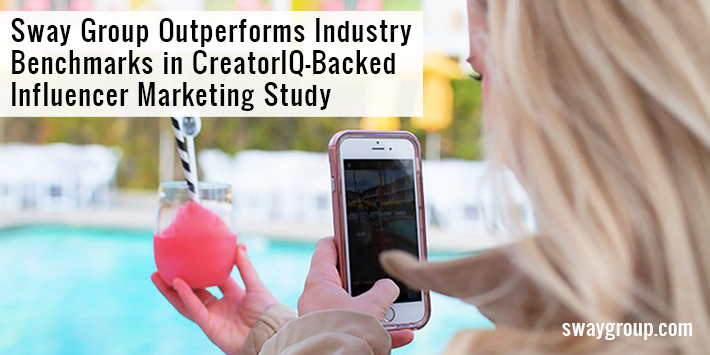 Historically, it's been challenging to measure influencer performance within the context of the industry as a whole, due to a lack of established benchmarks — but things are starting to change.
We've teamed up with our technology partner, CreatorIQ, to develop a comprehensive report that provides insight into how Sway Group's services compare to other brands and agencies who are currently using influencer marketing.
Thanks to CreatorIQ's large client base, benchmark data is now available across many verticals and influencer sizes. This information provides a number of valuable insights, and highlights how Sway Group outperforms the industry at large, thanks to our uncompromising focus on quality.
In this influencer marketing study, CreatorIQ established benchmarks based on 225,000 influencer-created posts spanning 1,500 brands, 32,000 social accounts, and 9,600 campaigns. Notably, impressions and engagements analyzed in this study were ONLY derived from organically-discovered sponsored content; no activity from paid boosting was included. Engagement numbers would likely be even higher across the board with paid media amplification.
We've been thrilled to partner with CreatorIQ on this study: their analysis capabilities and access to such a wide variety of participants not only gives us useful data points for our own business, but provides some much-needed benchmarks for the industry at large.
— Danielle Wiley, CEO, Sway Group
In this report, you'll learn:
How the sponsored content in Sway Group's network of 25K+ creators compares to industry benchmarks
Sway Group's unique Instagram "2X" factor
How Sway Group specializes in reaching lucrative audiences with high-performing Facebook content at 3X to benchmark
How Sway Group's nano and microinfluencers deliver superior campaigns
Why video is such a strong element of any influencer campaign
The numbers in this report don't lie — and neither do we. Download our influencer marketing study today to see how when you work with Sway, your campaign will receive more engagement. Your message will go further, and your results will be measurably better.