As brands are increasingly turning to influencer marketing campaigns to highlight their products and services, it's easy to see how certain verticals are particularly well-suited for this type of marketing. Beauty, food, crafts, decor and fashion are just a few. These categories are often aspirational in nature, highly visual and offer broad appeal. Bloggers, Instagrammers and other social media stars have become incredibly skilled at seamlessly working sponsorships into their carefully curated content by using their signature style to showcase brand messaging.
But what about products that don't lend themselves quite so perfectly to glamorous photos and traditional lifestyle copy? Influencer marketing can't be the best vehicle for non-visual or ho-hum-sounding products — like for instance, an adult diaper brand, or a pre-tax savings account, right?
The truth is, using real voices to communicate brand benefits works for even the most challenging of topics.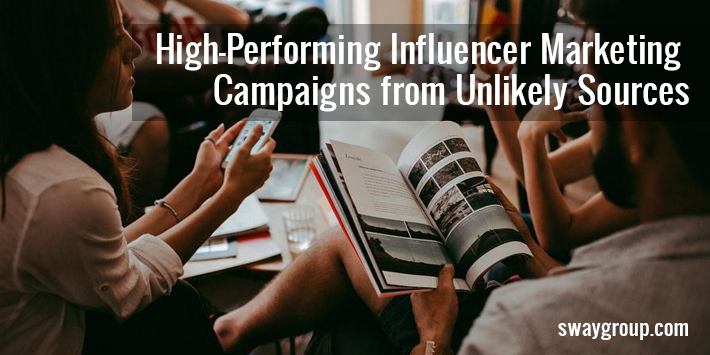 Today's audiences are looking for
honesty and realism
among all those stylized scenarios portrayed online. Influencers who can present products with authentic, relatable content are ideal for creative brand outreach for unconventional products in a way that truly resonates.
Here at Sway we've worked with brands who have executed successful influencer marketing campaigns that run the spectrum from mental health awareness to winter windshield covers to incontinence products. When influencers approach these topics with honesty and integrity, audiences find branded content believable and interesting, resulting in high levels of engagement.
A few examples of challenging topics that can result in high-performing influencer marketing campaigns:
Delicate Health Issues
There are plenty of health-related topics that might not immediately spark ideas around user-generated content, yet millions of people are dealing with them on a daily basis. With the right approach, influencers are perfect for reaching consumers who are looking for solutions for managing issues like incontinence, hair loss, rosacea, dandruff, bedwetting children and more.
For health brands, influencers can offer real perspectives, stories and insights to audiences looking to connect over a potentially difficult topic. With 83% of consumers trusting recommendations from their peers over traditional advertising, an influencer who understands and can personally relate to a given health issue is not only a credible source, they can be a lifeline in a world that tends to avoid the subject.
As part of an awareness campaign, our agency engaged health-focused influencers between the ages of 20 and 50 to share their own stories about living with irritable bowel syndrome (IBS). The personal connection each influencer brought to the program meant they not only helped educate audiences about the signs and symptoms of the disorder, they provided encouragement to seek diagnosis and treatment. By tackling this personal subject with bravery and honesty, influencers fostered a valuable series of conversations about IBS that not only met client engagement goals but helped sufferers know they aren't alone.
"Ho-Hum" Products And Services
What would you predict would result in a better influencer campaign: A new item from a popular skincare line or a mortgage insurance product? While there's no denying that some products have built-in appeal, just because a category isn't quite as exciting on the surface doesn't mean it won't result in an exceptional promotion.
For instance, personal finance topics such as investment services, home loans and credit card perks are relevant to a great number of consumers, and when a content creator is allowed freedom to create a story about what these topics mean to them, the possibilities are endless.
Sway Group recently helped promote a prepaid debit card by engaging lifestyle influencers who creatively demonstrated how the cards allowed them to focus on the things they love while staying on budget, simplifying money management and reducing stress. Engagement was through the roof, not because the topic was trendy or provocative, but because the content provided fascinating insight into these influencer's lives and habits — while underscoring the many benefits of the card.
Novel, Unfamiliar Or Complicated Products
Products that are new to the market or to the consumer may be hard to describe with a few lines of marketing copy — these unfamiliar products often get ignored or devalued. Then there are products that sound too good to be true or require in-depth explanations. They simply must be seen in action.
Influencer marketing can present complex or new types of products with step-by-step photo instructions or deep-dive video demonstrations and, better yet, influencers can explain product benefits in their own words. When an influencer creates an authentic piece of content using personal examples audiences can relate to — while explaining and vouching for a brand — barriers to purchase come tumbling down.
At Sway, one of our campaigns was for an automotive product that presented a few challenges. Because it was a novel invention, consumers didn't necessarily understand the "why" for using it or the ease with which it could be used. Influencers shared personal stories of how the product was useful to them, photos of their own vehicles with the product, as well as specific images showing the easy installation and removal process. The brand's product video went viral after being shared by influencers and sparked conversations from friends tagging each other ("You need this!"). Engagements continued even after the campaign was over, with blog and video comments from real-life users expressing their affinity for the product that further expanded awareness and drove sales from on-the-fence consumers.
The art of content marketing is in telling a great story. There will likely always be a place for marketing based on idealized visions of an aspirational lifestyle. After all, we all like to dream of creating beautiful interiors, cooking crowd-pleasing meals and nailing that elusive yoga pose.
Still, we're even more powerfully drawn to realism and human connection, and that's where influencer marketing campaigns can really come to life. Skilled influencers know how to authentically engage their audiences, regardless of the complexity or delicacy of a product's messaging. For brands who need to dig deeper to drive awareness, an influencer campaign can inform, educate, reassure and act as a recommendation from a trusted friend.
Interested in learning more about how we can help your brand achieve influencer marketing success in 2020? Let's talk.
Originally published on Forbes.