Don't let influencer fraud devalue your campaign
The New York Times article, The Follower Factory further exposed the serious issue of influencer fraud that lurks within the space on Twitter and other platforms, as well.
The story outed Devumi, a company with a fake Manhattan address that appears to make its money by generating fake followers for social media celebrities and influencers looking to boost their Twitter followings.
New York State Attorney General Eric Schneiderman promptly opened an investigation into Devumi's business practices and was quoted as saying, "The internet should be one of the greatest tools for democracy—but it's increasingly being turned into an opaque, pay-to-play playground."
Times readers may have been surprised at the amount of fraud in their feeds, but those of us in the social media marketing business have been watching this growing trend for quite a while.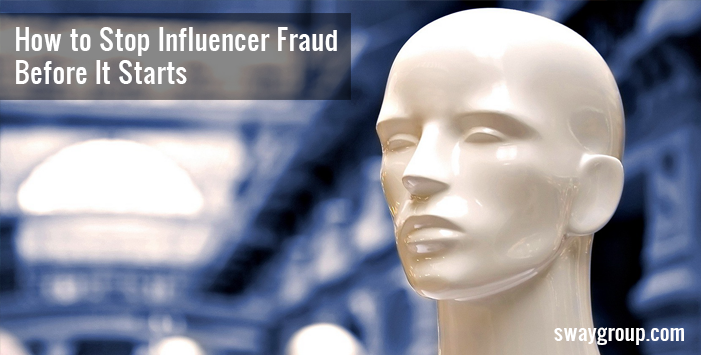 We at Sway Group have developed and deployed our own processes to limit follower fraud. The influencer marketing industry will not continue to thrive without truth and transparency. Fortunately, there are preventative measures agencies can take to limit it.
We developed a system we call "Sway Influencer Validation and Impact Criteria (SIVIC)." It's our checklist to ensure that we work only with influencers whose followers are fake-free and can help you assess if an influencer is ethically and organically growing and driving engagement with their community:
Assess Follower Growth over Time:

When we notice significant growth in followers over a short period of time without a cause, we flag that influencer in our dashboard.

 Assess Engagement – We watch for:

Recent engagement from accounts that look suspicious (i.e., username903i09)
Unexplained significant growth in engagement in a short period of time
Problems with engagement rate: discrepancies between followers and engagements may signal a "fake" follower count (i.e., the influencer has 30K followers who are driving less than 100 engagements on posts)
The type of hashtags being used on a regular basis to drive engagement on influencers' previous photos, filtering out anyone who relies on hashtags that are targets for spammers and bots (i.e. #likeforlike).

Assess Historical Campaign Performance:

We thoroughly research if an influencer provided great content on past campaigns that succeeded in driving positive impact
When working with an influencer for the first time, we carefully assess their community growth and engagement on other campaigns in the space
To read more, please visit our article in Social Pro Daily titled How to Stop Influencer Fraud Before It Starts.