Certain types of content, by their nature, are time-sensitive – i.e. promotions, holidays, new product launches. That said, producing evergreen content helps brands stay relevant all year round – keeping their readers engaged and enticing more traffic to their site.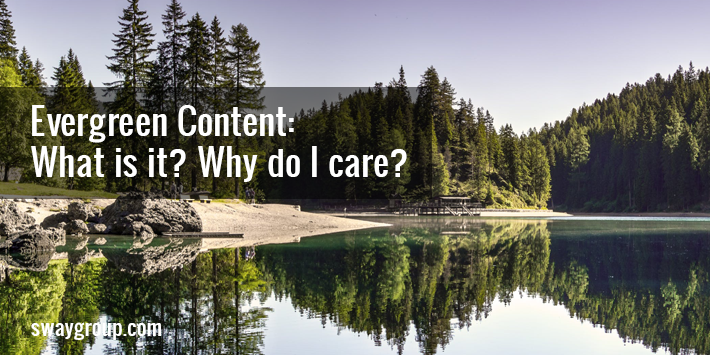 Evergreen Content: What is it? Why do I care?
What is evergreen content, you ask? Similar to evergreen trees which have their leaves all year round, evergreen content is storytelling or information that is relevant at any time of the year. It's the opposite of seasonal content which is only relevant during key periods of time. Evergreen content helps ensure that your content can be shared and re-shared all year round and gives people the chance to spend more time on your site to browse other articles.
The definition of evergreen content helps us to understand its value within any brand's marketing strategy. Think of the peaks and valleys of content promotion:
Peaks: the weeks when there is so much content and so many stories, you have to pick the best ones to share with your audience. These peaks often follow a seasonal marketing calendar, particularly in categories like retail, grocery/CPG, and travel.
Valleys: the weeks where it just feels like there isn't much to talk about. There isn't a holiday to gear up for; there isn't an elevated consumer focus to capitalize upon.
The valleys are when evergreen content becomes a marketer's best friend.
The Key Benefits of Evergreen Content
Boosts SEO Value – Evergreen content is a great place to include keywords and internal links to your site. Since it is often high-quality and value-add content, it will likely continue to get backlinked. All of these activities help increase your rank authority and placement in search engines.
Can Be Repurposed – Once evergreen content is created, you can repurpose it in multiple ways. Snippets can be turned into social posts to fill in any gaps and lists can be used to develop videos or infographics.
Works All Year Long – Topical or seasonal content will create spikes of interest. Because evergreen content is more general in nature, it provides a steady stream of on-brand messaging all year long. Creating an editorial calendar with evergreen and seasonal content will capture both. When planning ahead on your calendar, you can look back and see what content you can run again or tailor to be a little more relevant to the time.
So how does one create evergreen content? We hear it all the time – creative teams are taxed with creating marketing content aligned to seasonal pushes, they don't have the resources to create evergreen content.
Consider influencers an extension of your brand's creative team: engage a group of high-quality content creators to create and publish evergreen content on their channels. Then, as the brand, you can repurpose this content across your channels throughout the year. To learn more about creating an influencer campaign that works for your brand, reach out – we'd love to connect.