For brands looking to take their influencer marketing to the next level, multi-flight programs are an extremely effective way to boost outreach and capture attention. These types of time-spanning programs not only strengthen an audience's connection to a brand with repeat engagements, they allow brands to quickly calibrate and improve each campaign based on how audiences are reacting.
5 Strategic Benefits of Multi-Flight Influencer Programs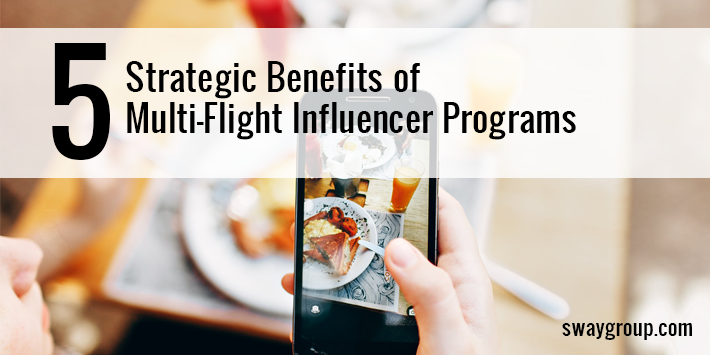 Multi-flight programs can be done in a few different ways. One approach is to engage the same group of influencers over several months, during which time the influencers create a series of posts about the same product or service. Another option is to run multiple flights using a new set of influencers each time.
Some of the many benefits of the multi-flight strategy include:
Valuable relationships with successful influencers. Multiple flights using the same influencers allow brands to build long-standing relationships with those who are known to drive results. They also give influencers the ability to develop in-depth brand knowledge that drives an authentic story. As messaging takes shape and different angles are covered, audiences experience a compelling brand journey that becomes more meaningful over time.When multiple flights involve different influencers, brands have the ability to choose different voices and niche verticals. A food brand could use health, parenting and foodie influencers throughout a campaign to reach different audiences with the same core message.
Ongoing opportunities for improvement. Each engagement is an opportunity to test, learn, and optimize for the next campaign. For example, if a food brand sees that audiences responded best to the posts that included additional hosting tips rather than a more traditional recipe post, then the next flight might be more heavily targeted towards the home design market, with influencers and content adjusted accordingly.
Reusable content. Multiple campaign flights position brands to have a robust pocketful of content they can recycle throughout the program, or repurpose for other mediums and future campaigns. Content can be used in social sharing, digital advertising or on the brand's own site.This type of content is particularly extensible, because each post stands alone, yet combined they tell an integrated, detailed story.
Evolution on the fly. Platforms are always evolving, and a multi-flight campaign makes it possible to shift and adapt easily without having to start over. This is particularly important as advertising rules and algorithms change; at Sway, our team is at the forefront of these moving targets and can nimbly adjust programming to ensure changes don't negatively impact a campaign.
Efficient program management. Once a flight has launched, been executed and analyzed, there are major efficiencies for the next campaign: all the relevant infrastructure is already in place, so brands can focus on optimizing tactics. Without the need to re-invent the wheel, brands not only save time and money, they can put their attention where it's most valuable: making a good campaign even better.
While there will always be the need for individual, one-off initiatives, multi-flight campaigns are a powerful option for brands and agencies who want to get even more from their influencer marketing dollars. Talk to us today to learn more about what a multi-flight program might look like for your business.