Is blogging dead? According to Google's search results (as of this writing, anyway), there are over 30 million answers to this question, all of which vary by author opinion. Many of us at Sway Group have a rich background in blogging, and we believe blogging is alive and well — but it sure does look different than it used to. Blogs have evolved and changed over the years, and so have influencer marketing tactics.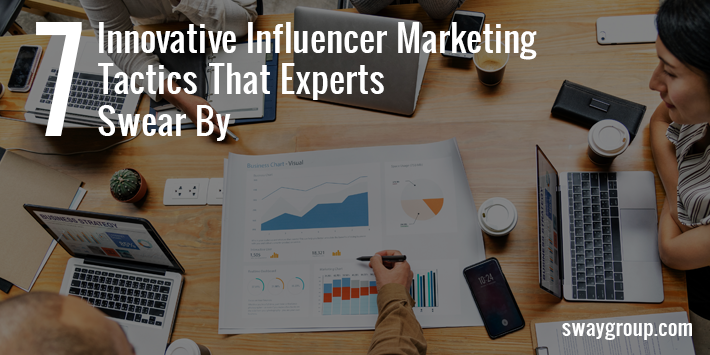 Today's thriving influencer marketing industry started with banner ad-driven blogs, and just as blogs have changed, so have content creators. Influencers now produce complex marketing campaigns via various forms of media, seamlessly weaving brand messaging into their own opinions and recommendations.
Influencer Marketing Tactics Are Evolving
Sponsoring a traditional blog post is still a great influencer marketing activity, but if you're looking for creative alternatives, there are plenty. In this article (recently published on Forbes and since updated), we'll cover 7 of the most innovative tactics for using influencers to promote your brand.
1. Go live.
A great option for brands is to sponsor an influencer's live feed on social platforms like Instagram, TikTok, or Facebook. Livestream collaborations can take many forms — real-time product unboxing, Q&As, fashion haul try-ons, cooking, activity and destination promotions, behind-the-scenes footage at events — with brand mentions creatively included throughout the broadcast.
This option can be particularly well-suited for brands with initiatives they're not always associated with, in order to reach a more varied audience in an interesting way. For example, a food brand which has a charity they want to promote, or a beauty brand's new rewards program.
2. Sponsor a podcast.
Podcasts have become mainstream entertainment, with influencers and YouTube stars joining the ranks of those producing this immersive audio medium. While advertising breakthroughs are a common option for sponsorships, a more native experience would be to have the episode organically mention a product or service as part of the topic. When a parenting podcast has an episode focused on getting out and about with baby, a stroller brand mention makes perfect sense within the context of the program.
Reports from Nielsen have shown the podcast audience to be young, educated and affluent. When hosts can relate products to the theme of a show, it's the perfect way to reach targeted, lucrative audiences.
3. Contract content.
Many influencers are available to hire on a freelance basis to produce signature digital content on a brand's behalf. Keeping up with the constant need for new, engaging branded content can be a real challenge for brands, which is why influencers are often the ideal solution for outsourcing creative work. Influencers can develop custom photography, writing and videos, without the need for a full-fledged campaign.
Another option is to use a service like our Social Content Studio. At Sway, we can quickly turn around influencer-driven creative content, which is fully owned by you. No need to hassle over contracts or copyright issues, with our Content Studio you get the kind of content that drives engagement and action. As a bonus, influencers can be hired to cross-promote this content from their own platforms.
4. Plan a social takeover.
An increasingly popular move is for a brand to have an influencer temporarily take over their social accounts, which can coincide with a promotion (driving sales) or be designed to boost engagement in brand follows and shares. Influencers typically hype the takeover from their own social accounts, building trust by association. Both influencer and brand can benefit from this type of collaboration: The brand gets exposed to new audiences while the influencer gets the credibility of being publicly valued by the brand.
5. Hire an ambassador.
Influencers can make perfect brand ambassadors at events like trade shows or conferences. They can participate in trade show booth appearances, host branded parties or receptions or simply attend with the goal of boosting brand engagement by posting photos, video and commentary about the event.
6. Gather data.
Curious about how your target market will react to your new product or service? Poll a like-minded influencer's audience to get an early read on things. Easy one-click polls are a popular feature in Instagram and Facebook and a great way to gauge interest.
At Sway Group, we have a diverse collection of over 25K influencers in our network, which means we can target and gather feedback from any demographic. Enhance your campaigns with survey data that reveals effective talking points, or leverage our resources for ongoing product strategy.
7. Boost a newsletter.
Newsletter services are an interesting (and more private) alternative to public blogging and social media, and some influencers are using them on their own or as a supplement to their web presence. Promotion opportunities are similar to blogs, with branded content naturally woven into the influencer's images and copy.
With all of these options, it's important not to be overly rigid in your requirements. Influencer marketing works best when brands can be mentioned and promoted organically. Establish permissions, goals and brand assets, then allow influencers to work their magic, whatever the medium. In the end, there are plenty of ways to go beyond the blog to hit your specific key performance indicators.
Want to learn more about how Sway Group can design the perfect campaign for your goals? Get in touch today!