National Cupcake Day, National Pizza Day, National Take a Nap Day…if you're on social media, you've likely noticed these "hashtag holidays" popping up in your feeds on a regular basis. But, did you know you can leverage these days to create effective influencer marketing campaigns?
Recently, Einstein Bros. partnered with Sway Group to launch a social media-based #NationalBagelDay campaign to drive awareness to their National Bagel Day deals. They knew the value of centering a campaign around the holiday, and Sway Group was able to deliver impressive results, thanks to our highly-engaged influencer network.
"National day" hashtags are extremely popular, with most trending on Twitter and Facebook nationally for a good part of the day, giving any topic an extra boost. By using #NationalBagelDay in their social media amplification, Einstein Bros. was able to expand their reach exponentially and take advantage of the natural virality of the hashtag.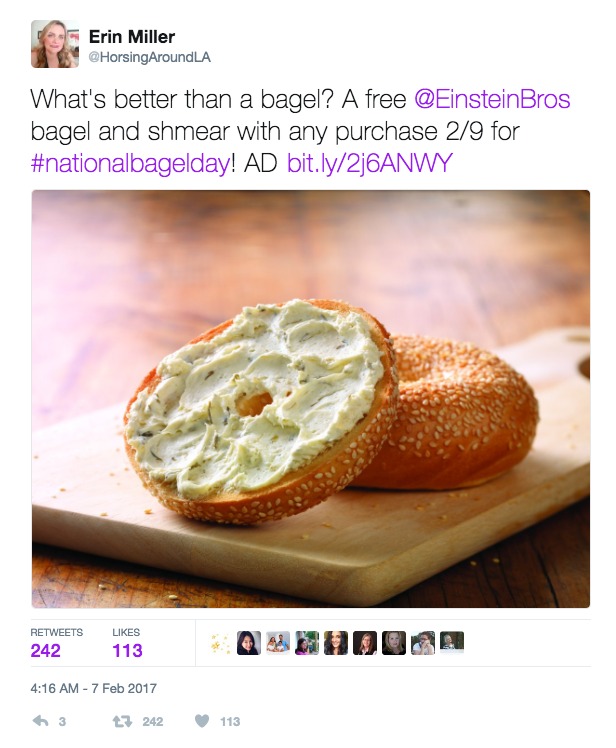 Einstein Bros. benefitted from this boost and met their initial base impression goal of 8 million more than nine times over, with 73.4 million overall potential social media impressions.
The possibilities for "national day" campaigns are endless. Sway Group can offer exciting, engaging programs to coordinate with these days, while delivering quantifiable metrics to prove your ROI.
Want to join the national day party? Check out this list of national days and give us a shout out to figure out a customized program for your brand.