In June of 2018, Unilever called for a crackdown on "poor practices such as fake followers, bots, fraud or dishonest business models" in the influencer marketing industry, driving a frenzy of media attention on the topic. Influencer fraud has been a hot news item ever since, and it's something we're frequently asked about.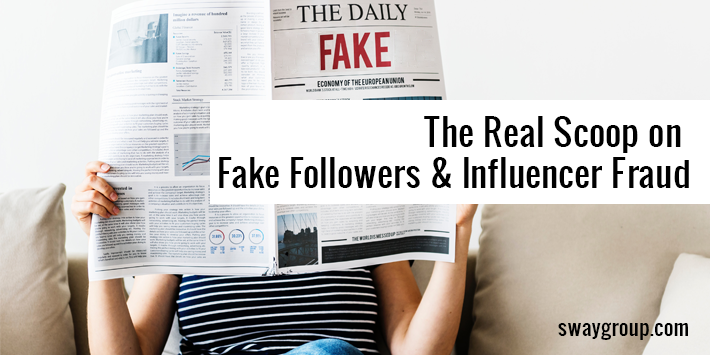 The truth is, if you are active at all on social media, you have fake followers, primarily via bots. When you follow a certain type of account (especially a large one), bots are programmed to automatically follow you on behalf of other accounts – many of whom are fake. Deleting fake followers is a manual task that most people don't have the time to tackle. In these cases, the "fraud" is unintentional; it's simply a side effect of the platforms.
Of course, some unscrupulous companies do sell fake accounts, likes, and follows, which prompted a recent lawsuit from Facebook and Instagram. As the issue of influencer fraud has gained traction in the media, we've been seeing companies shift how they report on influencer campaigns with claims of reducing fraudulent content views by up to 98 percent. However, the so-called fix is rooted in fuzzy math: the campaigns don't actually cut out fraudulent views, they just don't report on them.
At Sway Group, we have posted a statement regarding influencer fraud, including how we vet our influencers to ensure we work with people who are authentically growing and driving engagement within their community.
Our CEO, Danielle Wiley, has also posted a video addressing influencer fraud:
Social platforms should be feeling the pressure to give creators greater control over their follower counts, and we in the influencer space have also been calling them to upgrade their fraud detection abilities. In the end, though, we truly believe that the vast majority of influencers (especially those we partner with) are hard-working individuals, dedicated to their pursuit of success through legitimate means.