Shoppable content and 'shoppability' are red-hot industry terms these days, but today's brands need more than buzzwords — they need best-practice strategies that truly move the needle. In this Art of Sway episode, Bridget Fahrland from Edelman's Connected Commerce offering reveals the secrets to creating engaging, frictionless e-commerce journeys that use influence to close the deal.
Listen to this lively conversation to learn the secrets of successful shoppability, including:
Social commerce's evolution to becoming more contextual and authentic, and why brands need to keep up
Bridget's POV on influencer haul videos: "the exact opposite of what I think a best practice is"
Why brands need to give consumers flexibility: people want more than one way to browse and buy
The downside of focusing on the typical sales funnel, when today's audiences can become aware, engaged, and convert all in one click
The biggest mistake today's brands are making with influencer content: not leveraging that great campaign content into new outreach
About our guest: Bridget Fahrland leads Edelman PR's Connected Commerce offering to help clients drive transaction within the context of the brand, consumer journey, experience and content. She's a strategic leader with extensive commerce, content, brand, creative, CX, product, start-up and marketing experience. Over the years, some of her key clients have included 1-800-Flowers, Benefit Cosmetics, Citibank, Clorox, Eddie Bauer, Godiva, Google, J&J, Microsoft, Nestle, The North Face, and WW.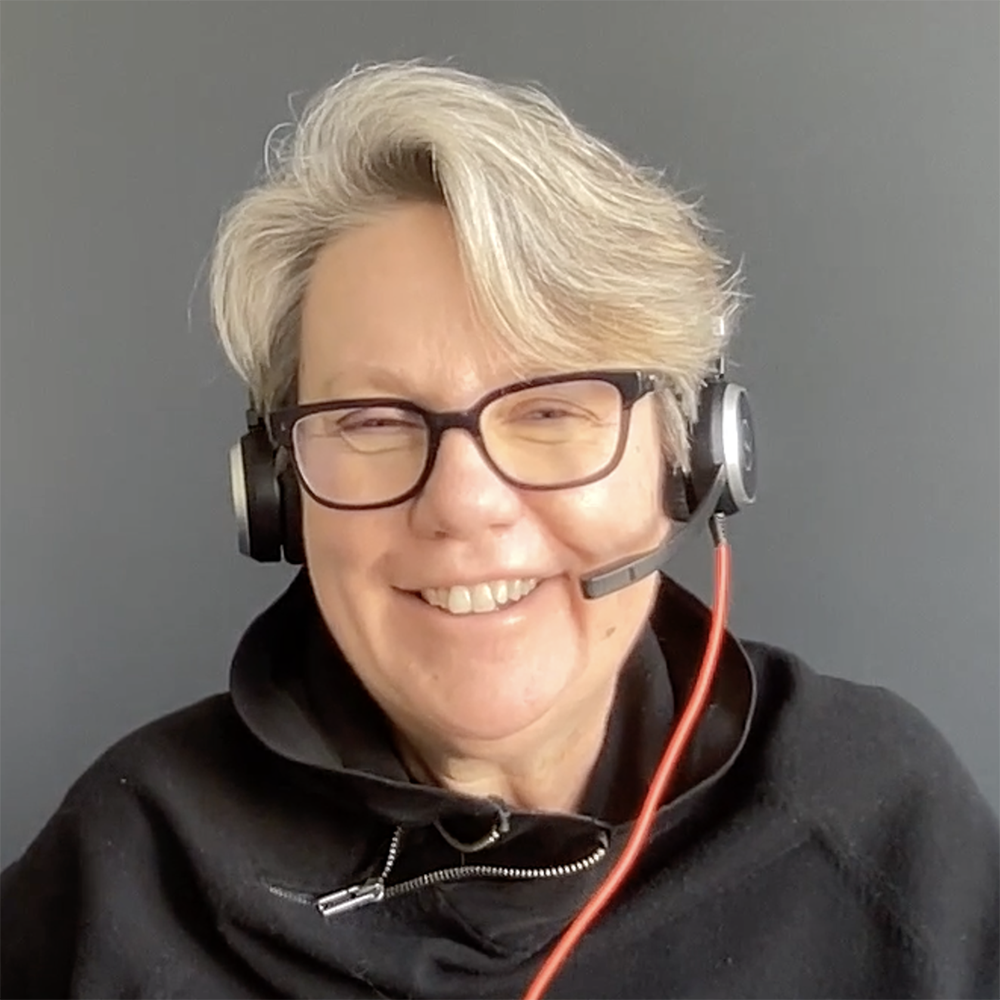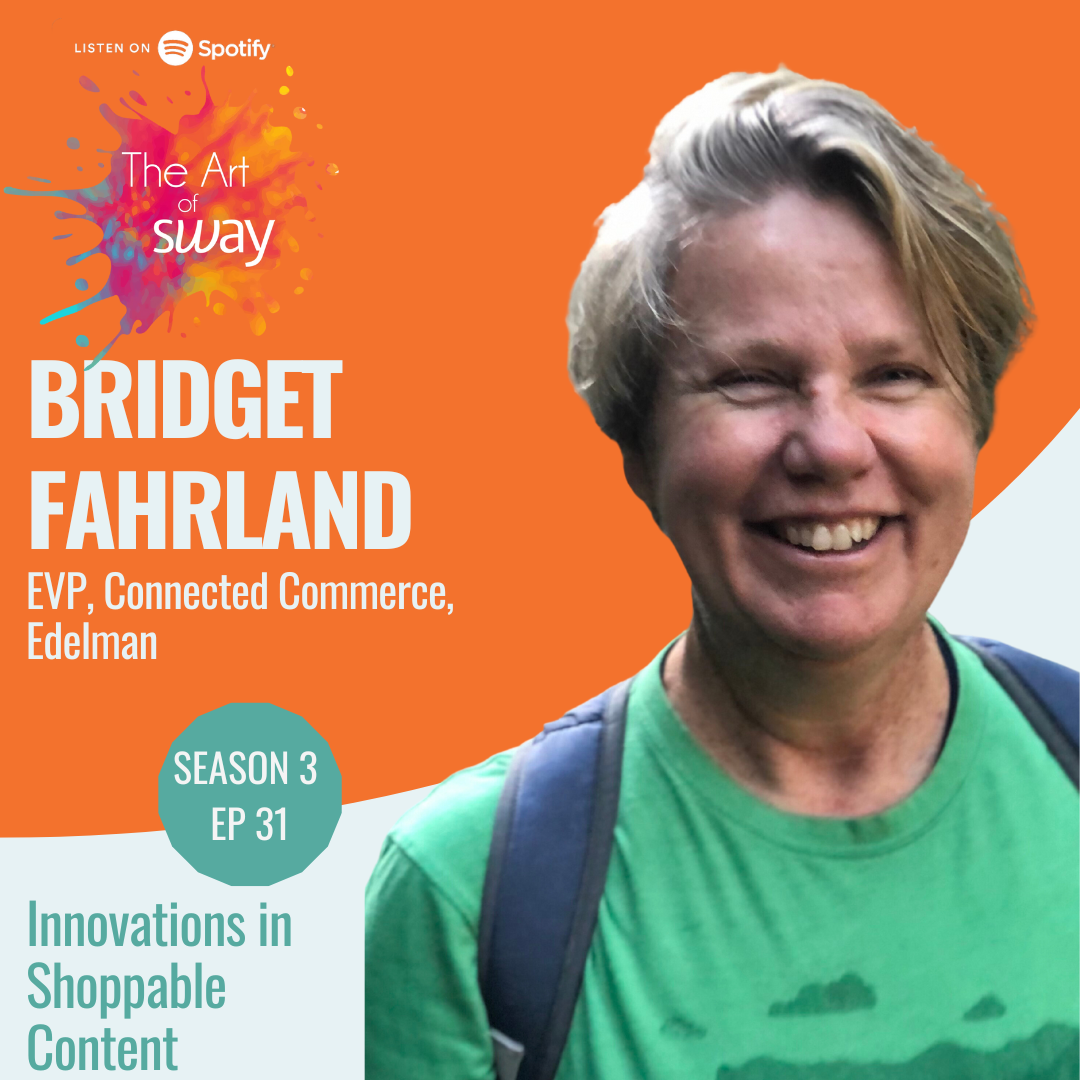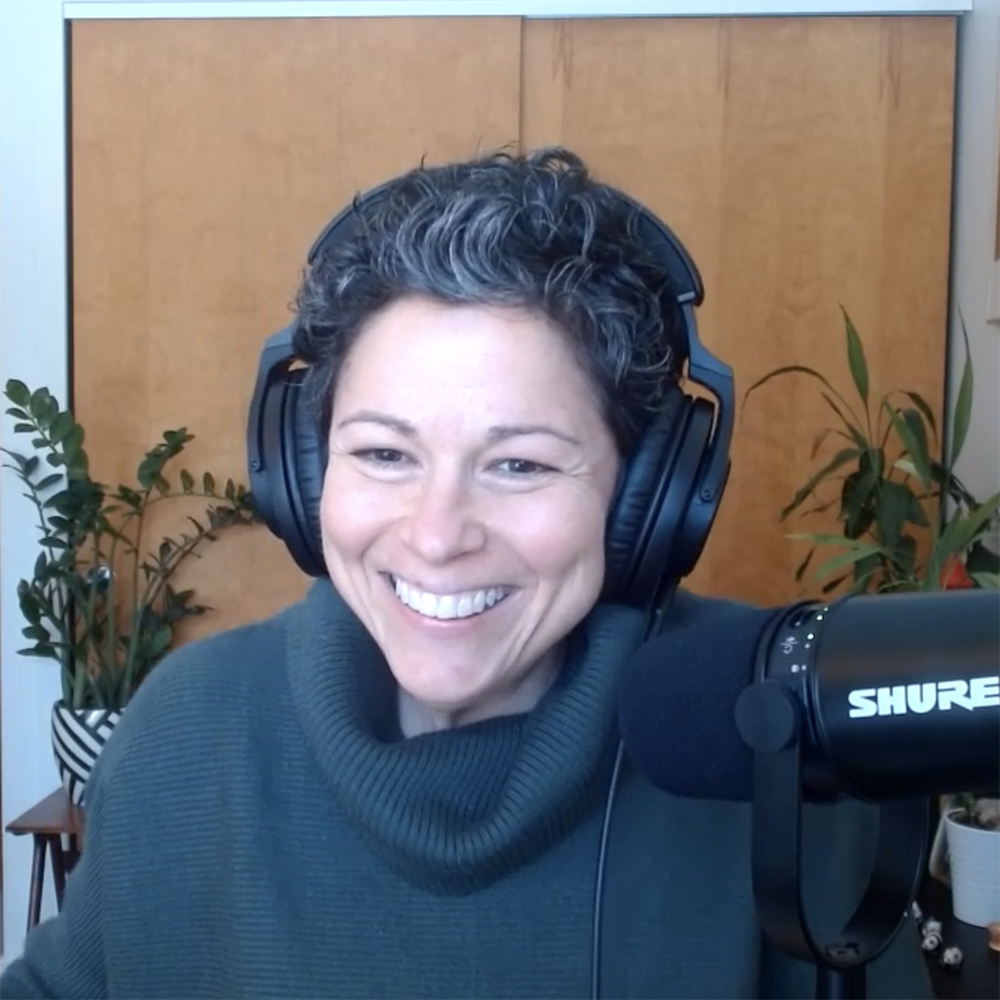 Episode 31: Bridget Fahrland Transcript
Danielle Wiley: Welcome to The Art of Sway, the podcast that uncovers the power of influence and its impact on all areas of our lives. I'm your host, Danielle Wiley. Each week we'll explore the many facets of influence through candid conversations with industry insiders, from brand marketers to social workers, educators, leaders, and more. Let's dive in.
Danielle Wiley: Bridget's career in commerce began when she was 12 years old. Her mom worked in a department store, and Bridget would help with displays and stock after school. While Bridget now has over 20 years of digital commerce, strategy, creative and marketing experience, she feels those early lessons were essential to her POV today. E-commerce needs to be as human as possible to turn heads and win hearts.
Danielle Wiley: Today, Bridget Fahrland leads Edelman's Connected Commerce offering to help clients drive transaction within the context of the brand, consumer journey, experience and content. From marketplace advertising to influencer commerce to live shopping, Connected Commerce is about creating experiences in a world where we'll shop everywhere all the time. Over the years, her key clients have included 1-800-FLOWERS, Aqua-Aston Hotels, Benefit Cosmetics, Charlotte Russe, Citibank, Clorox, Eddie Bauer, Godiva, Google, J&J, Mattress Firm, Microsoft, Nestle, TJX, The North Face, TOMS, Vans, and WW.
Danielle Wiley: When she is not working, Bridget loves hiking, playing pickleball, and spending time with her family and friends. She lives in Portland, Oregon with her wife and daughter.
Danielle Wiley: I met Bridget super early in my career when I was just a kid. It was so great to reconnect with her and just really interesting to catch up on her career and hear her perspective on where digital commerce is now. Having both of us been at the forefront of the creation of digital commerce before it was even a thing and before it had any rules, it's crazy to reflect back on how far we have come. I hope you enjoy.
Danielle Wiley: I'm just so excited to catch up with you and have you on. It's crazy to me that you're at Edelman now because I spent so much time there myself. And we of course worked together in the way, pre-Y2K, way early days, building some of the very first e-commerce websites ever. Way early times, pre-social media, anything. I'd love for you to just share what your journey has been from there to here, to bring us up to speed.
Bridget Fahrland: Sure. It was such an intoxicating time. It's not like there haven't been amazing highlights in my career still and wonderful things to look forward to. But when you think back to that time we started working together, it was like we were making up everything as we went along. And we were all so tightly-knit because we were just figuring everything out together. There was no like, "Oh, that's your area of my expertise. That's mine."
Bridget Fahrland: I think what was great about my early days at Fry is I wanted to be a copywriter. That's what I wanted to do. But as you know in the early days of e-commerce, we had to figure everything out so quickly. I became a strategist. I became somebody who knew user experience, though we didn't even call it user experience back then. We called it navigation. I became involved in the creative. It was just like everything was there as an opportunity to learn and do. I'm really thankful for that time in my life.
Bridget Fahrland: And then I evolved more into strategy than creative over time though. I still like to get my hands on copy when possible.
Danielle Wiley: I was the same. I remember at that same job writing all the copy for the first Ortega Mexican, the Ortega taco site. I wrote the intros to every recipe. And I still wonder if you go to ortega.com, are some of the recipe headers still my words?
Bridget Fahrland: Have you been back to it? You should look.
Danielle Wiley: Not in forever. I should. I don't know if I'd recognize. How unique is it to talk about a taco casserole? I don't know.
Bridget Fahrland: Back then it was. Back then it was. And I always say though, it's more dangerous than looking into the sun is looking back at a digital experience you've been part of a year later, because inevitably it's changed and you'll be disappointed, maybe you shouldn't look back.
Danielle Wiley: It's not.
Bridget Fahrland: This is unheard of in these days, but I was at Fry for 14 years and I actually stayed longer than Dave Fry, who by the way, still friends. Still see him.
Danielle Wiley: That's awesome.
Bridget Fahrland: Wonderful, wonderful person. And I really feel like I owe so much to him because he really took a chance on me. I need nothing when he hired me. Fry was acquired by Micros, and actually Dave exited out. I stayed on a little bit, but it became a very technology forward company versus user forward or creative forward. I left Fry for Fluid where it was much more creative mindset, creative led agency, and I think I really learned a lot more about brand and about storytelling and really that intersection of creativity and technology. From Fluid, again, they were acquired by a Astound, which became more system integration. Until Edelman actually, it was all very flagship site based, like omnichannel meant just store, just the website.
Danielle Wiley: Got it.
Bridget Fahrland: Edelman has been wonderful because it really has all those pieces that you really need for commerce these days. It has the social, the influence, the content, all of that. But that's been my evolution, which is a little bit the evolution of commerce itself.
Danielle Wiley: A lot of that stuff didn't exist. I remember at the job I had after Fry, I was still just working on building websites and then all of a sudden blogs started showing up. I remember I made a deck called What is Web 2.0? And would teach people about it and try to figure out how. We really saw all this stuff develop, be born out of nowhere, and it's commerce that was interesting. First, there were websites that were just content, and then commerce made its way into it. And then even with social media, people aren't buying things but everything inevitably, always turns to commerce.
Bridget Fahrland: It does. And I think that's right, absolutely. And I think some of that's good and some of that's bad. I think what's good about that is it becomes this realization from the client that, "Okay, that's nice so many people saw this, but does that matter? How is that impacting my business?" And I think usually the first go around of commerce is clunky. Early social commerce, it was just a clickable ad in your feed that felt very awkward. And that in and of itself has evolved a lot to become more contextual, to become more authentic.
Danielle Wiley: And to be trackable. When it first started, you couldn't even track if anyone was actually buying, you're like, "Well, they clicked, hope they bought something."
Bridget Fahrland: What we can track now is just absolutely astounding to me. Beyond even conversion, but general sales lift and new customer acquisition and velocity and all of that.
Danielle Wiley: When we were going back and forth on what to talk about today, you talked about the evolution of commerce from centralized to decentralized, and that's what we're talking about here. It's like you have to reach people. It's very hard for us, it was so much easier when you're like, "Okay, they'll be here, or they'll be here. And that's that." And now for us, it's great because now clients need content on all of these platforms, and they have to try to reach someone wherever, it's opportunity for us. But it's also a lot to keep your hands on all of it.
Danielle Wiley: And the other thing that's tricky about it is that all the platforms have different types of audiences and a different type of, it's not enough to create something for Instagram and just cross post it to TikTok because it's not going to, even the minute. We were playing around with our own corporate social profiles, and even something as silly as putting an Instagram reel does super well if you put a graphical cover on it. But if you do that on TikTok, it tanks. Just little minute things like that's so much work for brands.
Bridget Fahrland: I agree with you. But I think it's a good thing. First of all, I think the move from centralization to decentralization, you and I live it because we see that we have to make content shoppable. We have to make social shoppable, and it can all happen anywhere, and the path is no longer linear. It's not like, "Oh, I saw this ad here, and then I went to the website and then I went to the store." The funnel has totally collapsed. You can become aware, engaged, and convert all in one click. Now, it usually still takes four or five vision sites of it, but it all is designed to happen at once. People are shopping everywhere all the time.
Bridget Fahrland: Again, that doesn't mean they're necessarily buying, but they're constantly exposed to new products and things. In terms of it being a lot of work, I agree it is, but I never wrote this article, and I still want to write this article because when you have clients complain about how much effort all the content is, or all the creative is, I want to be like, "You have a staff of 50 at your flagship store, folding t-shirts and rehanging, steaming sweaters all day. It's all a lot of work. Spoiler alert, making money is a lot of work."
Bridget Fahrland: Yes, it's a lot of work, but it needs to be done, so it feels like it fits into the feed and it has to obviously stand up enough to attract attention, but not in the wrong way. I think that's good that things need to be bespoke to each platform. Otherwise, you get back to that broadcast mindset of, "I'm just going to post this ad on all the channels."
Danielle Wiley: True. And there's still brands that sadly do that, but it's not working out so well for them.
Bridget Fahrland: Yes. We won't mention them by name.
Danielle Wiley: One of the things that's been interesting to me is just looking at social commerce and influencers in particular, just because that's what we do day in and day out. It's been interesting to me to see where it falls on the funnel and where people think it should fall on the sales funnel and how those expectations keep shifting up and down. I think initially it was always top of funnel in that same world as PR, which was nice for us because I feel like the measurement, our measurement is better than traditional PR measurement. We're not multiplying stuff by three or any of that fishy stuff that goes on.
Bridget Fahrland: I know. What? Really?
Danielle Wiley: But then with just the burst and popularity of D2C, there was suddenly this new expectation that someone's going to post something and people are going to click and immediately purchase it. And there are very few creators can make that happen. We know who they are and it's great to use them, but that's not going to make sense for a dish soap. Maybe, but I don't know. You can't rely on that all the time. There was just this article on Ad Age about D2C companies moving all their money out of influencer because it's not inspiring direct purchase anymore, which is crazy.
Bridget Fahrland: I would question how they're measuring it then, for sure. No matter what medium it is, it seems there's always been an improper expectation of immediate conversion. And to me, conversion is a long game. Sure, there's people who will add to cart and buy right away, but I think it needs to be measured at least over two weeks of exposure. I think you need to look at direct clicks, but also then look at general sales lift and velocity of those products, because that tells a bigger story.
Bridget Fahrland: And I think also you have to look at who are you using as an influencer and how many times they're posting? Because sometimes a brand and you know who they are, they'll pay for four posts. It's like, "If there's only four posts, then what are you expecting from that?" I think the expectations need to be, that's probably our jobs, is to set those proper expectations. And I think it's the question of where in the funnel, it's the whole funnel. Here's what success is at each step of the way versus, "We're doing this just for awareness or just for engagement or just for conversion."
Danielle Wiley: I feel like the measurement now is so much better. We actually can capture lower funnel activities now, which has helped move it down, but that doesn't mean that the top part of the funnel work went away. I think that's what frustrates me.
Bridget Fahrland: Right.
Danielle Wiley: Sometimes, as I say this in a Amazon sweater that I bought, because the cooking influencer I follow on Instagram told me to, but it's just because we can see that doesn't mean all that awareness is no longer important.
Bridget Fahrland: Exactly. And how are they going to be able to track that you bought that sweater if you didn't buy it directly? And again, looking at that sales lift during that period of time and after. I also, for one client, we did a campaign where it definitely made more than they put into it, but it had a huge number of impressions, huge, really high engagement and decent sales. And at the end of the day, I was like, "The story is you had free awareness plus. Back in the day, and by back in the day, I mean six months ago, you would've paid the same amount just for awareness."
Danielle Wiley: My favorite clients are the ones who look at everything holistically. We have this one client that's amazing with it, and they do these limited time offers, and they're doing TV, they're doing influencer, they're doing every tactic you can think of, but when something sells out or it does really well, they're happy with all their partners. It's like, "We did it." They get that it all fits together.
Bridget Fahrland: That's great. I love that spirit and that attitude. And also that probably means you have a seat at the table with the other partners and agencies when you're working on things.
Danielle Wiley: Took a while. Yes.
Bridget Fahrland: But it's a lot of egos and a lot of territory and a lot of fear when that works out, that's a really special client you have.
Danielle Wiley: They're precious to me.
Bridget Fahrland: Yeah.
Danielle Wiley: Talking about shoppable and influencer, as I said, we can measure so much more now than we ever had. It's really exciting to me, especially looking in the food space, for example, because a sweaters one thing that's easy, but then you're talking about we work with a state commodity board selling dairy products or yogurt or anything perishable.
Bridget Fahrland: You do work for, I don't know, am I allowed to say Stonyfield, right?
Danielle Wiley: Yeah. They've been a client for a long time, but that traditionally was super hard to, they're actually the first client that we did a shoppable program for. They did this program where the links that the influencers included popped open an Instacart cart with the yogurt in the cart, and then it's a game changer.
Bridget Fahrland: It really is.
Danielle Wiley: That seemed impossible.
Bridget Fahrland: I think a big part of that change was because of Instacart and their technology push. Certainly the pandemic though, we're seeing a lot of online, we're not seeing online grocery and delivery dropping drastically post COVID. People have realized like, "Oh, maybe I don't want to spend my time going to the store to buy these things that I already know. I'd rather spend my time differently." And then I also think Target and Walmart and their evolution into becoming marketplaces, they were all primed to make this possible in terms of how they measure, how they can integrate, all of that really made it possible. I would say I've worked with both Gerber and Sweet Earth on influencer, and I love working with food brands. I feel like they're very open to test and learn. They're excited about it. There's great partners in this space. We recently worked with SmartCommerce on a campaign.
Danielle Wiley: They're great. We worked with Basketful, which SmartCommerce just bought, but they're awesome. They're like former General Mills guys who are like, "We can make this cool thing."
Bridget Fahrland: Exactly. And they have, because now you can choose right in the post which retailer you want to go to. The measurement's great. The inventory is great.
Danielle Wiley: It knows the inventory. It'll switch your store. It'll change a cord of milk to two pints of milk, whatever.
Bridget Fahrland: I know what you mean. Forget ChatGPT. I'm really into this realtime inventory. That makes me happy.
Danielle Wiley: Are there any other cool influencer related shopping technologies that you've seen, or just best practices in general with shoppable?
Bridget Fahrland: Yes. I would say for best practices, I know they're really successful, but I would say a haul is the exact opposite of what I think a best practice is. Hauls can be authentic, but it can't be just about the product. To me, it's like the product should be init situ. It should be in the context of what the influencer's life is and what they're doing. And not the main act. It should be the supporting actor or actress in the story. I also think you have to have a mix of mid-tier and micro in your influencer campaign. You need those mid-tiers for the numbers and the impression, but I don't know what you're finding, but really we're finding micro is going to drive more direct clicks in that.
Danielle Wiley: We do pretty much, it's probably 90% micro, and we do a lot of nano too. Especially, we do a lot of local stuff. We work on store openings for a national retail client, and they want people within 20 miles of where the store is opening. You have to be open to nanos for something.
Bridget Fahrland: Then it's setting client expectations as part of the best practice, as we talked about before, and letting them know what to expect from each of those tiers. I think there's a really great opportunity for nanos too. They're very established influencers. There's scheduling, there's fees, and it's not like they don't deserve at all. But I think nanos are a great place to do test and learn. They're open to trying new things. I agree with you there.
Bridget Fahrland: And then I would say the final best practice is a best practice for any form of commerce, which is giving the customer the choice. We talked about SmartCommerce. They give you the choice of which retailer to go to, or if you're going to do an in-app store, you still have the choice to check out on the site versus in app. Don't force the customer down one path. Give them that flexibility. And one other thing, which is we often think of influencer as in the feed, but what I'd love to see brands do more of is leveraging that content for their digital experiences on their site. Of course there's boosting and whitelisting in the feed, but why not leverage that content for their site as well?
Danielle Wiley: We saw more of that. We always tell our clients all the ways they can use the client. When we do a wrap up report, there's always a slide, "Here's how to make it work harder. Here's everything that you can do with this. You have the rights to use this content for a year or whatever they negotiated, here's everything you can do." And historically, they haven't been great listeners. But I will say that during COVID, we saw a renaissance of it because suddenly they couldn't do all the photo shoots and video shoots that they wanted to do. And we had clients who wanted to update their entire website, but couldn't pull together a photo shoot. And they were using the content that we were creating for them a lot more broadly, because of necessity, because they couldn't make it themselves.
Bridget Fahrland: That's great. Interesting. I think it's a lost opportunity for sure.
Danielle Wiley: I'd love to talk, I was thinking about this before when you were talking about the different ways that people shop, because I see, I have a 21-year-old, and I see the way that she shops for stuff online with groceries and I still make my list for the week, and even if I'm using Instacart and this kid is DoorDashing groceries every other day to her apartment, she'll get like, "I want some noodles." She just gets them. It's still grocery. And I'm like, "Why are you getting groceries from DoorDash? What are you doing?" But there's so many differences with the generations, just curious to know what you are seeing. And of course, you guys just put out a really cool article. Would you call that an article? Like a little mini white paper today on Gen Z?
Bridget Fahrland: White paper piece. Mini white paper. That was really interesting because we have a Gen Z lab, we got to talk to real Gen Zers, and we had a Gen Z co-author, and I think that made all the difference. We interviewed Gen Zer's about how they shop. We didn't start with the idea that we were going to bust five myths, that came out of the work we did. And I was really surprised that they are such considered purchasers. I think I came in thinking like, "This is the TikTok made me buy a generation." Maybe TikTok does make them buy it, but not in that moment is what we learned. They see something on TikTok. They may actually just add it to their collections. They might go buy it on Amazon. Here's another surprise. They shop on Amazon, big evil Amazon. Who knew?
Bridget Fahrland: What I learned is I think they will definitely change the way we all shop, because they're using all the channels, all the devices, all the technology, but they really want to be in control. For them being in control means considering purchases, adding a lot to a cart, and using that as their lookbook and wishlist to go back later and parrot down to one thing. It's interesting about your daughter. We didn't talk to them about grocery habits. That actually brings up a really good point. I do know that they order a for fair amount of DoorDash or Uber Eats for meals, but I don't know about for groceries. Remember when the whole elder millennial thing came out?
Danielle Wiley: Yeah.
Bridget Fahrland: I still laugh at. There's such a clear divide within Gen Z of those who are still at home and those who have recently graduated and are the workforce. There's that same divide. It's all about life stages and milestones. And then of course, it's also still about, I have such a love-hate relationship with consumer segmentation.
Danielle Wiley: You're not the first guest to say, I have actually coming out shortly, I interviewed a professor here at the University of Michigan, and he does organizational psychology at the business school, and he talks a ton about how people interact with each other at the workplace. And I kept trying to get him to talk about the different generations. And he's like, "I don't even know them. I don't even know what Gen Z is versus millennial. People are different and they fit into their categories, I never lump them by generation." He refused to engage on it.
Bridget Fahrland: It's so hard because when marketers talk about Gen Z, I feel like they have a very white upper middle class version of this consumer segment. And how do you factor income in class? How do you factor in race? How do you factor in gender? All of those things are, I would say, as important as your age and then whatever life milestone you're at. My daughter's almost 10. I had a child very late in life, and that makes a fair amount of my mom friends are millennials, it's all very complex.
Danielle Wiley: It was funny. My business partner, she has a son who's 22, but then she has a seven-year-old, and we were talking about how to reach Generation Alpha, and we were asking her, and she was like, "You have to market to their parents because none of them are allowed to be on social media." And she's like, "But not me. I'm not their peer. I'm so much older than any of the other parents."
Bridget Fahrland: And at that age, they still have no concept of how much anything costs.
Danielle Wiley: I don't know that that gets that much better, but sorry.
Bridget Fahrland: Something not to look forward to.
Danielle Wiley: One of the things, I'm just jumping all over the place, but I had posted something, I guess it was last week, this message we got back from a creator we were reaching out to that was we had been asking her for her rates because we want to use her on a program. We got back this mini manifesto on boundaries and taking time, and that an urgency is not how she operates, and she's easing slowly into the new year. And this was mid-March. You had an interesting point that something usually bothers you when there's some envy going on there, which I think is true, because I did think, "Must be nice." But I think the other thing too, it was just, that example in particular I felt was it was a manifesto, and I was like, "Lay off lady. I like it too. We didn't ask for a lecture. We just want to know if you want this job, get back to us when you get back to us. Why did we need this lecture from you?"
Bridget Fahrland: You felt it was a little holier than now?
Danielle Wiley: A little bit, but just in general, I think there's all different layers to it. She, as a creator, ultimately is in the client business, maybe one layer removed from how we are. And I mentioned in the comments in that we switched to a four-day work week last summer and have kept it going.
Bridget Fahrland: Congratulations.
Danielle Wiley: We do value work life balance, but it's an interesting, it's very difficult in the client industry to provide that both for yourself and for your employees, because clients can be hysterical and angry and often it's not their anger. They're being yelled at by someone else who's being yelled at someone else and we're just the recipients of it. And they reach out to you when they need you and they don't care that it's 11:00 PM your time. I still remember a Christmas Eve, writing blogger contest rules because the client insisted that this thing had to launch. Clients want what they want. I'd be interested to hear your perspective on how to set those boundaries when you're working in an industry that is notorious for not respecting them.
Bridget Fahrland: Absolutely. I've been thinking a lot about it since we had that brief exchange on the post because it clearly brought up something for you and it also brought up something for me. And I just also really appreciate you then sharing your perspective. You're running a business, I could see you're a protective CEO. You're also protective of your people and how they're treated. I've been thinking a lot about it, and I realize, I think what's really messing us up in the work world is this word balance, because somehow, the word balance makes you think things should be 50/50.
Bridget Fahrland: And it's really a mix. And I feel like I haven't always been good at it, but I think I've gotten really good at something because it works for me so I can share what works for me. I don't know if it'll work for everybody, which is A, am I leading a life full of things that I like to do? Do I feel like I'm sacrificing anything? I'm not saying I get to do everything I love every day, but over time, again, this is the theme of this conversation, over time, over a three-month period, if I look back, have I gotten to do the things I love? And you have to be happy with your mix. And if you love working and you love what you do, I think it's okay that it might be more than eight hours a day or 40 hours a week.
Bridget Fahrland: For me, it is. And I like what I do, but I think it does. The availability is the rub. For me, I get up, I have some East Coast clients, I get up earlier because I have a young daughter. The way my day goes, and this is what works for me, is I usually start work around 7:30 AM but I take an hour, sometimes two hours in the middle of the day to run an errand, do something outside, play pickleball, walk the dog, whatever. And then I'm back online and then I take time off for my family in the evening. And then for me personally, I don't mind working from 10 to 11 again at night and I usually respond to everything I would think in a 12-hour period. But I don't think it's healthy to be in a world where you're just sitting waiting to be constantly responding to emails or messages. I think it is important to set that boundary of, "I'll get back to you, but it might be a few hours. It might be a half a day."
Danielle Wiley: I think sometimes we come up with these crazy expectations for ourselves and the person on the other side doesn't share them. Half a day is reasonable for anyone.
Bridget Fahrland: It really is. I've been upset when people have taken more than a day to respond, but I've never been upset if it takes somebody a few hours or you don't know, they could be at a doctor's appointment, who knows.
Danielle Wiley: I remember I worked with someone at Edelman. He wasn't there very long, and this might be telling and every time he took a vacation, his out of office said, "I'm on vacation. I'll be back on this date. I'm going to delete everything I receive during that time. Email me back."
Bridget Fahrland: I think if you go on vacation, you can say, "I'm not checking email." But then we all read through it all when we get back.
Danielle Wiley: He's like, "If it's really important, you can email me back after that time."
Bridget Fahrland: No, I disagree with that. I don't think you should respond right away. And then it's also just getting your work done. If you can get it done in less time and it's still amazing, then that's okay too.
Danielle Wiley: We say that a lot because it's hard. We don't force everyone to take Friday off. It's just a flex schedule. Most people just choose to take all Friday off. But get the stuff done, do what you need to do. We don't have spy cameras on you at your desk.
Bridget Fahrland: I think the Friday thing is smart because you know how they talk about quiet quitting, I think we're all quietly taking half of Fridays off anyway.
Danielle Wiley: I think especially as parents, I've talked about this before, but we did the four-day work week as a test in the summer, and then asked our employees how they felt it went? Did they get feedback from clients? Did they want to keep it? And the response, people were in tears. "This is the best thing that's ever happened to me. I finally have a day for myself. My kids aren't home, my spouse isn't home. I can just go wander around TJ Max for two hours if I want to. I can go get my hair done and not feel guilty. I can sit and read a book."
Bridget Fahrland: That's why I take that time Monday through Friday. And if my boss is listening to this, I get all of my work done and I respond. But that's my time. My daughter's at school, my wife's at work. The other thing I will say is my wife's a teacher. I have friends in the medical field. There is the reality that what I'm doing it's important, it's fulfilling, but nobody's like future is hinging on me being available every minute.
Danielle Wiley: I had a colleague used to say, "It's PR, not ER."
Bridget Fahrland: Yeah, exactly.
Danielle Wiley: That was one, I know we're running out of time here, but one of the things that we talked about, chatting about was this struggle of, I want to make sure I don't put words in your mouth, but excitement about the innovation and creativity of what you're doing. While at the same time, what impact are you making on society and the environment?
Bridget Fahrland: This just came up today because I was talking to somebody at Edelman who's moved from the brand side to the purpose and impact side. I'm so jealous. She's like, "Yeah, I was just questioning myself. What am I doing? I'm just selling stuff." And I'm thinking, "Oh boy, that's what I'm thinking too." And I really do struggle with it because I think I love, I was just brainstorming with a team today about, it's funny you brought up dish soap because I was actually talking about selling more soap. It wasn't dish soap. But at the end of the day, I'm like, "Okay, great. I'm going to help put out more plastic bottles into the world. Awesome."
Bridget Fahrland: But the creativity and the energy behind it, is really alluring to me, and I really like that piece of it. I don't think I'm doing a good enough job with this struggle. I struggle with it. I think where I find peace is I think I have good human relations and I treat people kindly and fairly and work on elevating junior employees. I feel good at my impact on the world there. I do some outside volunteer work, but this question and the comment somebody made today made me realize I really need to start thinking more about how to merge what I do with impact and purpose. Stay tuned there.
Danielle Wiley: And I'm seeing more and more clients, especially with Gen Z and the fact that they are so vocal about these issues and social justice and the environment and wanting to support, I know as you said, they are still buying from Amazon but ultimately, wanting to support brands that are doing good. I think I'm seeing, at least with our clients, just an acknowledgement of that and a desire to change how they're working.
Bridget Fahrland: We can help them.
Danielle Wiley: I'm hopeful that some of it will get better.
Bridget Fahrland: We can help them take little steps. We can talk to them about their packaging. One thing I talk to them about is ship times. Amazon has set up this world where people expect everything same day or next day, but there are things you can wait for, really thinking through the ship times that makes sense for the item.
Danielle Wiley: It's crazy how just our perception has changed. I'm always like, "It's not same day?"
Bridget Fahrland: Right, exactly. But it's something I don't need for two weeks anyway, so who cares?
Danielle Wiley: This has been awesome, and I think I told you this whole season is dedicated to women 50 plus because I am entering that stage of my life this year.
Bridget Fahrland: Congratulations. It's great.
Danielle Wiley: Thank you. I'm excited.
Bridget Fahrland: It's the best stage. It really is.
Danielle Wiley: We're asking everyone who comes on this season to share with us a woman who influenced them in some way, whether it's work, life or personal, just to give a shout-out to someone who had an impact on your life.
Bridget Fahrland: This is really hard, and I don't know if you saw the Oscars, but I just loved when Jamie Lee Curtis said, "I'm hundreds of people."
Danielle Wiley: I loved that.
Bridget Fahrland: It's so hard to choose one woman. My instinct immediately goes to my mom. She was a single mom. She really taught me to stand up for myself. But then there's also my grandmother's, one would tell me dirty jokes, way too young of an age for me to be hearing dirty jokes, one took me to art museums. I see my wife, she's so loyal and hardworking and caring. And then women I've worked with over the years, both bosses and colleagues. There's women that come to mind who I think in my career have really shown how you can combine power and compassion. They're not afraid of their power, but they're also very compassionate, empathetic people. I would give a shout-out to Anne Sophie Hurst, Stephanie Wiseman and Vanessa Cartwright, and my current boss, Pam Scheideler, as just being, they're bad asses, but they're also good people. And all of those people I just mentioned have this great way of knowing what's going on, knowing all the details, but not getting into your everyday business, but pushing when the push is warranted.
Danielle Wiley: That's a skill.
Bridget Fahrland: Still working on it.
Danielle Wiley: Every day. This was wonderful. It was so great to catch up. I can't believe how long. I don't think I've seen you since the nineties.
Bridget Fahrland: Too long. I know. That's a long time.
Danielle Wiley: Awesome. Thank you again.
Bridget Fahrland: Thank you, Danielle.
Danielle Wiley: Thank you for listening. Don't forget to like, share and subscribe. Please check back next Monday for a new episode featuring marketing conversations through the lens of influence. I am your host, Danielle Wiley, and this is The Art of Sway.