It can feel increasingly difficult to find common ground these days, which may be one of the reasons animals are so popular on the Internet: who can't agree that a tiny hedgehog taking a nap is adorable? The fact that there's now a talent agency solely focused on social media celebrity animals shows how much we enjoy viewing and talking about pets; in fact, many "pupfluencers" (yes, apparently this is a real term) routinely outperform humans online.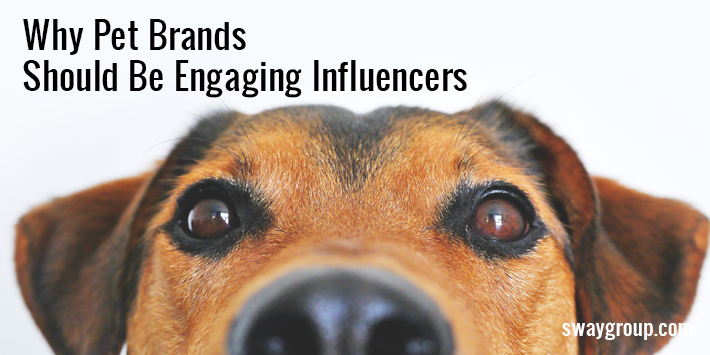 Why Pet Brands Should Be Engaging Influencers
Of course, pets aren't just trending on Instagram, they're part of our lives. A whopping 95 percent of us who share our homes with cats, dogs, and other furry (or not so furry) creatures say that our pets are part of the family, and as such, we care about their health, food (driving a $26 billion pet food market), toys, and services.
In 2018, $72.56 billion was spent on our pets in the U.S., from supplies to vet care. Trends include everything from pet-friendly CBD products to pet subscription boxes, and in the food market alone consumers are asking for personalization, preventative benefits, and home delivery options.
Clearly, we love our animals — and we love spending money on them to make sure they're well fed and cared for. The industry is growing like crazy, and influencer marketing is the perfect way to reach enthusiastic audiences who are looking for the best foods, grooming tips, treatments, and more.
Influencers are go-to sources for authentic, personal reviews and recommendations, and as pet owners, they share the same concerns and interests as their followers. We recently did a campaign for Merrick Pet Care that promoted the high quality of the ingredients in their dog food lines with personal images and stories from dog-owning influencers. Influencers shared their honest opinions about the benefits of using Merrick products, particularly for pets with food sensitivities.
For Petcurean, Sway influencers positioned the GO! brand as a solution for fussy eaters or pets who need specific or unique ingredients in their diet. A variety of content angles from "celebrating puppy milestones" to "dealing with picky eaters" meant that Petcurean was creatively presented to like-minded audiences.
Both of these campaigns drove social engagement and online discussions about the brands and their product lines. Their messaging was served to their target audience in an authentic way – something consumers, particularly millennials are looking for.
From boosting awareness to building long-lasting brand loyalty, influencer marketing is ideally suited for businesses looking to target animal-loving audiences far and wide. Contact us today to learn more about how we can help bring your pet-focused campaign to life!