Marketing to Millennials
When it comes to marketing to millennials, the question is no longer "why" but "how?" With more than 83 million individuals making up this generation in the U.S., it's crucial that your brand not only pays attention to millennials but caters to them as well. Here's a quick recap of why you should try to connect with this generation – millennials equal:
$1.3 trillion in annual spending
$430 billion discretionary spending
83% of new moms
Now that you've processed the why, let's tackle the how. Today we're sharing 4 easy steps to take when marketing to millennials: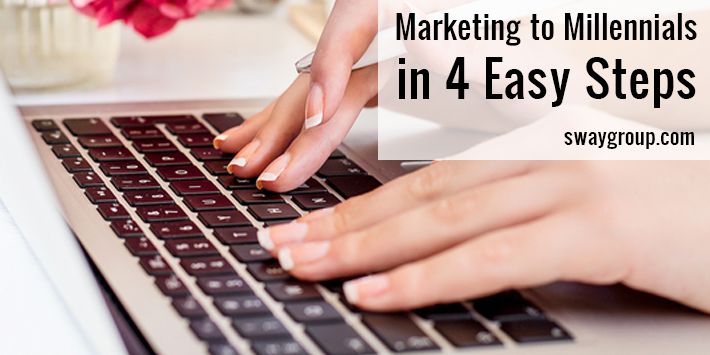 Marketing to Millennials in 4 Easy Steps
Marketing to millennials has never been easier:
1. Engage on Social Media
Let's start with the most simple tip – social media engagement! If you're not already communicating with this demographic via social media, start NOW. Five out of six millennials connect with companies on social media, and they have the highest social networking penetration of any generation:
Highest Facebook and Twitter user rates
Two-thirds of Instagram users are millennials
Account for four in ten digital video viewers (Instagram, Vine and YouTube)
2. Use Other Millennials to Deliver your Message
Millennials are three times more likely than other generations to refer to social media when making purchasing decisions. Social media allows for real-time references and honest feedback from peers. More than 81% of consumers age 18-34 seek the opinion of others before making a purchase. According to Forbes, 33% of millennials refer directly to a blog when deciding on a purchase (compared to less than 3% for TV news, magazines, and books).
Influencer marketing can make a massive impact on your millennial audience, as long as you connect the right influencer with your message. Peer reviews are increasingly becoming the most trusted resource by millennials.
3. Acknowledge Diversity…
First things first, don't call them millennials! This generation is strongly rooted in their individualism and in their diversity. Acknowledge this, praise this, and help keep this uniqueness intact. Rather than communicate with every 18-34 year old in exactly the same way, target different social groups. Group your audiences together by their interests, who they follow on social media, or what phase of life they find themselves in.
Unlike generations before them, millennials are re-writing life's traditional timeline. Marriage, homeownership, career development, family planning – all of these momentous life moments are happening at different ages, and in different orders. Diversity in your marketing efforts is a major key to successfully reaching millennials.
4. Be Relevant and Authentic
Your brand has a strong identity and a unique point of view. But what can you offer that nobody else can? How can you help solve a real-world issue? Relevancy will help you connect, but authenticity allows you to stand out. If you think of millennials as living in a mix of both social and physical marketing worlds, you need to find a way to cut through the clutter and reach them directly with the right message.
This can be daunting, but it's critical you stay true to your brand's identity no matter what strategy you try. Highlight your uniqueness, but don't pretend to be something you're not. For example, it seems as if a new word or phrase is suddenly the phrase of the moment (thanks, Urban Dictionary!). But if your brand identity doesn't naturally create a "YASSS!" moment on today's Instagram post, don't try to make it one. Millennials can smell phony content from miles away.
It's time for your business to start taking your millennial consumers seriously because they are a serious force. Millennials spend more than five hours a day on social media consuming user-generated content (UGC). UGC is 20% more influential to millennials when it comes to purchasing and 35% more memorable.
*This post was updated in 2023 to reflect new stats and surveys.
Let's Make Your Next Millennials Marketing Campaign A Success!
Let Sway Group help create effective UGC and compelling millennial influencer marketing campaigns for your brand!